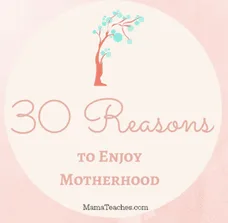 Motherhood is one of the most demanding, thankless jobs around. The return on the investment though is beyond measure. While being a mother can test your patience, your creativity, and your sanity, it is one of those choices in life that can fill your heart more than you ever thought possible.
When the kids are pushing you to your limit, or you have had a particularly challenging day, it is important to take a step back, take a deep breath, and remind yourself of some of the reasons why enjoying motherhood is so important. The problem with that is that when you are frustrated or tired or exasperated, thinking of those reasons is next to impossible. We know. Trust me…we. know.
So, we have created a list of 30 wonderful reasons why you should embrace and enjoy motherhood…even on those especially challenging days!