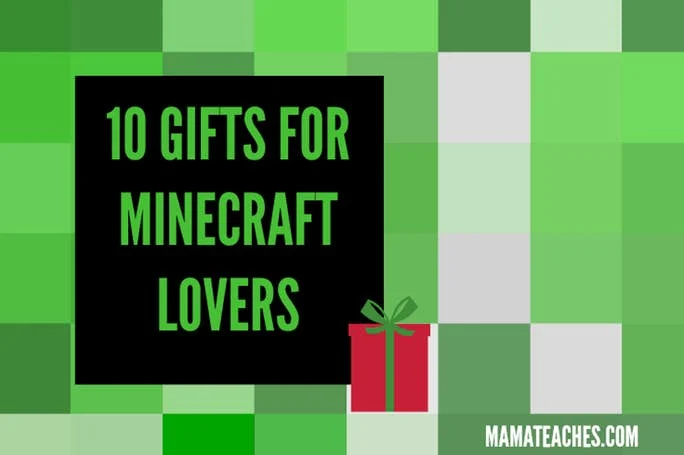 If you are not sure if someone on your list is a Minecraft lover, there is a simple 3-point test you can use to analyze your conversations with them to determine their level of interest. Here you go…
1. Does this person talk about Steve like he's a friend? – If the answer is yes, you might have a Minecraft lover.
2. Does this person know what a Creeper is and are they excited to blow them up? – If the answer is yes, you might have a Minecraft lover.
3. Does this person get excited about mining even though they have never been to an actual mine? – If the answer is yes, you might have a Minecraft lover.
While this test is not always foolproof (they may actually have a friend named Steve, for instance), it is a good indicator of their interest in the game. Also, if they've ever sat talking to you about things that make absolutely no sense, but the words "Minecraft", "creeper", "skelly", and "mining" all come up….chances are good you have a Minecraft fan.
So, what does one get a Minecraft lover as a gift? Check out these 10 Steve-Approved Gifts for Minecraft Lovers and get building…your shopping cart that is!
10 Gifts for Minecraft Lovers: A Creeper-Approved Gift Guide
What better place to start than with the game as a gift! Minecraft can be played on your gaming computer, on your gaming system, and on your mobile device. The computer version has the most flexibility and options, but if that's not an option, the gaming system version works well too. If you do decide to go with the computer version, make sure you have a good gaming computer or you may experience lag which will be frustrating for everyone.
Last year, the boys got the LEGO Minecraft Micro World and they loved it! In fact, Super G has his sitting on his desk and often fiddles with it to create different variations. The Village looks equally as exciting and with the addition of the adorable pig, villager, and zombie figures it's sure to be a hit. The Nether and The End also look like great additions to the Minecraft LEGO collection!
I know this looks creepy, but for your Minecraft-loving kiddos, the Creeper Hoodie
is high-fashion. It is in children's sizes, so if you're buying for a teen or an adult, try the Minecraft Creeper Hoodie in Men's Sizes.
Keep your Minecraft-lover's head warm this winter with the Minecraft Creeper Beanie. Watch the sizing though, because it's more for adults than children, so if you're buying for a child you may want to go with the smaller sizes.
My kids are not fond of scarves, but the Minecraft Creeper Scarf? They would wear it all day and night if they could! There's just something appealing about a lime green Creeper face that makes even scarf wearing better for the Minecraft fanatic.
I'm not quite sure I can express how absolutely cool these vinyl graphics would be for the Minecraft fan on your gift list. The 2-pack features one graphic of Steve mining (check out the Creeper in the background) and one with the pig and the Skelly in the mineshaft. They're both about 39-inches tall and 24-inches long (check the exact product measurements if the size is a concern for you), which makes them perfect for a bedroom wall or, in our case, the homeschool room.
Who said kids can't have diamond necklaces?! This necklace is perfect for your Minecraft loving gift recipient! Stocking stuffer perhaps??
Minecraft meets papercrafts with this 30-piece set! Think of it like paper dolls…only in Minecraft style. These are heavy-duty so your kids will still be able to play with them long after they've opened them. The durability alone makes them worth it. It does take some time and patience to put them together, so be prepared to help with assembly.
A Minecraft Steve, Enderman, and Creeper head mask/costume thingys? YES, PLEASE! The picture value alone is worth the cost of this three-pack. They are sturdy cardboard head masks that have adjustable cardboard on the inside to fit everyone from a 5 year old to a 105 year old. Get them along with a Diamond Sword and Pickaxe Set and your family will be entertained for hours.
Turn their iPod (5th generation) into a Minecraft world with this easy, snap-on case. Have a Creeper fan? Try the Minecraft Creeper iPod Touch Case instead – or get both! They're right around $10 each (or they are as I write this!).
There are also a lot of Minecraft plush toys and Minecraft books (some of them free Kindle downloads) that might be of interest to your Minecraft-lover. One of the best gifts you can give to someone who loves Minecraft though is to learn the lingo. Find out who the characters are, what the game is about, and discover why they enjoy it so much. Your time is priceless and the best gift of all.
Happy Mining!
Click below for more great Gift Guides from other Homeschoolers starting December 5th, 2016: