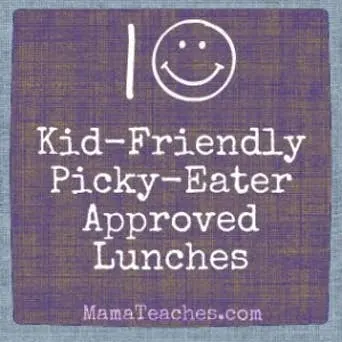 I think, in the wee hours of the morning, my children gather and form a "Picky Eaters Club" that is intent on the demise of lunch as we know it. They plot their revenge on peanut butter and jelly sandwiches and pinky swear that they won't let vegetables anywhere near their mouths. They stand united.
To combat their picky eater principles, I have had to think fast and furiously on my feet to find something that they will actually eat. The 10 kid-friendly, picky eater-approved lunches below are perfect for those days when a PB&J simply won't do.
10 Kid-Friendly Lunches for Picky Eaters
​1.Hummus and Pita Bread – Making hummus is easy and costs a lot less than buying it at the store, but if time is not on your side, a dollop of hummus and a pita pocket cut up into triangles is a quick lunchtime favorite. Want to try your hand at making your own hummus? Check out this recipe for Homemade Zucchini Hummus.
2.Stick To It – A combination of organic mozzarella cheese sticks, carrot sticks, pretzel sticks, and some Homemade Ranch Dressing is quick, easy, and perfect finger food.
3.Tiny Taco Bowls – Either make your own taco bowls or purchase scoop shaped tortilla shells for this easy lunch. Fill a shell with finely shredded lettuce, a scoop of taco seasoned beef, turkey, or chicken, and some shredded Cheddar cheese. For those adventurous eaters, try adding a scoop of homemade guacamole, salsa, or sour cream. This is a great time-saving lunch the day after you have had tacos or nachos for dinner.
4.Wrap It Up! – Fill a whole wheat tortilla with leftover shredded chicken and a tablespoon of shredded cheese. Depending on your child's preference, a small cup of salsa or Homemade Ranch Dressing can be used for dipping sauce.
5.Homemade Chicken Nuggets – This recipe for homemade chicken nuggets yields plenty of tasty bite-size pieces that your picky eaters are sure to devour. Pair it with some sliced veggies and dipping sauce or a cup of homemade apple sauce with cinnamon.
6.Baked Potato with The Works – In the oven a baked potato can take an hour, but in the microwave the time is cut to about 7-8 minutes (depending on the wattage of your microwave, of course). After the potato is done cooking, have your child determine what will go on it. Leftover taco meat, chicken, shredded cheese, cut up broccoli, crumbled bacon, salsa, etc. are all fair game for a tasty baked potato that's kid-approved.
7.Fruit and Cheese – Fruit alone equals a boring lunch, but when slices of apple are paired with this delicious and healthy yogurt-based fruit dip, kids are sure to eat it all up. Add some organic crackers and slices of cheddar cheese to their plate for some additional protein.
8.Tasty Noodles – For some kids, the mere sight of vegetables is a turn-off. Instead of placing them in sauce whole, blend up that pepper, zucchini, carrot, and garlic and stir it into the sauce while it's cooking. Add a tablespoon of sauce to a cup of wagon wheel pasta and you'll be sneaking some veggie goodness into their lunch without them even knowing.
9.Quesadillas – If you have the time to break out the griddle, make some easy quesadillas with leftover chicken or seasoned beef. No leftover meat? Go vegetarian and have a cheese quesadilla instead. Be sure to pair it with salsa or low-fat sour cream for those who like to dip.
10.Cucumber Tea Sandwiches– Thinly sliced bread meets its match when topped with some Homemade Ranch flavored cream cheese and thin slices of crisp cucumbers. They are tasty, tiny, and perfect for little hands.
Now if only I could channel my children's enthusiasm for not eating normal lunches into something productive like, oh, I don't know, cleaning their rooms perhaps? What do your picky eaters enjoy for lunch? Share with us!