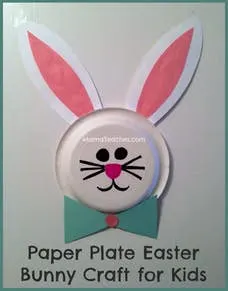 This article contains affiliate links to things that you might like.
Get ready with a quick craft that is sure to bring out your child's creativity.
If you have a paper plate, colored construction paper, and some tape on hand, you have everything you need to whip up a Paper Plate Easter Bunny.
In fact, the craft is so easy and kid-friendly, that it is featured on the #AllThingsEaster extravaganza as an activity to have on hand for little ones to work on while dinner is being prepared.
Paper Plate Easter Bunny Craft for Kids
Ages: 2+ (with adult supervision)
Time: 15-20 minutes
Materials Needed:
Paper plate
Child Scissors
Tape
Glue Stick
Construction Paper
Markers or crayons
Directions:
1.Cut out two rabbit ears from white construction paper. Cut out two pink strips for the inner ear and glue them onto the white ears. Tape the completed ears onto the back rim of the paper plate. Make sure they are close enough together that they look like rabbit ears!
2.Draw eyes, a nose, whiskers, and a mouth on the paper plate for the bunny's face.
3.Cut out a bow tie from the construction paper and tape or glue it to the bunny's chin.
4.Hang it up and enjoy!
Did you make a Paper Plate Easter Bunny?
Take a photo and share it with us on our Facebook page!