Need a quick and easy fall dessert?
This pumpkin crisp recipe is a must-try!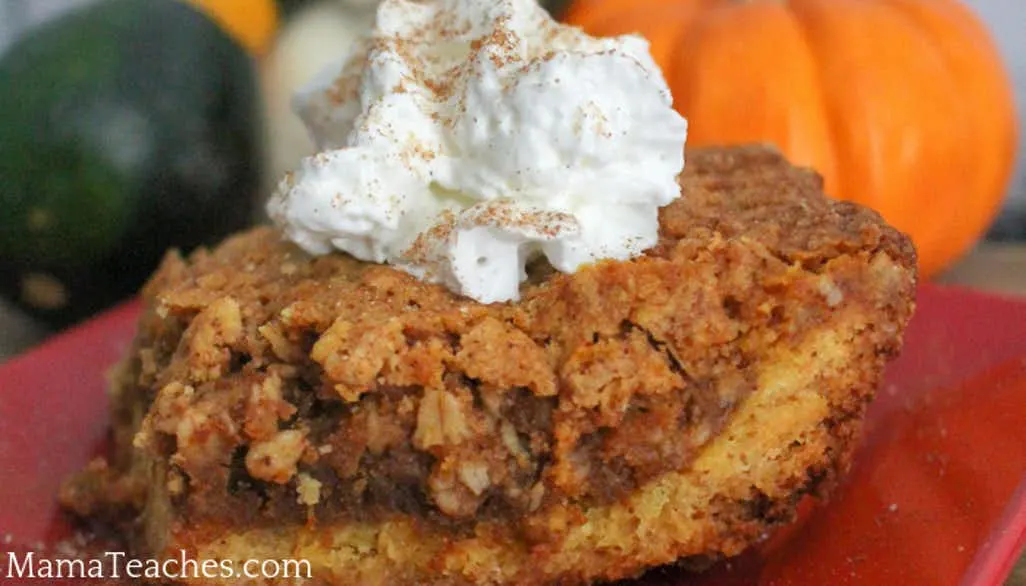 This article contains affiliate links to things that you might like.
All Things Pumpkin Crisp
Fall and everything pumpkin are some of my favorite things.
Pumpkin crisp ranks right up there as one of my must-have seasonal desserts.
It's so delicious and goes great after a stew or pot roast dinner.
This pumpkin crisp dessert uses yellow cake mix as its main base and some key spices to give it the kick of flavor you'd expect from a fall dessert.
It's a layered pumpkin dessert with a crispy top that adds just the right amount of crunch.
It goes great with a mug of hot apple cider, a glass of milk, or some after-dinner decaf.
Make a batch up this weekend and enjoy!
​
Pumpkin Crisp Recipe
Ingredients:
1 box yellow cake mix – with 1 cup mix set aside
½ cup butter, melted
1 egg
15 oz can pumpkin puree
1 egg
⅔ cup sugar
1 teaspoon vanilla
¼ teaspoon salt
1 teaspoon cinnamon
¼ teaspoon nutmeg
1 cup of reserved cake mix
½ cup sugar
1 tablespoon cinnamon
¾ cups old fashioned oats
½ cup cold butter, cut into pieces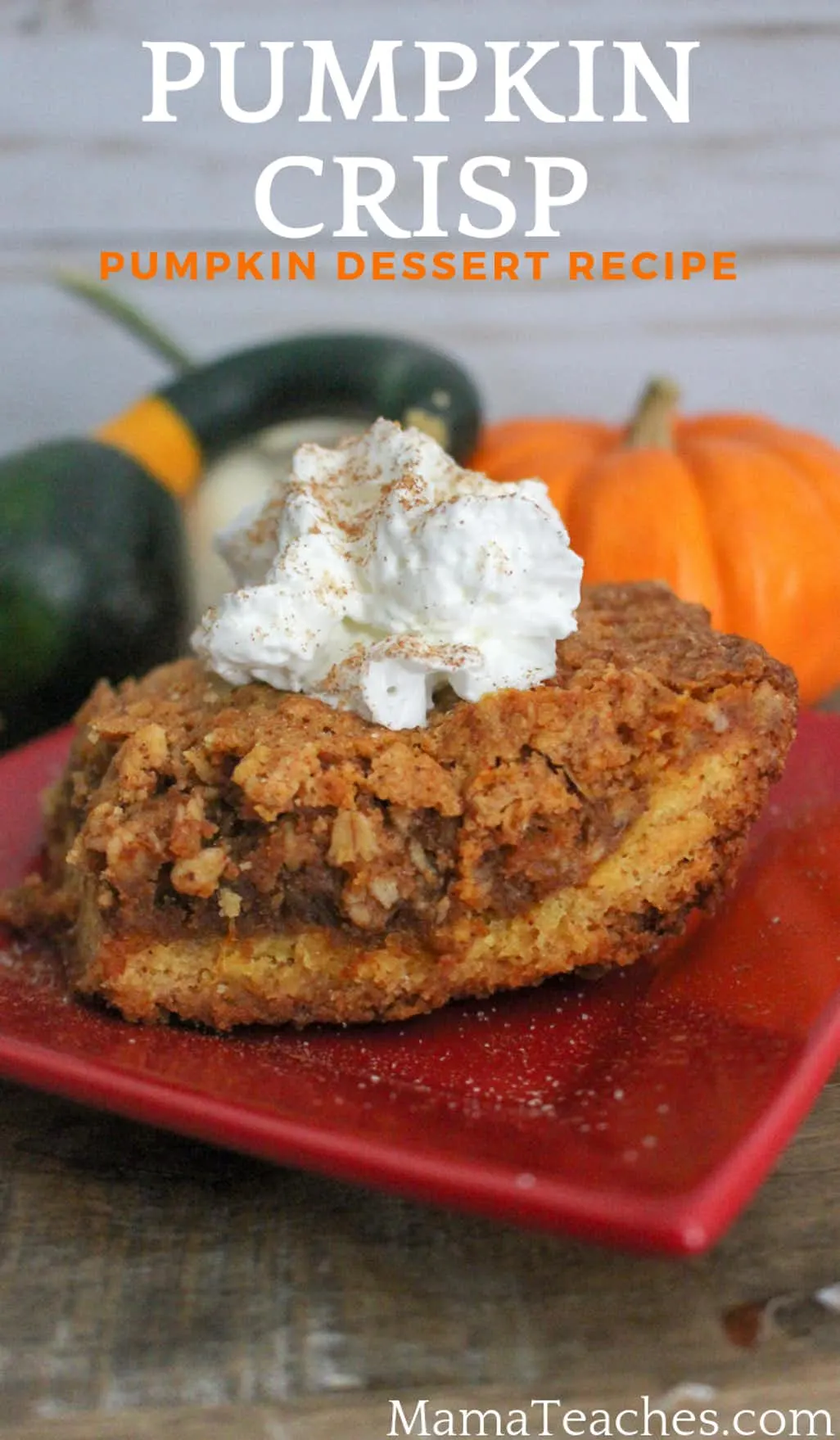 Directions:
Preheat oven to 325. Slightly grease a 9×13 baking dish.
To make the first layer:
Stir the cake mix (minus 1 cup for the topping – set this cup to the side for later), melted butter and egg until well mixed.
Pour into the bottom of a 9×13 pan. Press firmly.
For the middle layer:
In a bowl, whisk pumpkin, egg, sugar, vanilla, salt, cinnamon and nutmeg.
Spread the second layer over the first, crust layer.
For the top layer or crisp topping
In a bowl, add the 1 cup of cake mix that you set aside from the first layer.
Add sugar, cinnamon and oats.
Cut in the cold butter with a fork or pastry cutter until it is in coarse crumbs.
Sprinkle over the pumpkin middle layer.
Bake for 35-40 minutes or until lightly browned.
Serve with whipped cream and cinnamon if desired.
Did You Try the Pumpkin Crisp Recipe?
Tell Us!
Did you try the recipe above?
Take a picture and let us know how it went!
Tag us on Instagram @MamaTeaches or leave it in the comments below!