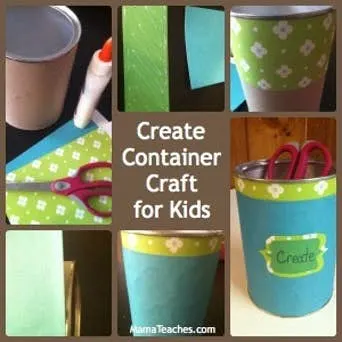 It is an inexpensive way to fill a rainy (or scorchingly hot!) day with a fun activity. The Recycled Create Container Craft is perfect for storing a handful of markers, crayons, glue sticks, and scissors to make a portable arts and crafts kit. The best part? You can use the supplies you already own for a completely free project! Let's get started!
Recycled Create Container Crafts for Kids
Supplies
Empty and cleaned out iced tea can
Scrapbook or construction paper
Glue
Scissors
Permanent Marker
Directions
After cleaning out an empty iced tea container, pick out some colorful scrapbook or construction paper to cover it in.
Decided how you'd like to cover the jar.
Measure the paper to fit and glue it on.
Create a small label with the word "Create" or your child's name and glue it on the front.
To make it the perfect travel companion, use the plastic lid that came with the canister to keep everything contained.
How We Did It: We decided to use coordinating scrapbook paper and cover the jar with a design and a plain color. We wrapped the patterned paper around the top and then glued the plain paper on the lower half of the canister. We then used scraps of the same paper to create a label that said "Create".