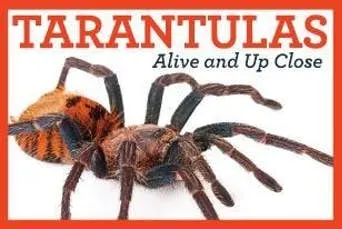 This article contains affiliate links to things that you might like.
The Academy of Natural Sciences is hosting an amazing Tarantula exhibit this winter and spring from January 30th-May 30th, 2016 and it's the perfect time to study these often misunderstood creatures.
As part of my year long partnership with the Academy, we'll be heading to the museum to see the tarantulas up close and personal over the coming weeks and I can't wait!
It's the beginning of our tarantula unit study.
I'll admit that when I first said that we were going to start studying tarantulas, the kids' eyes got about ten times bigger than they had been.
"Um, Mom, I don't know about that," the sixth grader said dubiously.
Don't worry, kids, you're going to love it!
In fact, I bet after we're done, they're going to want a pet tarantula!
(Not happening, but I bet it will be brought up!)
If you're ready to explore the world of tarantulas with your students, here are the activities and resources we'll be using.
Have fun!
Tarantula Unit Study
UP CLOSE AND PERSONAL
Visit the Academy of Natural Sciences of Drexel University's: Tarantulas: Alive and Up Close exhibit from January 30th through May 30th, 2016.
According to the Academy, you'll be able to:
Play a guessing game to learn about speedy tarantulas that dwell in the highest treetops and others that live underground, only emerging under cover of darkness to ambush their prey.
Find out why certain species prefer the desert and the rainforest.
Learn how tarantulas may play an important role in human medicine.
Get the facts on why tarantulas are so hairy as you venture through an air current that simulates the sensitivities of a hairy spider.
Explore a tarantula burrow.
See live feedings.
Check out arthropods under a microscope.
Dress up like an eight-legged beast to get your photo taken.
WEBSITE RESOURCES
10 Fascinating Facts About Tarantulas: http://insects.about.com/od/spiders/a/10-facts-about-tarantulas.htm
Tarantula Facts: http://animals.nationalgeographic.com/animals/bugs/tarantula
American Tarantula Society: http://atshq.org/
San Diego Zoo's Tarantula Information: http://kids.sandiegozoo.org/animals/insects/tarantula
Tarantula Facts for Kids: http://www.kidzone.ws/lw/spiders/facts-tarantula.htm
Fun Spider Facts for Kids: http://www.sciencekids.co.nz/sciencefacts/animals/spider.html
Live Science Tarantula Facts: http://www.livescience.com/39963-tarantula.html
BOOKS ABOUT TARANTULAS
The Tarantula Keeper's Guide: Comprehensive Information on Care, Housing, and Feeding Tarantulas (Nature's Children) The Tarantula Scientist (Scientists in the Field Series) Uncover a Tarantula: Take a Three-Dimensional Look Inside a Tarantula! (Uncover Books) Tarantula (A Day in the Life: Rain Forest Animals)
TARANTULA VIDEOS
(Preview these before sharing with your children!)
How a Tarantula Builds a Trapdoor
TARANTULA CRAFTS
Have fun with your Tarantula unit study!