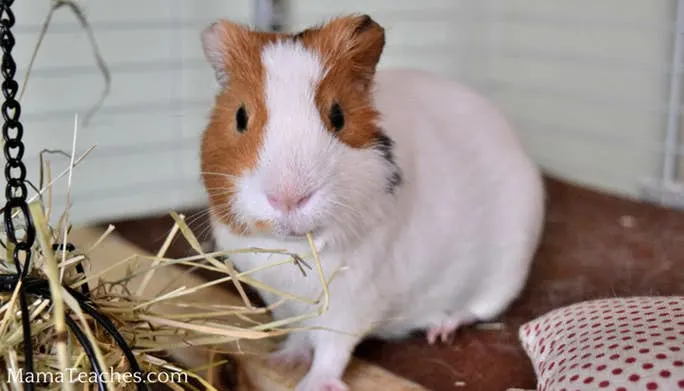 This article contains affiliate links to things that you might like.
When we were thinking about adding guinea pigs to our family, we did a lot of research on what they ate, how to care for them, and what type of cage guinea pigs need.
We wanted to make sure that our new friends were going to have the best guinea pig cage around!
Setting Up a Guinea Pig Cage
Setting up a guinea pig cage is something that should be handled before you bring your guinea pig home.
You'll want to have a safe and comfortable place for your guinea pig to leave so that they are happy and healthy.
Whether you purchase a retail cage or make a DIY guinea pig cage, there are a few things that you should consider to give your piggie the space and safety that they need.
How Much Room Do Guinea Pigs Need?
The cheap guinea pig cages that are offered in most pet stores typically aren't the best choice for a guinea pig.
Most often, they do not have the floor space that guinea pigs need to move around.
Instead, opt for a C&C guinea pig cage that you purchase from a specialty retailer or make a homemade guinea pig cage from cubes and coroplast yourself.
At a minimum, you should have at least 7.5 square feet of floor space for one guinea pig.
If you have two in your cage, aim for at least 10.5 feet.
Be sure that your guinea pig cage ideas keep cleaning in mind, as well.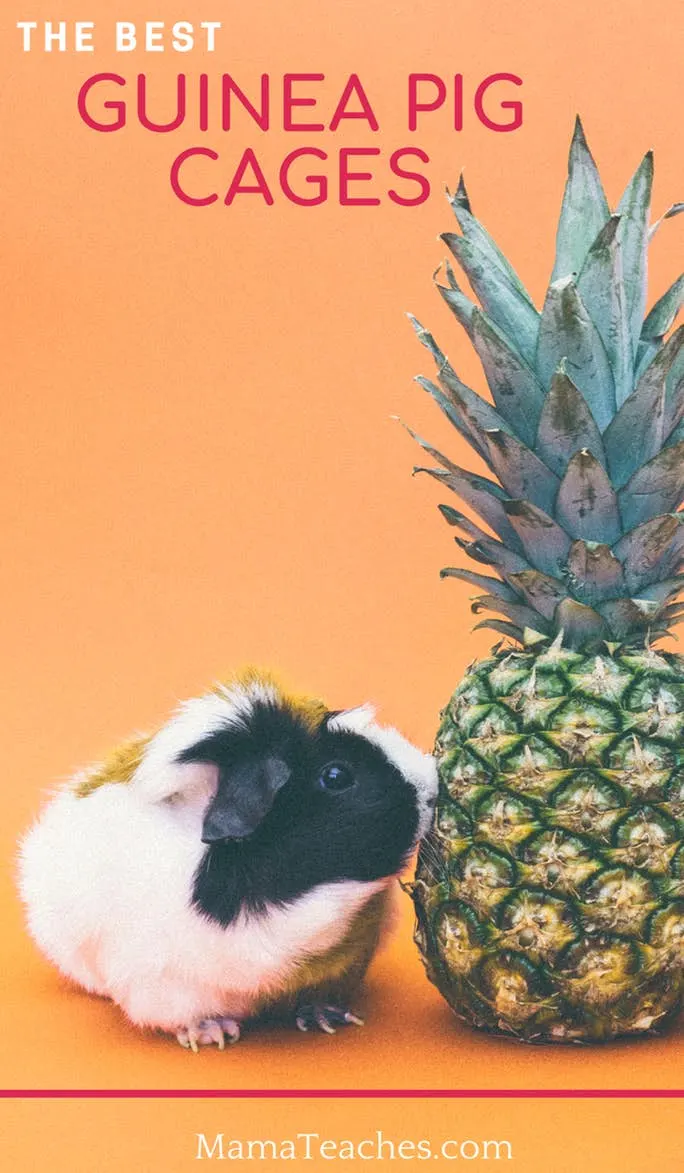 What is a C&C Guinea Pig Cage?
Most experts recommend using a C&C guinea pig cage, which refers to the construction of the cage, which is made from stackable cube panels and coroplast.
These cages are easily modified, easy to clean, and are cheap guinea pig cages for just about any budget.
The main structure of the cage is created by attaching the panels together, then lining them with coroplast to contain bedding and make the floor and walls comfortable for your guinea pigs.
You should never use a cage with a wire bottom without covering the wire with a hard, durable, flat covering like a coroplast bottom.
It's too easy for your guinea pigs to get their legs caught in the wires and it can cause them to break their legs or injure their feet!
How to Make a Homemade Guinea Pig Cage
Making a homemade guinea pig cage is really very simple.
All you need to do is take the storage cube panels and attach them together to make a large rectangle with a floor.
You can use the included connectors or reinforce with zip ties for extra security.
Cut coroplast to make a floor for the bottom of the cage, making it six inches larger on all sides to fold up as walls.
Score and fold the coroplast, then tape the outside corners very securely.
Slide this into the panel cage, fill with 2-3 inches of bedding, and move in your piggie!
Cheap guinea pig cages really are that simple!
Fun Guinea Pig Cage Ideas
One of the best things about a DIY guinea pig cage is the ability to customize.
Create a second floor on your homemade guinea pig cage, using a similar method as you make the main floor of your cage.
This is a fun place to put a little hideout or feed your piggie, separating those spaces from the area where they use the bathroom most often.
Be sure to put sides on the ramp, as guinea pigs don't have such good depth perception and can easily fall off a ramp and get hurt.
Many people believe that the second story of a guinea pig cage doesn't count as part of the useable floor space, but if your guinea pigs use the second floor – and it's almost as large as the first – it's okay to count it into the available space your guinea pigs have to play.
Other fun guinea pig cage ideas include having a couple of larger "living areas" with a long run in between them, as piggies love to stretch their legs.
And of course, you can decorate the coroplast however you'd like, to fit in with the décor of your room.
If you use fleece bedding like we do, the fleece can ever be color coordinated with the coroplast and other materials!
​
Whether you're looking for top-of-the-line or cheap guinea pig cages, just make sure that you've given your furry friends a safe space, with plenty of room, that is easy for you to clean.
Your guinea pig will be so happy in their carefully chosen new home!