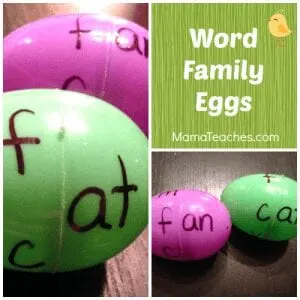 The kindergartener has been working hard on word families lately and while she likes flashcards (yes, really), she has fallen in love with her word family eggs. This is the perfect time of year to whip up some word family eggs for your kiddos, because plastic eggs are in abundance at stores. In fact, while you are getting eggs for word families, pick up a couple more bags, because you can make all sorts of crafts and other learning tools from them too. If you have eggs stored from last Easter, recycle them into Word Family Eggs!
Word Family Eggs
Time: 5 minutes
Materials:
Plastic Easter eggs (re-use eggs from last Easter like we did!)
Sharpie marker
Directions: Open the eggs up and, if the pieces are connected, break apart the small piece of plastic that's designed to keep the pieces together. You want the sides to rotate freely. On the smaller side of the egg write the base of the word family. Some examples are -an, -all, -ar, -in, -ill, -un, -on. On the large part of the egg, write beginning letter combinations that change the base into a new word. Put the two parts of the egg together and you have a word family egg! Make a dozen of them and store them in a washed out egg carton for easy manipulative organization.
How to Use Them: Understanding word families helps build vocabulary and strengthen reading skills. Once your eggs are made, your child can write the words in each family, find a specific word that you call out using their eggs, etc. It is a great, fun way to engage little learners for little to no cost.
Not sure which word families to work on? Here are 37 of the most common word families in the English language to get you started.
Readers Know Best: How do you practice word families with your kids? Leave a comment and let us know!