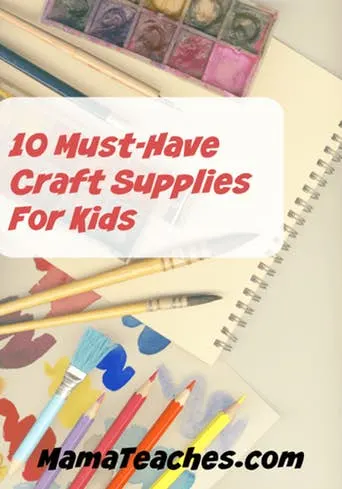 As homeschoolers, we go through a lot of craft supplies and have been known to spend hours browsing through the craft store. Although the task of creating an arts and crafts box can be fun and exciting, it's sometimes difficult to choose which supplies should make the cut. When considering the following 10 must-have children's artistic tools, keep in mind your child's favorite color and what she most likes to create. Stock accordingly and have fun!
10 Must-Have Craft Supplies for Kids
PAPER
Blank sketchbooks or paper can be the equivalent of gold to a parent who needs to imagine up a new activity. What exactly can your child do with paper? Children three and older may enjoy creating paper airplanes, an activity that offers tons of fun and little cleanup. Kids can also paint or color, including children under two who just like to scribble. They can cut shapes or make a card game. If there is more than one child who will be using the box, being well-stocked on paper will ensure that there's plenty for everyone. The possibilities offered by blank sheets of paper are endless!
Tip: Don't pass up the pretty decorative paper that always goes on sale after the holidays! Also, a pack of construction paper is a must!
DRAWING SUPPLIES
Put that paper to use by always having drawing supplies in your kids' craft kit. Colored pencils, crayons and colored markers are must-haves in the world of children's crafts. Whether you are melting crayons to create new shapes and colors or you're simply allowing your child to create their own hand-drawn masterpiece, always having coloring and drawing supplies on hand will give you the option of a craft day any day.
GLUE
If you're the glue that holds your family together, you know how important glue sticks can be. This particular item can be used in conjunction with paper, clothes pins, popsicle sticks, beads and just about everything else. Glue is a top, must-have item for any complete children's craft kit. In addition to glue sticks, keep a bottle of Elmer's glue handy, because there are just some things glue sticks can't handle!
Tip: Make your glue sticks last longer by always capping them correctly after use.
POPSICLE STICKS
From colorful fences to adorable puppets, popsicle sticks are the building blocks of many great kids' crafts. Keep a stocked box of popsicle sticks in your craft kit. Your children can color them or build with them. Perfect for boys and girls over the age of two, these tiny pieces of wood can provide endless hours of entertainment. If you forgot popsicle sticks while creating your craft kit, you children will enjoy freeing up more sticks by eating all the popsicles in your freezer!
Tip: You might also want to try these craft stick crafts and sentence building activities for inspiration!
PIPE CLEANERS
Pipe cleaners are useful in many children's crafts. These bendy, colorful pieces of fun can be twisted into any shape. They can also be used to give a butterfly antenna, make bracelets and add curly legs to imaginary creatures. A supply that won't break the budget, pipe cleaners are a must-have for any children's arts and crafts kit. Be sure to keep a variety of colors in stock to allow your child to express himself even further.
Tip: Seasonal packs often go on sale close to holidays, so watch for those bargains!
RIBBON
Ribbon is in the running to be the most universal must-have craft supply. Did you help your child make a wreath? Use ribbon to hang it from the door. Does the puppet need a bow in her hair? Fashion one out of ribbon. Is it time for a new bracelet? Ribbon allows for adjustable jewelry you are certain to treasure forever. To give your child the joy of possibilities, keep your ribbon supply stocked.
BEADS AND BUTTONS*
Whether your child dreams of being the next jewelry maker to cater to the stars or your two-year-old wants button eyes for her paper bag puppet, having a supply of beads and buttons in various sizes, shapes and colors will allow you to encourage her creativity. With ribbon beads and buttons become bracelets, necklaces and rings. Kids love the ability to choose supplies that match their personalities. A large purple button? A butterfly-shaped bead? Oh, the places your child will go with these colorful inspirations.
\CAUTION: Beads and buttons pose a choking hazard, so include them at your own risk.*
PAPER BAGS
A cheap addition to a craft kit, paper bags can lead to several different activities. Create a bag for candy with a Valentine's Day, Easter or birthday theme. Your child's imagination can reach new heights if you ask him to create a puppet. Older children may even be encouraged to write a story about the new character. Brown paper bags, they're good for more than homemade lunch!
Tip: Big box stores often carry colorful and white paper bags, as well. Experiment with different colors!
STICKERS
Children love stickers – happy faces, stars and motivational phrases. Whether you want to entertain a toddler or allow your kindergartner to create his own chore chart, stickers are a kid's best friend. In your children's craft kit, keep a variety of stickers. Pick your child's favorite cartoon character or goofy smiley faces to help him enjoy sticker crafts even more.
FABRIC AND FELT
Keep pre-cut pieces of fabric and felt in your child's craft kit. These can be used to create clothes for puppets made from popsicle sticks or paper bags. If spring is around the corner, this must-have art supply will help make flowers. Pieces of fabric can be used to give texture to a hand-drawn picture. Elementary-school children and older can create purses and Christmas stockings by sewing fun patterns together.
Tip: Going to throw away old clothes that aren't in good enough condition to donate? Cut them up into craft squares or strips!
These must-have supplies are a great foundation for a craft kit. Keeping these items well stocked will guarantee a distraction on a rainy day, a personalized card for grandma, and kid-made holiday decorations.