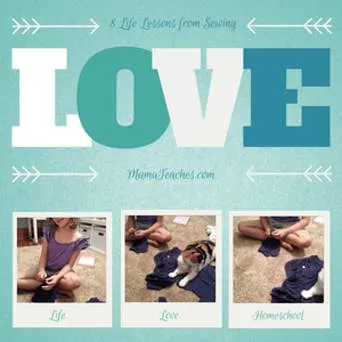 She wants to jump right to the sewing machine, but I think it's important that she learns how to sew by hand first. I also can't remember where I stored my sewing machine, so sewing by hand it is! As we sat down to sew the other day, we talked about some of the things she was learning as she worked on her recycled t-shirt teddy bear. We came up with quite a few gems, but here are eight that really hit home.
8 Life Lessons from Sewing
1.MEASURE TWICE, CUT ONCE
Yes, this principle also applies to carpentry, but after making a few pattern mistakes (like cutting off the bear's head), we decided that measure twice, cut once was also a good take away from sewing.
2.SOMETIMES YOU'RE GOING TO MAKE YOURSELF BLEED
We're talking tiny pin pricks of blood here, but yep, in life, sometimes you're going to make yourself bleed. Whether it's stabbing yourself with the sewing needle, falling down and scraping your knee, or doing something reckless. Sometimes, you're going to get hurt. Amazingly, a kiss and an ice pack work wonders toward healing boo boos.
3.IT'S IMPORTANT TO USE THE RIGHT TOOLS FOR THE JOB
When we initially were looking for sewing supplies, we found a plastic yarn needle that I use for crocheting. After a quick discussion and a failed attempt at poking the plastic needle through the t-shirt fabric, it was abundantly clear that the right tools make all the difference.
4.IF YOU TAKE SHORTCUTS IT'S NOT GOING TO TURN OUT THE SAME
After getting frustrated by how long it was taking to make small stitches, Little Miss started making big stitches. Really big stitches. After turning the fabric right side out to stuff it, it became obvious that those shortcuts may have made it faster, but the stuffing was going to poke out of the holes. A good life lesson right there…especially for those of us who are rather impatient (and by us, I mean me).
5.THE RIGHT FABRIC MAKES ALL THE DIFFERENCE
When we were selecting fabric for the bears we looked at all of our options. Since we were using old clothes that were too small and in too sad of a state to donate, we had some interesting and unusual pieces to choose from. A gauze skirt, a satiny pajama top, worn, but soft t-shirts, and some prickly pants that were surely made of the hottest, most uncomfortable polyester known to man. We talked about what she wanted the bear to look like and, most importantly, how he should feel. Snuggling with polyester was not a good option. That soft, worn t-shirt, however, was perfect. Finding the right fabric or the right options for our lives makes all the difference in how we perceive things doesn't it?
6.NO MATTER HOW MUCH YOU ENJOY SOMETHING, SOMETIMES YOU HAVE TO TAKE A BREAK
After about a solid half-hour of sewing by hand, Little Miss looked at me and said, "This is fun and I'm glad I'm doing it, but I need to take a break for a few minutes or I'm going to start not enjoying it." Hmm. How many times do we work at something and go full-steam ahead, constantly working without taking a break? We must keep moving forward, we tell ourselves. This is fun. Until it isn't anymore and we get burned out. Taking a break isn't just a suggestion – it's a necessity.
7.SOMETIMES YOU START OUT WITH A BEAR, BUT END UP WITH AN ALIEN-MONSTER-SQUISHY THINGY
The best laid plans and all of that, right? When you start sewing something it doesn't always end up looking like you anticipated it looking. At least that's our experience. Sometimes our best intentions and attention to details still leaves us with a final product that's nothing like we expected. And that's okay, because the alien-monster-squishy thingy is usually way better than a common teddy bear anyway…especially since it was made with love by our own hands.
I wish I could say that the final product held together and was now a functioning teddy bear-alien-monster-squishy thingy, but it had some fatal flaws and needs some more TLC. This time the request was for me to repair it, because Little Miss knows the most important lesson of all in life…
8.SOMETIMES MOMS JUST MAKE EVERYTHING ALL BETTER.
(and you had better believe she learned that lesson from me with my mom. Thanks, Mom!!)