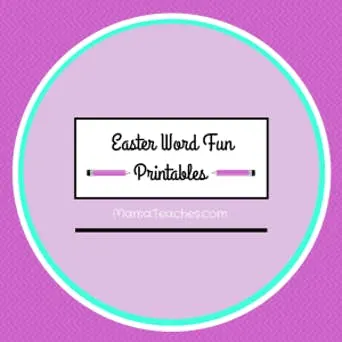 Word play activities are great learning tools all year round, but the holidays seem to make them even more fun than usual. These three Easter-themed activities are perfect for young learners. Print them out and add them to your homeschool lessons, classroom activities, or as an activity to keep the little ones busy while you are preparing Easter dinner.
These printables were featured in the #AllThingsEaster extravaganza. Check it out for more great ideas, recipes, and decorating tips!
EASTER WORD PLAY PRINTABLES FOR KIDS
This acrostic poem printable uses the word "Easter" for creative thinking inspiration. Download it here.
Even the kindergartener loves doing word seek and finds, so this Easter-themed one with 10 words is the perfect length. It keeps the little ones busy, but is short enough that they do not hit their frustration point. Download it here.
How many words can you make from the phrase "Happy Easter"? That is what this Easter-themed word scramble finds out. Don't limit it to just little ones – adults love word scrambles too! Download it here.
Tip: Looking for a quick Easter-themed coloring page for your very littlest learners? Try this one!