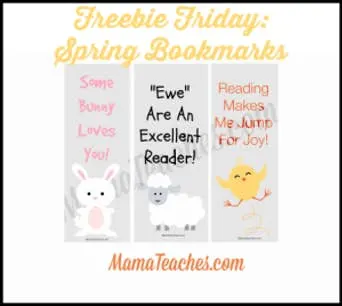 It was a wonderfully warm 80 degrees last weekend – which of course spoiled us for the rest of the Spring – and our high today is supposed to be 55. That's a 25 degree drop and a full season's change of clothes there, my friends. Not cool, Mother Nature. Not. cool.
I've also discovered that the littlest has been using some very important papers as bookmarks this week. It wouldn't be so bad, but the people who sent those important papers prefer to be paid before we finish reading fifteen chapters. Minor details.
So, that means that you get to reap the rewards of our weather-confused, bill-hiding week by downloading your own copy of the Spring Bookmarks that now grace the pages of chapter and picture books on our coffee table. The trick to making them last is to print them on card stock. If you'd like them to last even longer, laminate them after you cut them out. If you are exceptionallyambitious, punch a hole at the top and tie on some ribbon or yarn – instant fancy-schmancy bookmark!
Enjoy them and be sure to check back for next week's Friday Freebie which may just make keeping track of the books your child has read a tad bit easier!