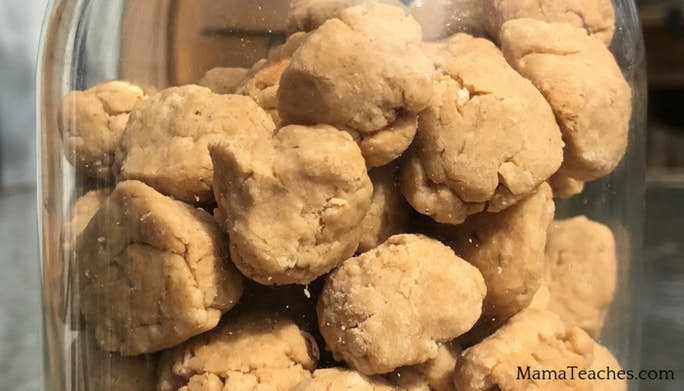 This article contains affiliate links to things that you might like.
Looking to make a little something special for your favorite four-legged child?
Well, look no further! These quick and easy dog treats are just what this dog mom of two ordered.
Made in a snap with just a few ingredients, your precious fur-baby will be begging for more!
​
The Truth About Homemade Dog Treats
When we made these at Christmas time we actually taught your youngest dog to pick up wrapping paper and bring it to us. No joke.
By the end of the small bag of treats, he was running around the house looking for trash to bring to us so that he could get a homemade dog treat. That's motivation, I tell you!
​
Benefits of Homemade Dog Treats
Making these delicious treats can be beneficial to both you and your dogs.
By whipping up a super special biscuit for your dear furry friend, you get to show them just how much they are loved.
At the same time, you will also know that you are giving them a healthy wholesome snack.
Making your own delicious homemade dog treats can give you the comfort of knowing what ingredients are actually going into them (unlike the store bought alternative).
This quick and easy dog treat recipe can be made exactly as is, or it can even be modified to suit your dog's needs.
Having the freedom to create a snack that takes into consideration your puppy's tastes and diet preferences is a wonderful reason to make your own dog treats at home.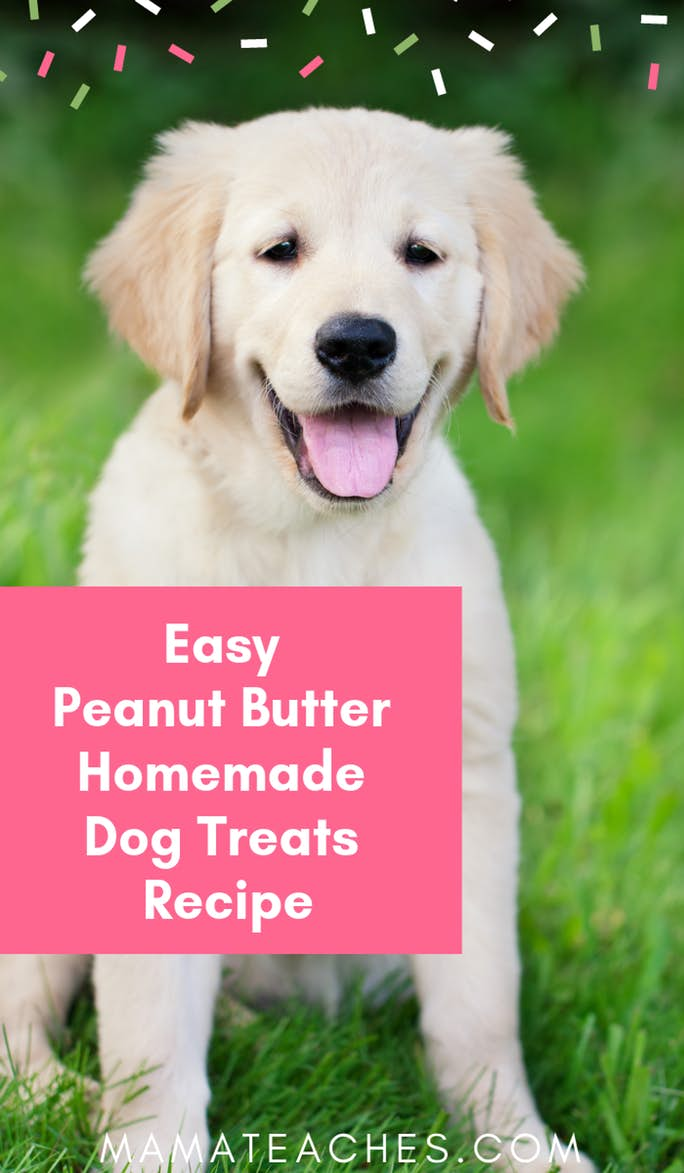 How to Make Homemade Dog Treats
These have got to be the easiest dog biscuits in the world to make.
Combining flour, peanut butter, oats, water, and whole lot of love, we can mix these snacks up in no time.
Tossing all the ingredients together, we mix really well, roll them into small balls, and bake them up.
Once cooled, these yummy morsels will be every dog's delight. Just ask our Oliver!
​
Custom Homemade Dog Treats
If dietary restrictions are something you have to watch out for with your dog, homemade dog treats are definitely the way to go.
With this easy recipe, you could try adding in applesauce, carrots, pumpkin puree, or baby food.
There are so many healthy alternatives when it comes to making your own tasty treats.
​
Storing Homemade Dog Treats
Because our magnificent mutts love to be rewarded so much, these flavorful nibbles are the perfect bite size prize.
We suggest storing them in an airtight container.
You can keep them in the fridge if you choose, but we found our dogs preferred them at room temperature.
They last up to a week at room temperature, three weeks in the fridge, and, if you make a big batch, you can store them in the freezer for up to six months.
Honestly, ours last a little less than a week, because our dogs have us trained really well.
You will soon become their favorite human (if you aren't already) once they get a taste of these yummy snacks.
They just might thank you with a face full of sloppy kisses and excited tail wags! Who wouldn't love that!?!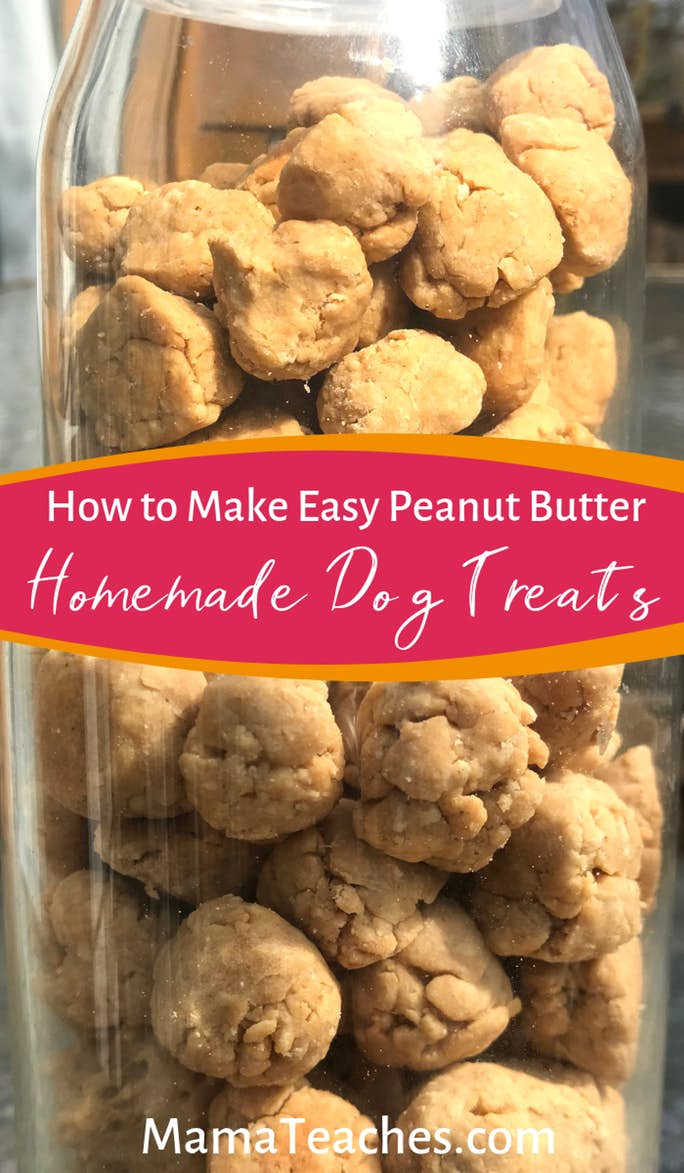 Homemade Peanut Butter Dog Treats Recipe
Here's how to make some quick and easy homemade dog treats! May your pups enjoy them!
Makes: About 12-18 depending on how big you make them
​
Ingredients:
1 cup flour
½ cup oatmeal
½ cup peanut butter
½ cup water
Materials:
Baking sheet
Parchment paper
Bowl
​
Instructions:
Preheat oven to 350 degrees F.
Line baking sheet with parchment paper.
Put all ingredients into bowl and combine thoroughly with hands. If the blend is too sticky after a good mixing, you can add more flour, if desired. If you feel your blend is too dry or crumbly, add a few drops of water.
Roll into bite size balls. Size will differ according to the size of your hound and personal preference. If you don't want to make balls, you can also roll out flat and use cookie cutters. Dog bones would be cute. Or, if you're short on time, just put some dollops on the baking sheet. I promise your pups will not be upset with the presentation!
Place balls onto baking sheet.
Put in the oven and bake for about 30 minutes. If you want a crisper treat, leave in the oven for longer. Also keep in mind that bigger treats may need additional time in the oven.
Take out and let cool.
Treats will keep for about a week in an airtight container; up to 3 weeks in the fridge; and up to 6 months frozen.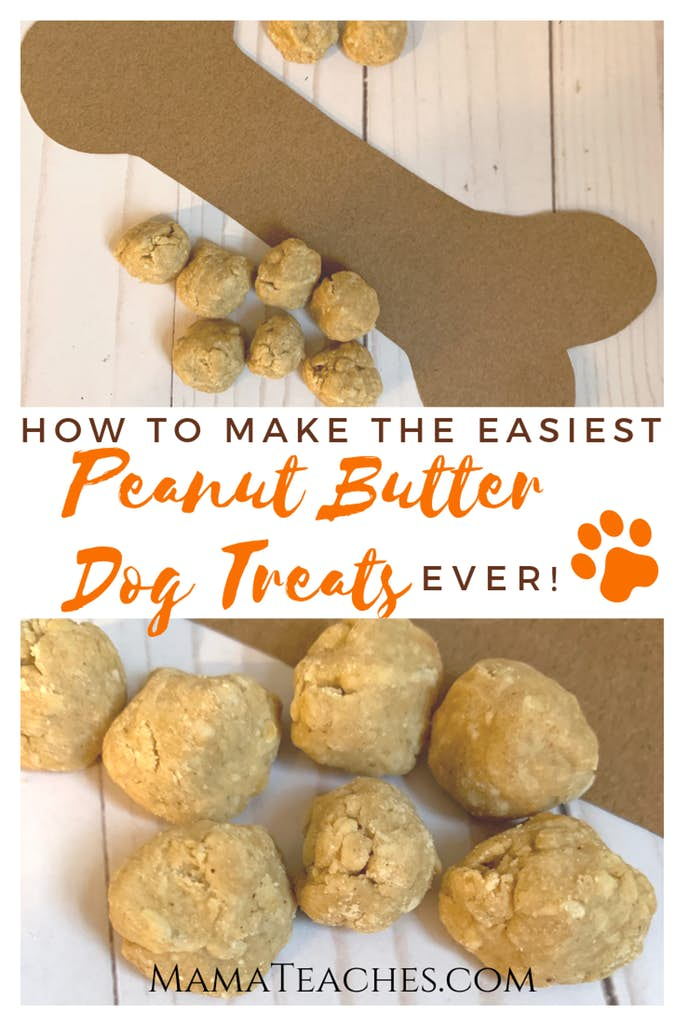 Enjoy!