ACT Prep with dyslexia or any learning disability can be tricky, but there are programs that can make it easier!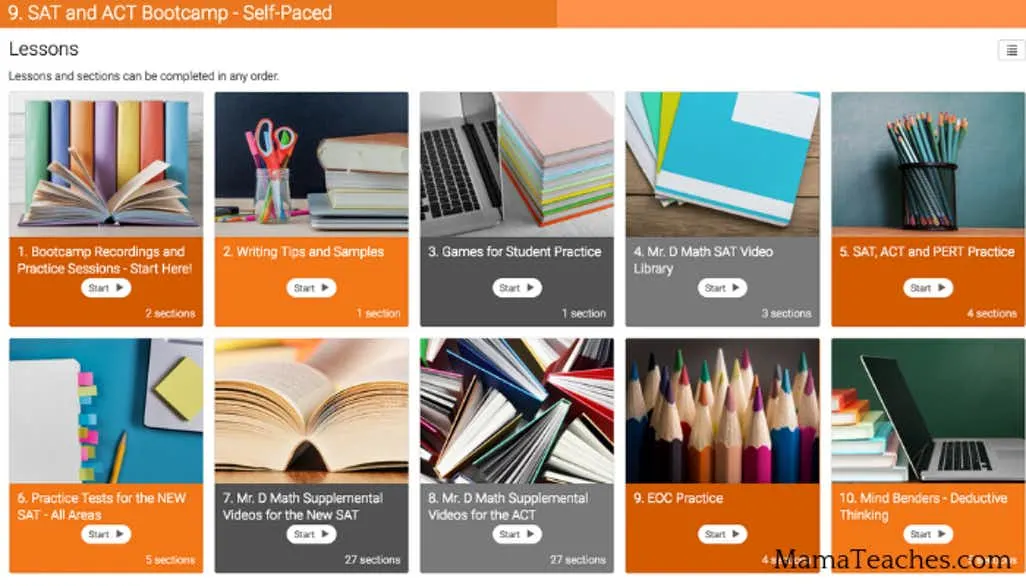 This article contains affiliate links to things that you might like.
One of the hardest things to prepare for, whether you have a learning disability or not, is a standardized test like the ACT or SAT.
My oldest had previously taken the PSATs and SAT, but due to his dyslexia diagnosis, it was a lot harder than it probably should have been.
He did do an SAT prep class that was amazing though, so when he decided that he'd like to take the ACT instead, we knew just where to go to help him study for the ACT exam – Mr. D Math's ACT Bootcamp.
We're so excited to share our experience with Mr. D Math's ACT Bootcamp class!
​
ACT Prep Options
There are many different ways that you can study for the ACT.
The ACT website has a great collection of practice exams, as well as helpful hints.
There are also in-person tutoring options from either tutoring centers or private tutors.
While we looked into those options, none of them really seemed to fit our schedule or our budget.
Since we have both a traditional homeschooling and cyber school background, my son is very familiar and comfortable with self-paced options, so we were naturally drawn to the ACT Bootcamp by Mr. D Math.
My oldest had previously taken the live SAT math prep class (which I highly recommend if your child struggles in math), so he was excited to check out the ACT version.
It definitely lived up to his expectations.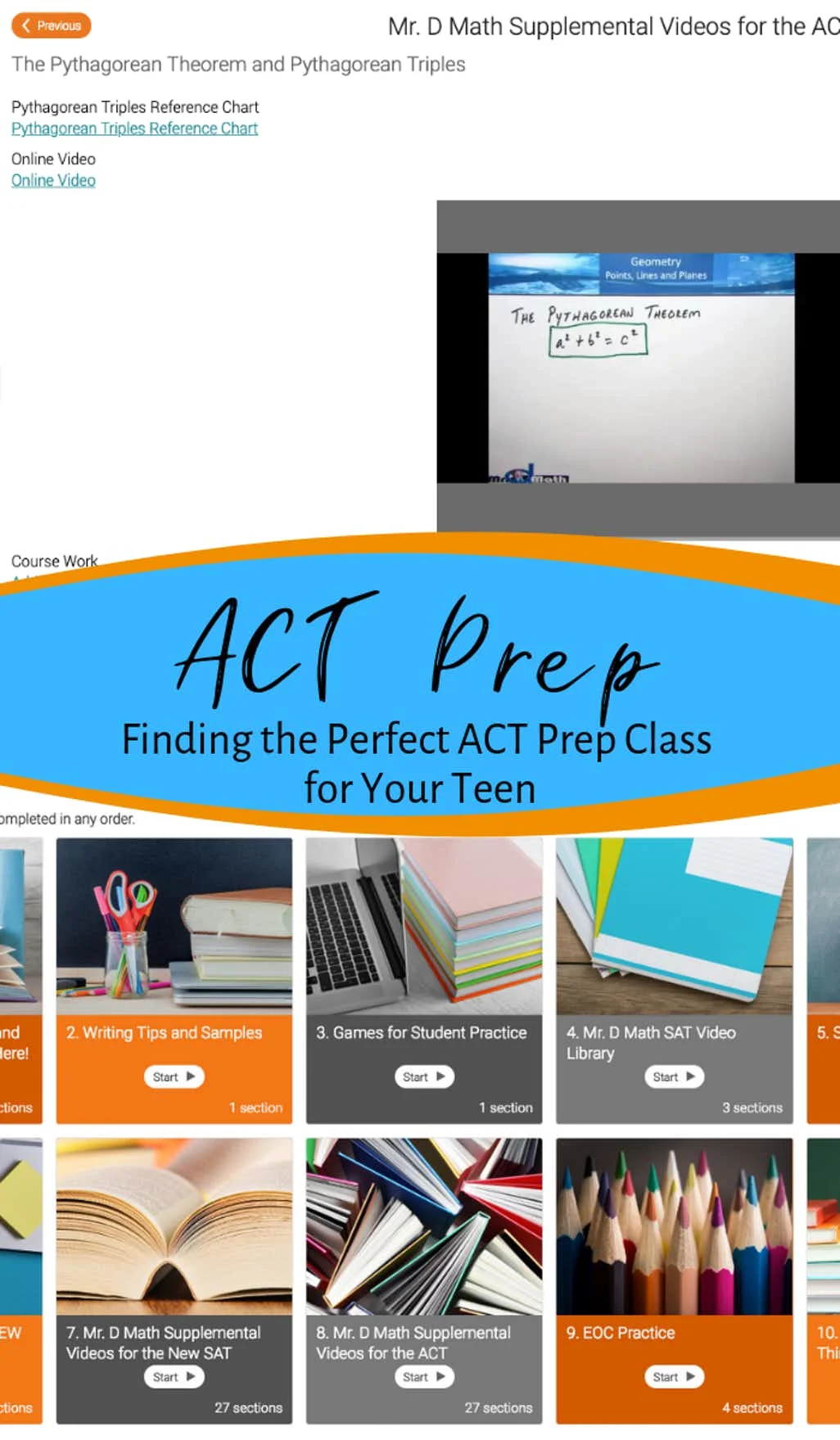 Online ACT Prep
One of the best things about Mr. D Math's ACT Bootcamp is that it is, for the most part, self-paced.
It allows students to work through lessons, practice exams, and more at times that work for them.
When we signed up for the class we didn't know that we would be passing the flu around the house for weeks, so the self-paced, online version was a huge blessing.
Not only could my son still get his ACT practice in, but he could also do it when he was feeling up to it. That made a huge difference.
The course is broken down into different sections with accompanying videos.
Each video describes the specific topic, like the Pythagorean Theorem, in detail, but in a way that teens understand.
There wasn't one video lesson that left him confused.
Classwork accompanies each lesson as well, so students can work through the problems as they listen to and watch the lessons.
That extra practice was a huge help and gave him a chance to work through the concepts.
Not only are the problems worked on, but Mr. D has a fantastic way of explaining how to answer the questions as they're presented on the exam.
As with any standardized test, one of the most important skills is knowing how to take the actual test.
Both my son and I felt that this ACT Prep Bootcamp did a terrific job of explaining and preparing him for that.
​
Why We Loved This ACT Prep Class
As someone with dyslexia, my son said that he really liked that there wasn't a ton of reading.
He felt that the videos did an excellent job explaining the concepts and even helped him in his geometry class!
The lessons were also short enough that he could tackle each concept and review in chunks versus having to spend hours each day studying.
It not only worked well with his schedule but made it possible for him to study and manage when he was recovering from the flu.
As a mom, I loved that the ACT prep was at his pace and presented in a learning style that suited his needs.
I also appreciated that the course taught him how to master the test instead of just how to get the right answers.
The fact that the videos were timely and helped to improve his math grades didn't help either.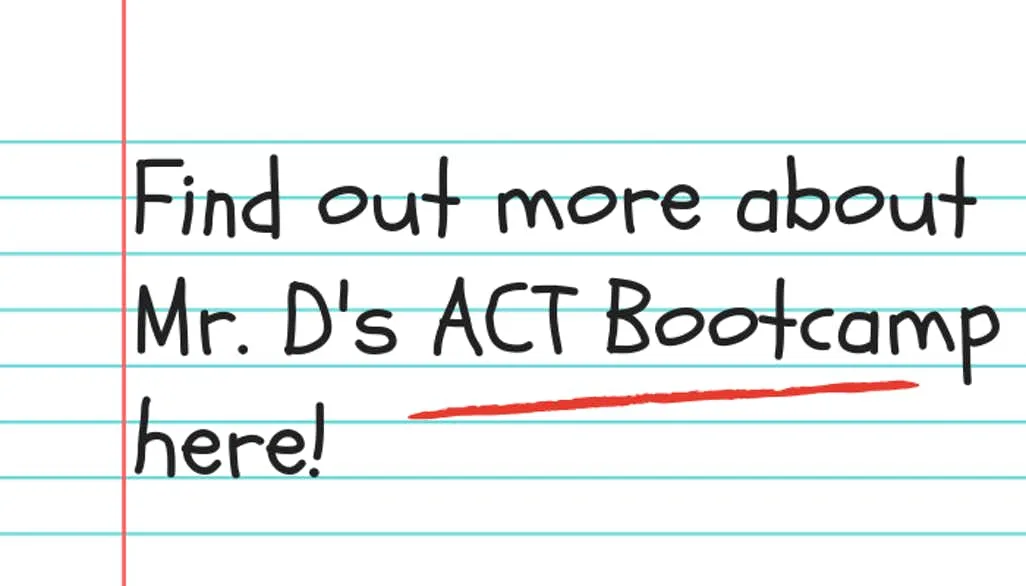 Pros and Cons of Mr. D's ACT Bootcamp
If you're in the process of selecting an ACT prep class for your teen, here are some of the pros and cons that we came up with in terms of Mr. D's online ACT Bootcamp course.
We thought of a lot of advantages, but very few drawbacks.
Pros:
Self-paced
Easy to understand
Small sections make it easier to tackle
Classwork gives extra practice
Explains how to master the test, as well as the concepts
Videos can be reviewed as many times as needed
Can do the ACT prep on your schedule
Cons:
Must be self-motivated. If your child does better with others motivating him to complete assignments or test prep, the self-paced lessons might not be the best option.
Online only. For teens that prefer to physically sit next to a tutor to complete the practice problems, the online version of this ACT prep probably would not be best. However, Mr. D has classes throughout the US, and there might be an in-person class that works better. There are also opportunities to meet in the virtual classroom for lessons, so that might be an option as well.
Overall, we've been delighted with Mr. D's ACT Bootcamp, as well as all of his other products.
It can be difficult trying to find the perfect ACT prep class for your teen (and getting them to buy into it!), but the ACT Bootcamp by Mr. D is both parent and teenager approved!