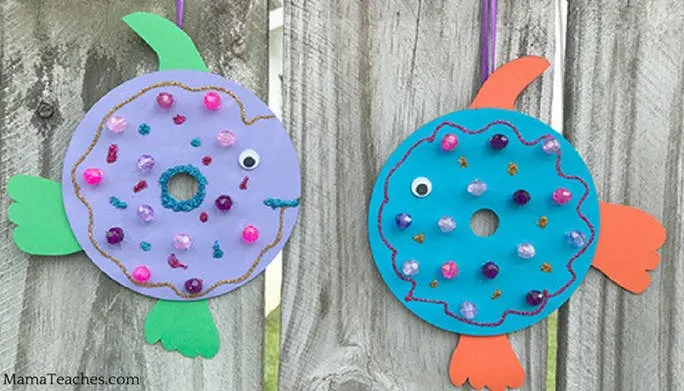 When we were getting ready to move at the end of last year, we found a lot of things that we needed to get rid of. But…being the craft-minded, out-of-the box thinkers that we are (aka craft supply hoarders), it was really hard to throw things away, because everything can be used to make something, right?! And that's how the Easy Disc Fish Crafts for kids was born.
Fish Crafts for Preschoolers
This quick kids' craft uses those old CDs and DVDs that you probably have around in a box somewhere, some acrylic paint, beads, glitter glue, and some paper for the fish fins.
This post contains affiliate links.
It's great for preschoolers (especially if you're reading Rainbow Fish by Marcus Pfister), but can also be used to decorate a classroom with an under the sea theme!
Imagine how fun and sparkly they'd be hanging from the ceiling!
While you don't need to use the printable fish fin template, it's also linked below in case you need it. Happy fishing craft fun, friends!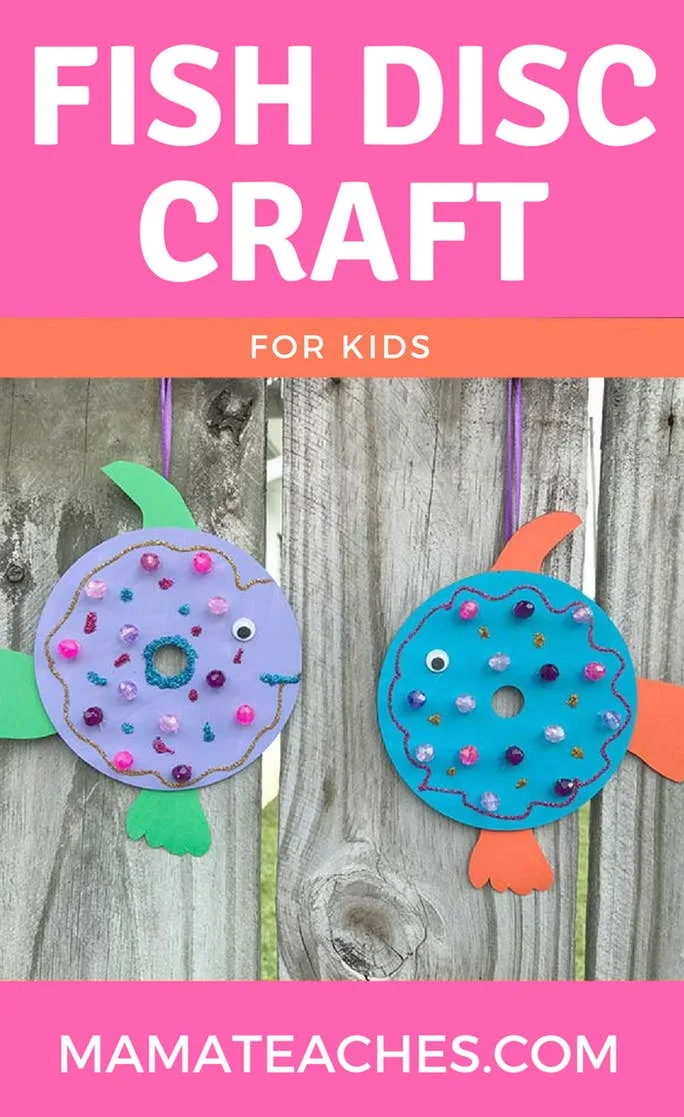 Crafts for Kids: Fish Crafts for Preschoolers
Ages: 3+ (with adult supervision)
Time: 30 minutes
Materials Needed:
CD/DVD Disc
Paint, your choice of colors
Gems/Beads
Glitter Glue
Paper for Fish Fins (if not using the pattern)
Directions:
Paint your Disc in your color of choice. Let dry.
Cut out your fins. If you print it on white paper but want to use a different color, just cut them out and use them as stencils. Trace them onto the paper of choice and cut them out.
Glue fins onto the back of your new painted disc.
Glue beads/gems on the disc to decorate.
Add glitter glue (because everything's better with glitter!).
Let dry.
When done, glue two sides of a string down in the back so it makes a loop for hanging.
OPTIONAL: Add a magnet to the back to make it into a refrigerator magnet!
​
Share your Preschool Fish Craft with us by posting a picture on our Facebook page, tagging us on Instagram @MamaTeaches, or leaving a picture below or in the conversations! We can't wait to see and celebrate your creations!