Celebrate the holiday in style with these easy and delicious 4th of July desserts!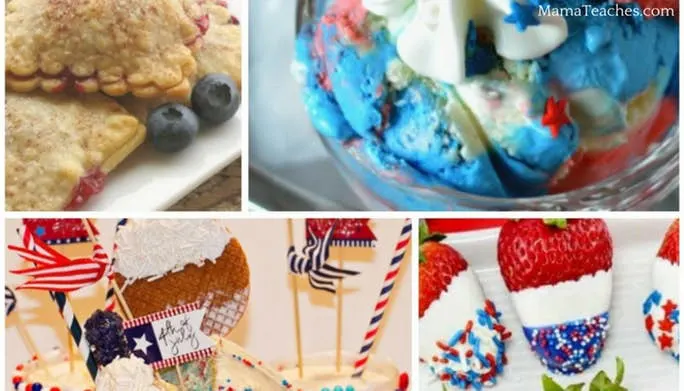 This article contains affiliate links to things that you might like.
After the grill has been turned off and the hot dogs and hamburgers are long gone, it's time to break out the Fourth of July desserts to make the holiday complete.
The red, white, and blue desserts below are the perfect way to end your holiday celebration or snack on while the fireworks light up the sky.
Need a 4th of July dessert to bring with you to a picnic?
These dessert recipes are great for that too!
4th of July Desserts Recipes
These adorable red, white, and blue rice krispies treats are sure to be a kid favorite! via Baking Beauty
Who can resist chocolate covered strawberries – let alone red, white, and blue ones?! via Princess Pinky Girl
Simply swap out the colorful jimmies for red white and blue sprinkles to make your very own patriotic ice cream sandwiches!
Sneak in a little bit of healthy among the sweet with this delicious and nutritious chia pudding! via Parenting Chaos
Anytime I can get fruit into my kids, I'm all for it.
This healthy and festive smoothie recipe is a 4th of July must-have! via Super Healthy Kids
Poke cakes are so much fun to make and so delicious!
This holiday one doesn't disappoint! via The Country Chic Cottage
Make your own delicious, scoopable ice cream with this Fourth of July Dessert favorite! via Growing Up Gabel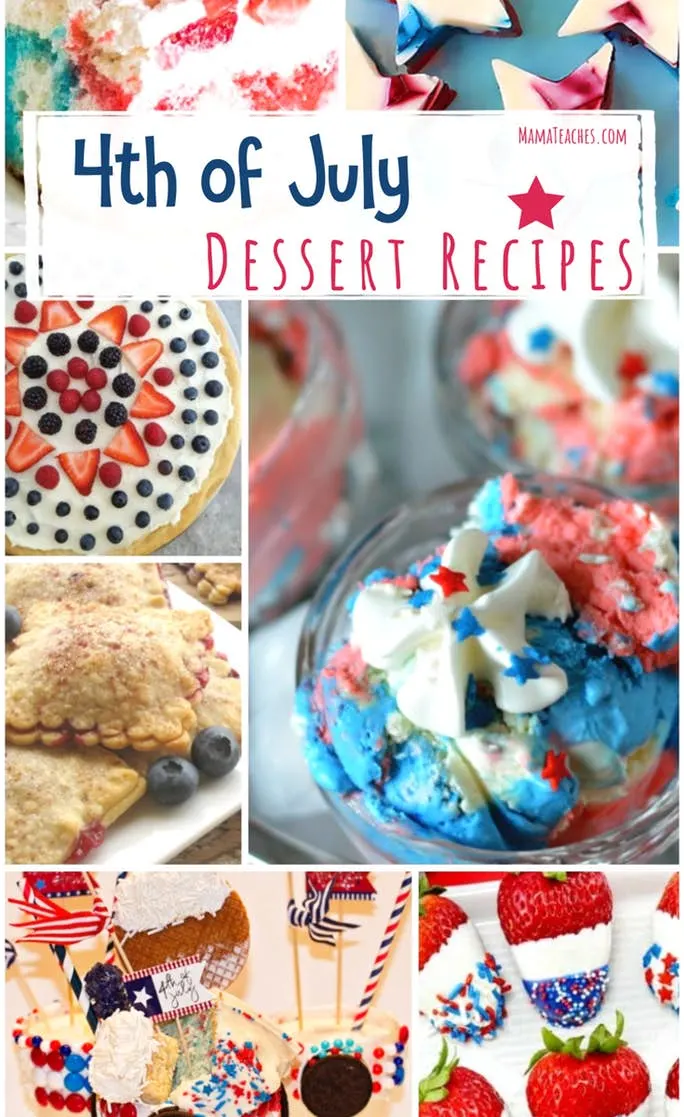 More Fourth of July Desserts
Our family and friends love these patriotic cookie pops! via Happiness Is Homemade
If they could eat Jell-O all day, every day, my kids would.
It's no wonder then that this 4th of July dessert recipe is a kid-favorite! via Gimme Some Oven
Chex Mix is awesome for any occasion, but this holiday-inspired version is one that everyone always devours. via Mom Endeavors
If you're whipping up some of the ice cream from above or scooping from store bought tubs, these patriotic sugar cones are a nice touch! via Baby Savers
My 14-year old would rather have fruit and ice pops over ice cream any day, so these watermelon and blueberry pops are sure to be a new favorite! via Oh My! Creative
If you have a Skittles lover in your house, this red white and blue cake will be gobbled up in no time! via Flour on My Face
Counting calories or points this holiday?
This fruit-based cheesecake salad (sounds weird, but it's delicious) can help you satisfy your sweet tooth while not taking up all of your points! via Life is Sweeter by Design
Annnnd following the healthy dessert above, meet these American flags that are made with a well-known snack! via Craft Create Cook
I love this dessert, because it's so easy to make and it's packed with some fruity goodness! via Sensible Momma
I never had icebox cakes growing up, so the concept is still new to me.
Did you?
This patriotic berry one sounds delicious though!! via Must Have Mom
These will take a bit of time to make, just because the layers need to freeze.
But, they're totally worth making and the recipe is easy enough that your kids can help you too! via The Things We'll Make
My youngest has been asking to make cake truffles, so these are definitely on our 4th of July desserts list! via Southern Plate
What's a "cake shake" you ask?
Only a little bit of heaven in an ice cream glass! via Tiaras and Tantrums
Although there are a lot of ads on this site (be sure to turn off your volume!), this 4th of July tunnel cake recipe is worth braving them for! via Food Folks and Fun
What are some of your favorite 4th of July desserts?
Let us know in the comments below!
We'd love to add your recipe to the list!