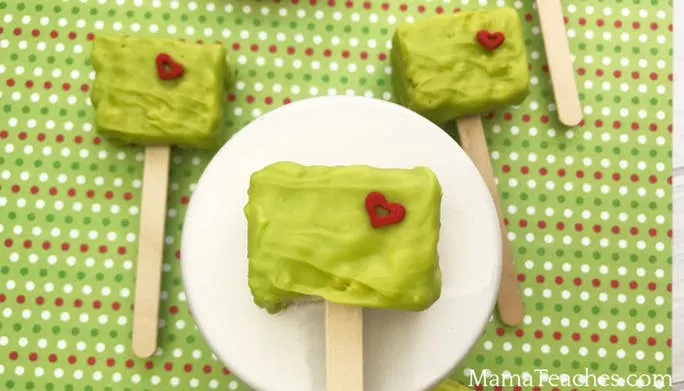 The new Grinch movie comes out this November, but the story is a classic no matter which version you watch. The story of hope, love, and getting back to what matters most in life resonates now more than ever in this crazy world of ours. So, whether you're watching the old cartoon version, Jim Carrey's version, or the new Grinch movie this holiday season, you're sure to find a bit of sweetness that will make your heart grow.
​
Grinch Party Food
If you're watching the movie with friends and family, have your own mini-Grinch party! These Grinch Rice Krispies Treats are tasty and easy to make.
Be sure to try some Grinch celery, Grinch slime, and Grinch playdough while you're at it! They're the perfect way to tie some learning and crafting fun in to your favorite holiday movie.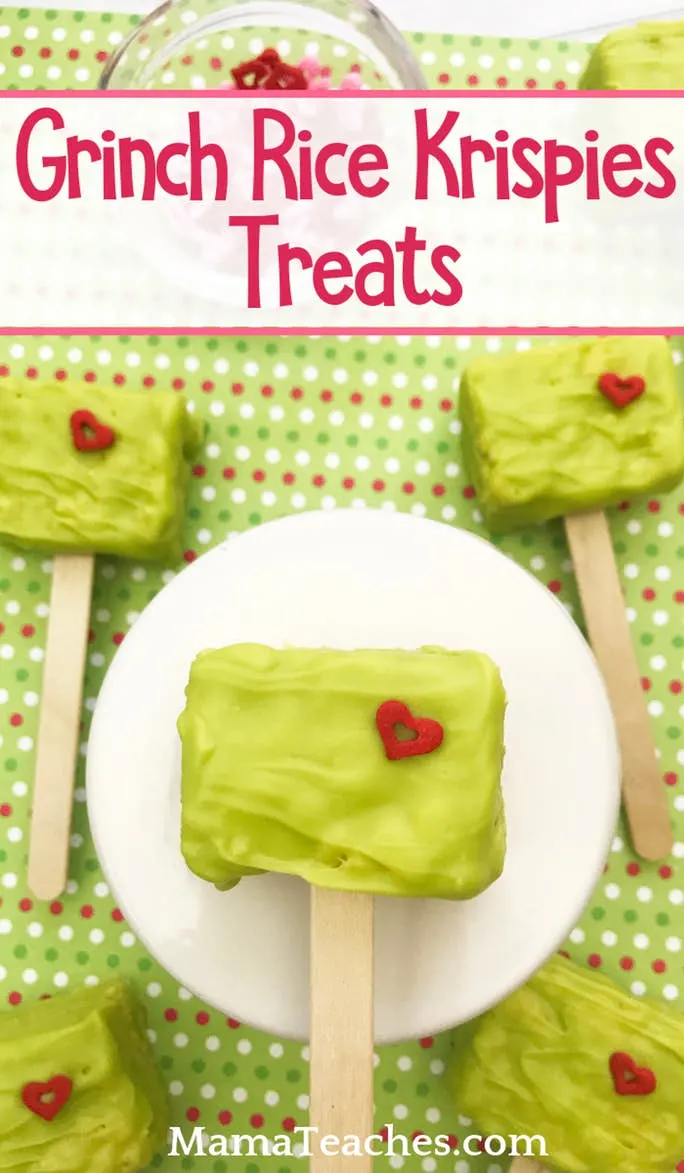 ​
Grinch Rice Krispies Treats Recipe
Makes 16
I've included affiliate links to some of the ingredients that are usually hard to find at the store to help you!
Ingredients:
Directions:
Line a baking sheet with parchment or wax paper.
Open the Rice Krispie Treats and discard the wrappers.
Use the paring knife to cut each Rice Krispie Treat in half.
Insert one popsicle stick into the bottom of each Rice Krispie Treat and place on the baking sheet.
Place the baking sheet in the fridge of 30 minutes.
After 30 minutes, remove the treats from the fridge and pour the vibrant green candy melts into a microwave safe dish. Heat in the microwave in 30 second increments, stirring until melted.
Dip each Grinch Bite into the melted chocolate, using a spoon to coat and allowing the excess chocolate to drip back into the bowl.
Place the treat on the prepared baking sheet and place 1 red heart in the upper right.
Repeat with all the Grinch Bites.
*Makes 16 Rice Krispie Grinch Bites