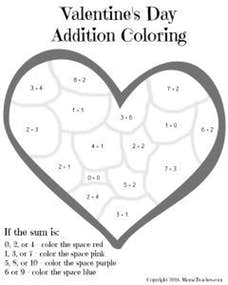 One of the kids' favorite ways to practice math facts is by using coloring sheets where they have to solve the problem and then color in the image. The boys prefer the more abstract images with more complex math facts, but the kindergartener is all over everything girly and loves to practice her addition and subtraction facts.
VALENTINE'S DAY HEART ADDITION COLORING SHEET PRINTABLE
With Valentine's Day quickly approaching, it was the perfect time to whip up a heart addition coloring sheet for her. You can also download it to use with your child by clicking here.
Have fun practicing those 0-10 addition facts!
You might also want to check out these 3 Quick Valentine's Day Crafts for Kids!