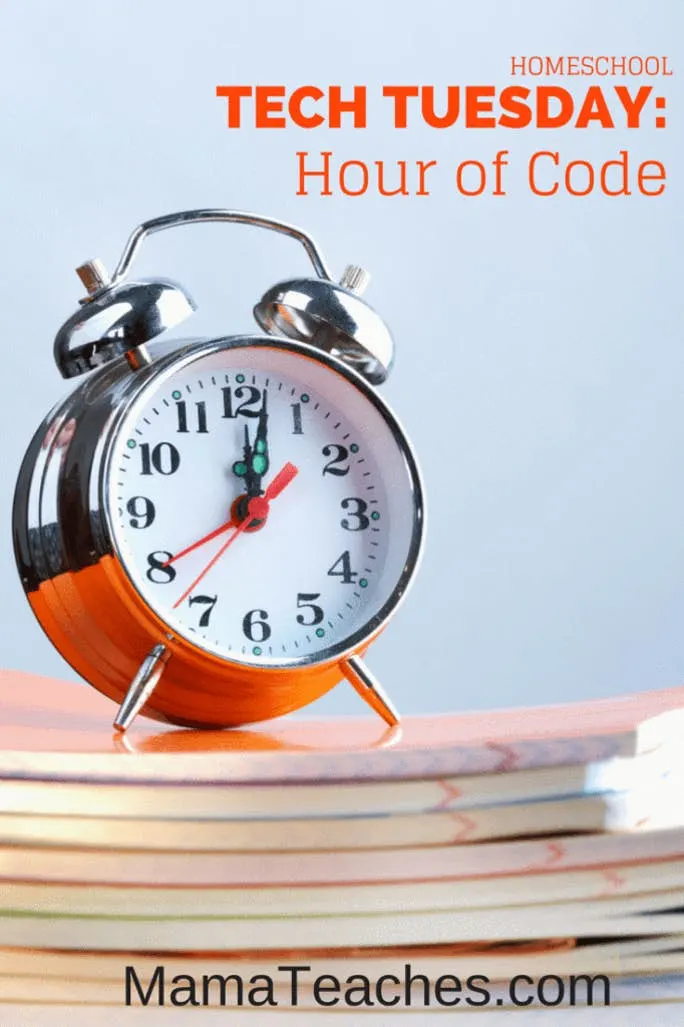 Get them involved in The Hour of Code, of course! From December 8th-14th, more than 10 million students across the world will be spending an hour learning to code. In fact, in 2013 more than 15 million students spent an hour coding…in one week. That makes a tech loving, homeschooling mama's heart happy.
HOMESCHOOL TECH TUESDAY: HOUR OF CODE – WHAT IS IT?
"The Hour of Code is designed to demystify code and show that computer science is not rocket-science, anybody can learn the basics," said Hadi Partovi, founder and CEO of Code.org. "In one week last year, 15 million students tried an Hour of Code. Now we're aiming for 100 million worldwide to prove that the demand for relevant 21st century computer science education crosses all borders and knows no boundaries."
So, what exactly is Code.org®? It's a 501c3 public non-profit dedicated to expanding participation in computer science and increasing participation by women and underrepresented students of color. Its vision is that every student in every school should have the opportunity to learn computer programming. After launching in 2013, Code.org organized the Hour of Code campaign — which has introduced millions of students to computer science — partnered with more than 30 public school districts nationwide, and launched Code Studio, an open-source, online learning platform for all ages. Although we aren't participating as a public school, we are participating as a homeschool.
HOMESCHOOL TECH TUESDAY: HOUR OF CODE – HOW YOU CAN PARTICIPATE
Participating is easy and definitely kid-friendly. In fact, Little Miss is psyched to try her hand at the Frozen inspired coding assignment!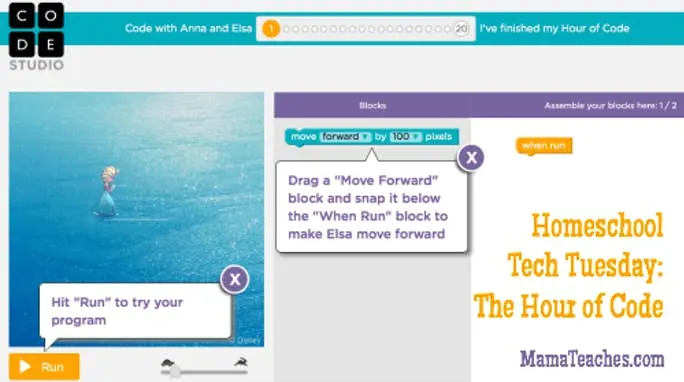 Sign-up for free at Code.org and they'll send you information about getting started. The Code Studiois where your children will do their actual coding lessons and activities. Don't worry if they (or you!) have never done any coding before; it walks you through everything step-by-step and is designed to be easy to follow so that all children can be successful and learn to code. Yes, even if you're tech-challenged, you can still participate in The Hour of Code.
In fact, here are some great resources for figuring out how it will be best to introduce your student to coding. No computer? No problem! There are even coding possibilities on paper. Scroll through the ideas to explore them all.
NOW WHAT?
If you decide to be a part of The Hour of Code this week, let us know! We'd love to know who else is participating and hear how your kids liked coding.

HOUR OF CODE IN ACTION!