Smooth, fluid strokes–that's cursive in a nutshell.
How do you teach a child to write that way?
We have all the details on how to teach cursive writing to kids.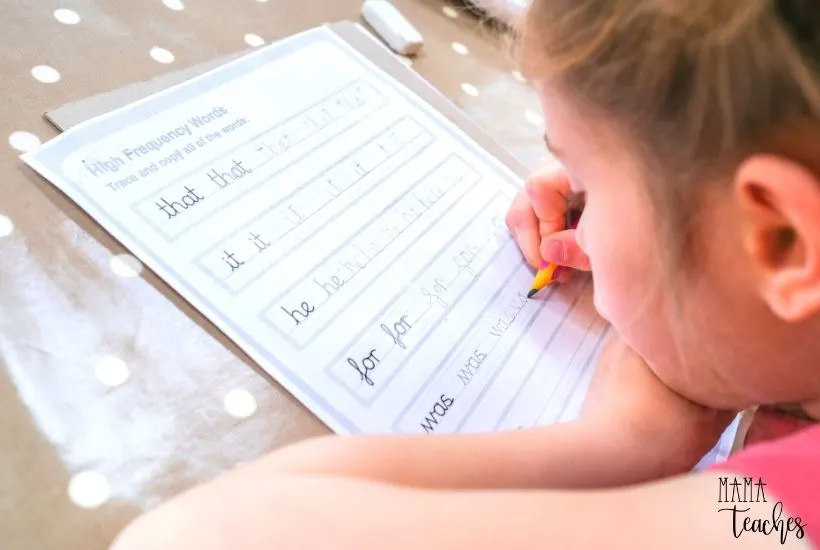 This article contains affiliate links to things that you might like.
Teaching Cursive Handwriting
When you picture cursive writings, you probably think of flowery calligraphy or handwritten documents like The Declaration of Independence.
But cursive has a place in today's world as well.
Writing in cursive is faster than writing in print because you don't lift your pen as often (less starting and stopping time).
Cursive is also easier for kids with dyslexia and dysgraphia or small motor muscle delays.
Boys tend to have neater cursive than print.
The difficulty in learning cursive is that the letters are unfamiliar.
Print letters are both read and written; cursive letters are typically only written by the child.
There is a learning curve to recognizing and recalling the shapes of learning letters.
It helps to have a cursive sample at hand for your child to continually reference.
Cursive Handwriting Practice
When teaching cursive handwriting, you need to know where to start.
Check out these ideas:
Pick a Style
Believe it or not, there are different styles of cursive.
Pick one and be consistent.
Keep a sample at hand.
Choose Pen over pencil
When introducing cursive, you may have more luck if your child writes in pen.
Pencil lead does not glide as easily as ink.
If the child makes a mistake (and she will), have her simply draw a line through the word or letter and continue.
I love Frixion erasable pens–they're game changers!
Tilt the Paper
Cursive has a lovely slant.
This is more than decorative; it helps you see what you are writing.
To achieve this slant you need to angle the paper when you write.
Right-handed children should position the paper with the write top corner pointing up.
Left-handers should position the paper with the left top corner pointing up.
Practice Reading in Cursive
Seek out opportunities for your child to read cursive writing.
Starting in third grade, Spelling Workout workbooks give the word lists in cursive.
McGuffey's readers offer some reading selection in cursive.
Help your child to read any words before he tries to write them.
Make It Fun
Handwriting practice can be dull, so spice it up! You can copy poems, jokes, or song lyrics.
You can use worksheets built around themes or holidays (Check out my FREE Christmas alphabet handwriting practice sheets here.)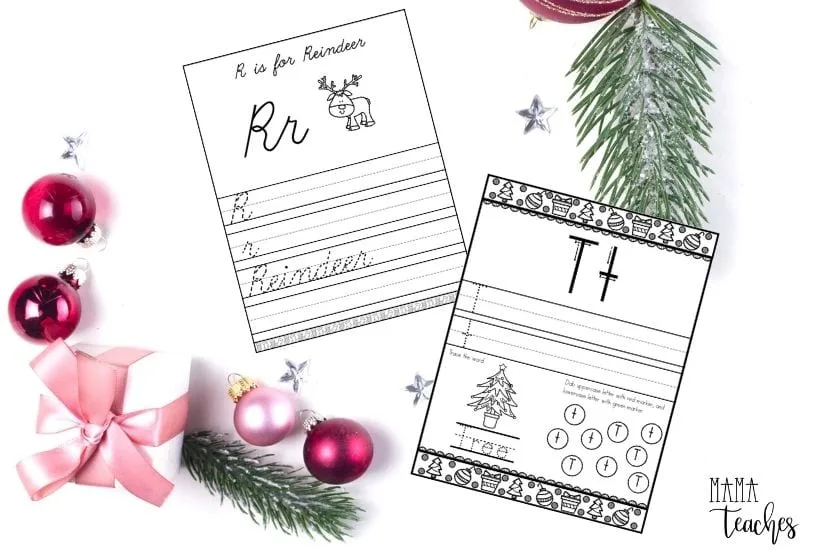 Use Cursive Writing Worksheets
The beauty of worksheets is that they are easier to write on than a workbook or notebook.
The paper lays flat on the table, and there are no ridges or bumps to negotiate around.
Printables are ideal; just print the page you want for the day!
Check out my Growth Mindset handwriting packets (available in both print and cursive) for easy, print-and-go cursive practice.
How to Teach Cursive Writing to Kids
Teaching cursive handwriting is not complicated.
By following these tips, your child will have lovely, flowing letters in no time!
You May Also Like: