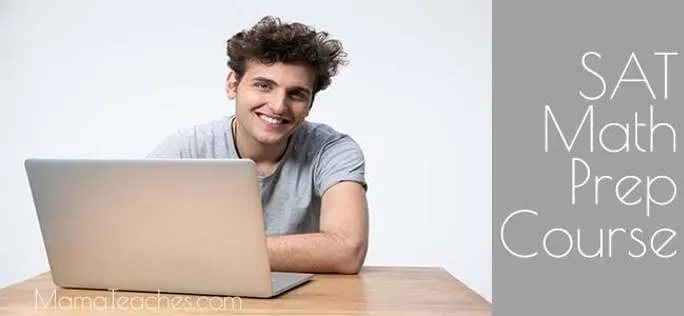 This article contains affiliate links to things that you might like.
I'm not especially strong in higher-level math, so when it comes to helping my teens with their math work, it's anyone's guess whether or not the answers are going to be right.
Since the oldest is getting ready to take the SATs (how did he get so old?!), I knew we were going to need some extra help.
So, when we were given the opportunity to review Mr. D's SAT Prep Class, we jumped at the chance.
After attending the class, I can honestly say that it is, hands-down, the best SAT Prep Online Class we've ever enrolled in.
Let me tell you why.
Meet Mr. D Math
I wish we had learned about Mr. D Math classes sooner.
It would have made teaching everything from pre-algebra to geometry a whole lot easier.
However, I am so, so thankful that we learned about the SAT Math Bootcamp class before the oldest took the exam.
You see, the thing that makes these classes so different and amazing (and I really do mean amazing), is Mr. D himself.
Dennis DiNoia has an incredible way of explaining complex math problems in terms that are easy to understand.
He's able to take a terrifying long algebraic equation and break it down into simple steps that are both manageable and easy to remember.
He's personable, has a great sense of humor, and my son really enjoyed learning from him.
Having your 15 year old say he enjoyed an SAT Math Prep class?
That's priceless.
LIVE ONLINE MATH
In one of the live SAT Prep classes that we attended, my oldest wasn't sure how to solve a problem.
I was of no help and even he gave me the "maybe I should just ask a question" line.
Even though the class had about 10 students in it, my son was able to send a private message to Mr. D and have his questions answered in real time.
We've been in other classes before where questions weren't allowed and there was virtual no live interaction with students.
That is not the case with Mr. D's classes.
It's also one of the reasons why Mr. D quickly became our favorite math teacher of all time.
In addition to helping students prepare for the SAT, he took the time to go through each math practice question individually and break it down.
I know that I stepped away from the class with a better understanding of the problems, and I know my son feels so much more confident and ready for the SATs than I could have ever helped him be on our own.
If you miss a class or two (like we have due to being under the weather), there's always a recording of the live class that's posted to the class portal page.
You can watch the videos over and over again
SAT PREP MATH BOOTCAMP
Unlike a lot of SAT Prep classes that just rush through the problems and strategies that can be used when taking the SATs, Mr. D's SAT Math Bootcamp is thorough, easy to follow, and, dare I say, fun?!
It's not easy getting a teenager excited about taking yet another math or test prep class after a long day of schoolwork, but my son was excited for class.
Instead of making the students figure out every problem the long, complicated way, Mr. D encouraged them to really analyze the questions, focus on what's being asked of them, and then solving the problem in the easiest way possible.
In addition to learning and reviewing math skills, Mr. D really focuses on the test-taking skills part of it, as well.
Since we don't do a lot of testing in our homeschooling, I was so excited that the SAT Bootcamp focused a lot on strategies that can be used while taking the test.
After each live class, Mr. D puts the video recording, as well as weekly assignments onto the class website.
We've found this especially helpful for reviewing during the week and will most likely use it a lot more right before the testing date itself.
If you're on the fence about enrolling in the SAT Math Bootcamp, let me just break it down for you:
Live, interactive online class meetings
Ask and get answers to questions in real time
Thorough explanation of all math problems
Test-taking strategies explained and practiced
Students leave with a sense of confidence and a plan for success
They're fun!
Mr. D is an awesome teacher
I know that sometimes a program seems too good to be true.
That the person writing the review is just making the class or product seem better than it is.
I get it.
But, friends, this is hands-down the best live online math class we have ever experienced.
In fact, we'll be using the other Mr. D math classes for all future homeschool high school classes for both boys.
They are fabulous.
Questions about the course that you'd like specific answers to?
Leave a comment below and I'll be happy to answer it the best I can.
Thanks so much to Mr. D for allowing us to review the SAT Math Bootcamp!
It changed the way we think about and will teach math in the years to come!