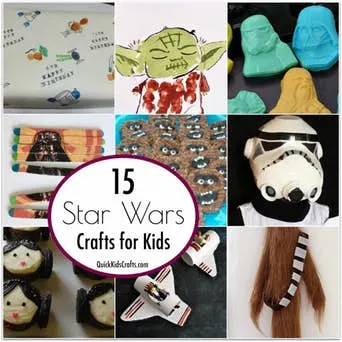 These 15 Star Wars crafts and activities for kids have been curated to give you the best of the best. There's something for kids from 3 to teen, so that the forces of creativity can be with you all!
Star Wars Kids' Crafts
You'll never have to fight at bath time again thanks to this Star Wars soap craft!
Make Dad feel special with this Star Wars-inspired Father's Day card!
Now you can soar away with your favorite Star Wars friends in your own homemade space shuttle!
Give your door some personality with the Star Wars door hanger!
What color will your light saber be – red or blue (or green, or yellow, or…)?
Take a break from all of that crafting with some yummy Princess Leia cupcakes!

Don't throw that milk jug in the recycle bin; re-use it to create a fun Storm Trooper helmet.
With some sponges and paint, you can create your very own Death Star.
Make a double batch and share your Chewie Wookie Cookies with friends!
Create a craft stick puzzle of your favorite Star Wars characters.
Having a Star Wars party on May 4th? Make a DIY pinata to liven up the festivities!
All you need is your thumb and some paint for this adorable Star Wars thumbprint craft idea!
Love Chewbacca? Make your own Chewbacca craft with the help of a paint stick!
Darth Vader may not be the nicest person, but he does do a good job of marking your pages with this easy bookmark.
If you haven't made a pool noodle light saber yet, you simply must. They're a great kids' craft for summertime fun! They're also perfect for Halloween – especially if you drop a few glow sticks inside the noodle.
What's your favorite Star Wars craft? Tell us about it below! Happy Star Wars' Day, friends! May the 4th be with you!