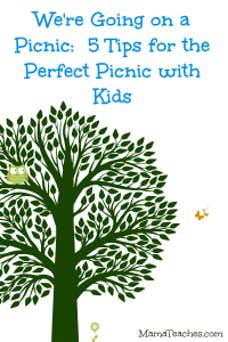 This article contains affiliate links to things that you might like.
But thinking about and actually planning a picnic with your kids may be two entirely different things.
Here are some tips to make your next picnic with your kids as wonderful of an experience as you hope it will be:
HOW TO PICNIC WITH KIDS
1. PROTECT THEIR SKIN.
The scorching sun, angry insects and poisonous plants could put a serious damper on your picnic.
To keep your kids protected from the sun, be sure to lather on the sunscreen.
Also, try to have your picnic near a shaded area so kids can have a place to get out of the sun when they need to.
Keep your picnic in an area that does not have tall grass or a lot of flowering plants to avoid bee stings or ticks.
You can also bring along some insect repellent to keep the mosquitoes and gnats at bay.
And before you go, brush up on your knowledge of poisonous plants like poison ivy (leaves of three, let it be) to avoid itchy rashes from plant oils.
If you do plan on going for a nature walk, make sure to pack full-coverage shoes and socks and always stick to a path.
2. LET THE KIDS HELP PLAN THE MEAL.
Getting kids to actually eat at a picnic when nature's beauty surrounds them can be difficult.
With a little foresight, you can get your kids to eat their picnic meals before the call of the wild overtakes them.
The trick is to have them help in preparation of the meal.
Kids always seem to eat better when they have a hand in preparing their foods.
Let them choose at least one dish they can make themselves.
Younger children can help make sandwiches.
Older kids can cut up fresh fruit for a salad.
Watch how easily they devour their creations.
3. BRING YOUR CAMERA.
Besides taking candid shots of your family, you can also use your camera to play a fun alphabet picnic game.
Start out by saying "We're going on a picnic and we're bringing…" Look around your picnic site to find something that starts with the letter A and take a picture of it.
Go through the entire alphabet snapping pictures of everything you find.
When you get home, you can print out your pictures and make a keepsake book for your kids.
4. PUT AWAY YOUR PHONE (AND THEIRS, TOO).
Don't answer any emails.
Don't immediately post the pictures you take on Instagram.
Turn off all notifications.
Unless you are using your phone as your camera, leave it in the car for emergency purposes only.
Soak up the time with your kids and make it a special time just for you to enjoy together.
Not everything needs to be shared.
In fact, the memories that you have of your picnic together may be the ones you remember forever.
5. HAVE A PLAN, BUT BE WILLING TO BREAK IT.
So… the forecast called for sunny skies, but now it's raining.
Or maybe the watermelon you brought turned out to be rotten in the middle when you cut it open.
Relax!
It's not the end of the world.
You can always have an awesome living room picnic.
And who needs watermelon when there's ice cream anyway?
Whatever happens, just go with it. If you don't act frazzled, your kids won't know the difference.
Hope you have a wonderful time on your picnic!