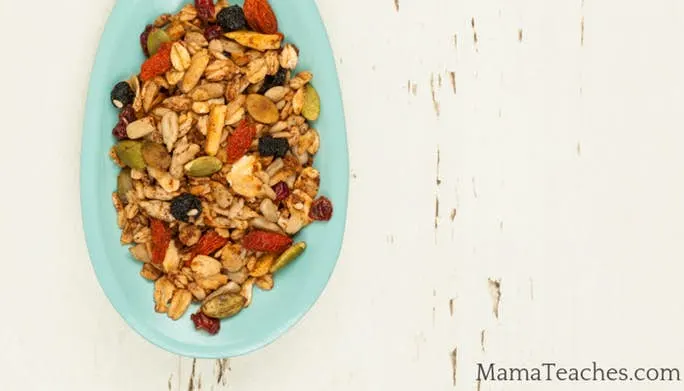 Trail Mix recipes are this mom's best friend!
Since we're home most of the time, it's fun to mix up our snack times with some trail mix. If you don't homeschool, no worries – you can pack these in your child's lunchbox for a yummy and healthy classroom treat.*
Since some of these mixes do require special ingredients, it's always a good idea to plan what you're going to make beforehand. Here are our top three kid-created trail mixes for picky eaters and some commentary on each from the kids who devour them! As always, supervise your children when they're eating and do not give trail mix to children who are too young to thoroughly chew and swallow nuts and berries.
3 TRAIL MIX RECIPES FOR KIDS BY KIDS
1. The Snow Queen Trail Mix
This delicious mix was inspired by that movie with a lot ice and snow and singing (lots and lots and lots of singing). "It's like trail mix for a wintery day," claims the youngest.
The Snow Queen Mix includes:
Coconut Flakes
White Chocolate Chips
Dried Cranberries
Macadamia Nuts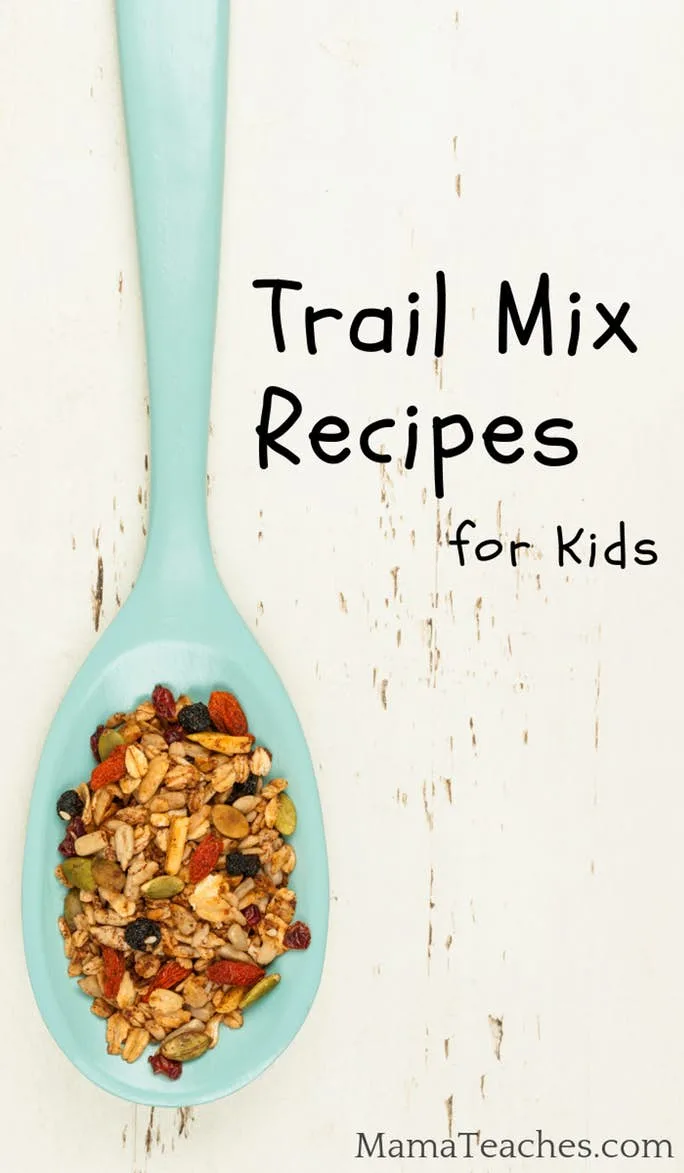 2. The Minecraft Mix
Apparently Chex cereal reminds my kids of [Minecraft](https://mamateaches.com/7-ways-to-use-minecraft-when-homeschooling/ "7 Ways to Use Minecraft When Homeschooling"), because they named this delicious mix after their favorite game. "I like it because it's got chunks instead of a lot of small pieces, so I can snack on it while playing Minecraft," said the 10 year old.
The Minecraft Mix includes:
Chocolate Chex Cereal
Roasted Peanuts
Banana Chips
Mini Pretzels
​
3. The "Don't Touch My Trail Mix" Trail Mix
Named for the constant phrase uttered by the children when we have this one, it just begs for people to sneak things out of it for their own personal pleasure.
The "Don't Touch My Trail Mix" Trail Mix includes:
Toasted Oat Cereal
Hard Shell Chocolate Candies
Mini Pretzels
Roasted Almonds
Cashews
Dried Cranberries
Coconut Flakes
​
What are some of your family's favorite trail mix recipes? Share them with us below!
​
* Please note that all of the mixes contain nuts of some sort, so use caution when sending them to school if there are nut allergies in your child's class. No trail mix is worth the life of a child.