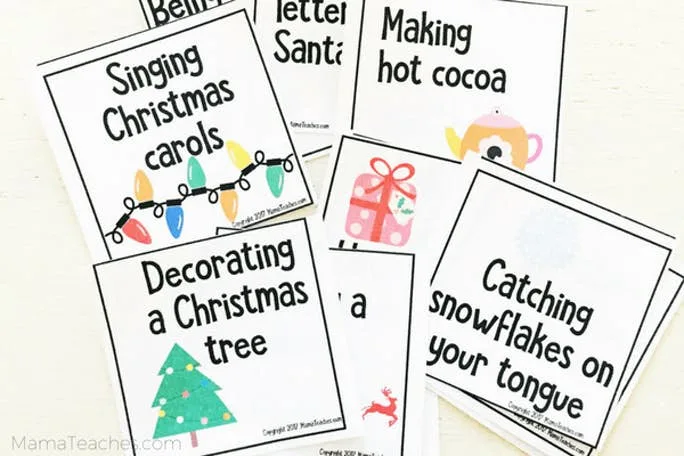 It always makes us laugh and, when we have extended family over, it's a game that everyone can play together. Since Christmas is right around the corner, what better way to celebrate the season than with a Christmas Charades Game for Kids!
Christmas Charades Game for Kids
MAKING CHARADES
This particular game came about last minute when my daughter's birthday party game plans had to suddenly change. The game she had been planning to do just wasn't going to work in the space we had available.
So, some quick thinking and some beautiful graphics from my friend Barbara at ArtBarShop on etsy helped us whip up a fun game of Christmas Charades for Kids.
ABOUT THE SET OF CHRISTMAS CHARADES
There are 18 action cards in the printable set and each one is related to Christmas. There are six cards per page, so there are three pages in total. Minimal reading is required, so if you're playing with littles, you may need to help them read.
PRINTING THE CARDS
For best results, print the cards out on heavy cardstock. Not only does it make them more durable, it also prevents them from being see through. You certainly don't want to give away the action by reading through the paper!
If you don't want to print in color, simply select "greyscale" in your printer settings and that will print them in black and white.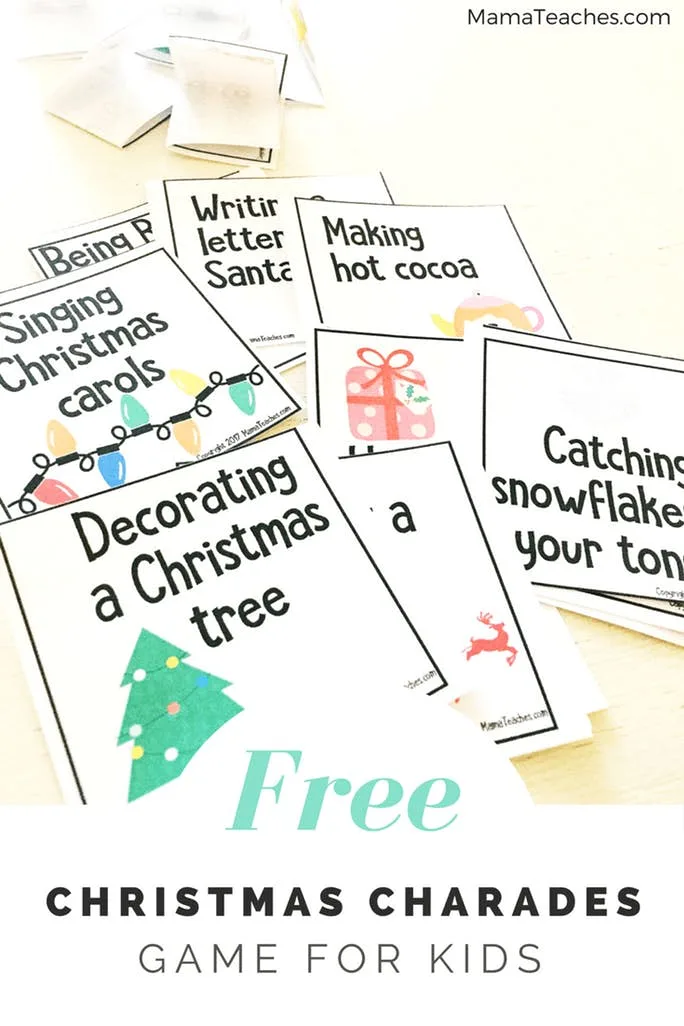 HOW TO PLAY CHRISTMAS CHARADES
Playing the game is easy and fun! We had a large group, so we divided everyone into two teams. The first player on Team One got to select a card. We cut out and folded the cards beforehand.
The player then had to act out the action on the card without using props or making any noise. Talking is prohibited!
While he is acting out the card, members of his team have to try and guess what he's doing. If they guess correctly, they get a point. If they don't guess correctly, the other team has a chance to guess.
We set a 30 second limit for each player, but you could make it longer or shorter depending on the time you have available – and your participants' attention spans.
After the first player's turn, the first player from Team Two gets to go and his team has to try and guess what he's acting out.
Take turns until all of the cards are gone.
The team with the most points at the end of the game wins!