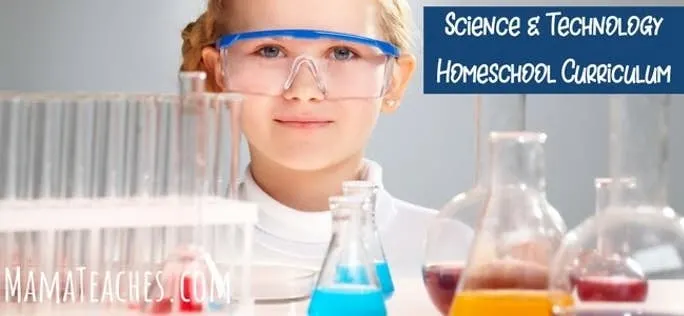 They're not only my favorite homeschool curriculum subjects to teach, they're also our kids' favorite subject to study. They get excited about science experiments and eat up everything related to coding and technology.
Did you know that both of the boys built their own computers from scratch? I have no clue how to do it, but they took it upon themselves to learn about the components they'd need, which ones work best together, and then saved up their money over years (we're talking almost $1,000 each!) to build the ultimate computers. I am in awe of them.
Since I love science and tech, but don't know everything about it, I rely heavily on outside resources. So, when I was given the paid opportunity to take time and share some of our favorite resources and give my honest opinion about the selections from one of our favorite sites, Homeschool Buyers Co-op, I jumped at the chance.
If you've never heard of Homeschool Buyers Co-op, you're in for a treat! It's a fabulous site that's saved us a ton on homeschool curriculum and support items. They also have a terrific homeschool plannerthat we have used for years and love. In fact, I've featured them multiple times in the past, because, well, they're awesome. In terms of Science and Technology, they offer savings (up to 95%!) on programs that have not only helped enhance our science lessons, but have gotten the kids excited about learning to code. Here are some of our favorites.
Science Homeschool Curriculum
I am all for pre-planning lessons, but The Magic School Bus Science Club makes it so, so easy to get excited about science! The monthly homeschool curriculum box arrives in the mail filled with a lesson manual and all of the science supplies you need to explore that month's topic. There's been everything from lessons on Acids/Bases to Stars/Planets.
"With The Magic School Bus Science Club from The Young Scientists Club, your grade K-4 child can join Ms. Frizzle and her students on The Magic School Bus each month in exploring one of twelve different science topics through hands-on experiments.
Every month, you'll receive a science kit with a colorful lesson manual and supplies to explore one new educational topic."
As the one who's responsible for planning and implementing, I absolutely love the low-prep aspect of the activities and lesson! You can find out more about The Magic School Bus Science Club here.
We were first introduced to Real Science-4-Kids' homeschool curriculum when we attended a co-op many years ago. It was a terrific experience and the kids really enjoyed using the curriculum – which, as any homeschool mom knows, it 90% of the battle! Homeschool Buyers Co-op members can save up to 25% on all Real Science-4-Kids science curriculum on astronomy, chemistry, biology, physics, and geology.
"Real Science-4-Kids introduces young children to the core scientific disciplines of chemistry, biology, physics, astronomy and geology.
STEM fields are growing at an unprecedented rate and every parent wants to provide their students with the best math and science programs. Real Science-4-Kids is designed to provide students with the fundamental building blocks that they need to succeed."
The lessons and resources actively encourage higher level critical thinking skills with plenty of experimentation and creativity. It's the perfect blend of hands-on science goodness! Find out more about the Real Science-4-Kids books here.
Do your kids love the ocean as much as mine do? If so, the Ocean First Education homeschool curriculum is a great fit for your middle and high school students. Finding a science curriculum that meet the needs of older kids while still being engaging is tough, but this one makes life easy!
"Ocean First Education aims to inspire new depths of awareness and respect for our ocean. Through innovative curriculum, research, and technologies, they seek to connect people with the magic and beauty of the underwater world and create knowledgeable, passionate ocean stewards."
Designed for kids in 6-12 grade, the Ocean First Education program lets kids explore aspect of the ocean that interest them the most. From Sea Turtles to Marine Ecology, there's a course for everyone – and they're all 25% off at Homeschool Buyers Co-op! Read more about Ocean First Education here.
TECHNOLOGY HOMESCHOOL CURRICULUM
My kids love Minecraft and I love that this homeschool curriculum was designed by an actual game programmer! The classic subjects will always have a place in our kids' education, but in order to stay competitive, they have to learn coding. Since I'm not well-versed in programming languages and really not qualified to teach it, this class is a lifesaver! It combines the fun of Minecraft with the learning of programming.
"CodaKid self-paced courses are designed to teach kids not only how to write code, but to thoroughly understand the concepts so that they can perform them independently.
Instead of using copy and paste techniques or drag and drop interfaces, CodaKid students gain benefit by writing real code with the same programming tools used at major software development companies throughout the world, including Google, Facebook, Intel, and more.
CodaKid courses students teach booleans, conditionals, loops, variables, methods, arrays, and more – and also help boost students' proficiency in mathematics, problem solving, and critical thinking. With CodaKid's unique blend of kid-focused instruction, students develop the confidence to navigate the world of cutting edge technology, and feel confident coding, iterating, and debugging."
A technology curriculum that teaches while the kids have a blast playing their favorite game? YES, please! What's even better is that members can save over 60% at the Homeschool Buyers Co-op! (Can you see why I love their site?!?!) Find out more about CodaKid here.
Psst…hey homeschool mom over there….I have an amazing game to tell you about that you can totally pass off as just play when, in actuality, your kids will be doing some hardcore learning! Meet Taken Charge from Galvanize Labs. It's a "browser-based video game series for teaching technology to students in grades 3rd through 9th." And, even more importantly, "Taken Charge is the first recipient of the ISTE Seal of Alignment for Readiness award for an educational game."
Taken Charge provides:
Game Based Learning – Kids engage in hands-on activities in virtual environments, immersing them in the material so they learn more effectively.
Progressive & Self-Paced Learning – Levels and games are designed to be played sequentially, slowly building the player's knowledge and confidence levels. Kids learn and play at their own pace.
Assessments – Kids validate and demonstrate their learning through mini-game assessments offered within each game.
Badges – Success in learning results in the awarding of badges that highlights a player's newly acquired skill set.
Tracking Progress & Reporting Results – The Learning Management System was built to address challenges in understanding how students are learning and progressing.
As a mom, I love that they're learning while playing. As kids, they love that they hear me telling them to go play on the computer for school! Best of all, you can save up to 27% on Taken Charge through the Homeschool Buyers Co-op! Find out more about Taken Charge here.
Whether you're a new homeschooling family or one that's been doing this for awhile, be sure to check out Homeschool Buyers Co-op for your upcoming homeschool curriculum needs. From Science and Technology to free virtual field trips to Language Arts and Math curriculum, there's something for every homeschool family. Don't forget to sign-up for their newsletter too – it's the easiest way to stay on top of deals and upcoming discounts! Happy homeschooling!
Want to save this article for later? Pin the image below!