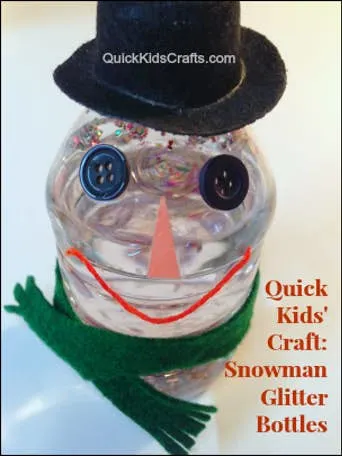 Ever since, the talk has been about snowballs and snowmen and when we might have enough snow to make them. Since we live in an area that will either get rain all winter or 3 million feet of snow (okay, slight exaggeration), my children have learned not to get too excited when the forecast calls for snow. Thankfully, we had the supplies on hand to whip up a couple of shakeable glitter snowmen to appease them for the time being.
Snowman Glitter Bottle
Ages: 3+ (with adult supervision)
Time: 20 minutes
Materials Needed:
1 empty mini-water bottle with lid
Glitter
White Glue
Small felt hat
Felt
Orange construction paper
Black buttons
Red floss or yarn
Towel
Directions:
Fill the water bottle up with water and add some glitter. We're not too picky about the amount, so add as much or as little as you would like. Note: You can also add baby oil if you have it for a better glitter disbursement effect.
Screw the lid back on the water bottle tightly and dry it off with a towel so that there is no water on the outside of the bottle or lid.
Glue the felt hat on the top of the bottle. We put the glue on the bottle and slid the hat down over it. It helps to seal the lid a bit better and keeps the glue from dripping down from inside the hat.
Glue the buttons on for the eyes. You will need to hold the eyes in place for a minute or two so that they do not slip. You could also try using craft glue, but if you do not have any handy, plain white glue works fine too.
Cut a small triangle from the orange construction paper and glue it on for the nose.
Cut a length of red floss or yarn, about 2" long, and glue it on the bottle under the eyes for the mouth. Again, depending on the glue you use and the type of floss or yarn, you will need to gently hold it in place for about 30 seconds -1 minute.
Cut a 1/2" strip of felt for the scarf. We just cut a strip lengthwise across a full sheet of craft felt. Fringe the edges by cutting thin strips on each end.
Wrap the felt around the water bottle and glue it in place. Hint: We put glue on the felt before wrapping it around the bottle and that seemed to work well for us.
Let it dry for at least an hour before shaking.
Enjoy your new snowman glitter bottle!
Share your Snowman Glitter Bottle with us by posting a picture on our Facebook page!