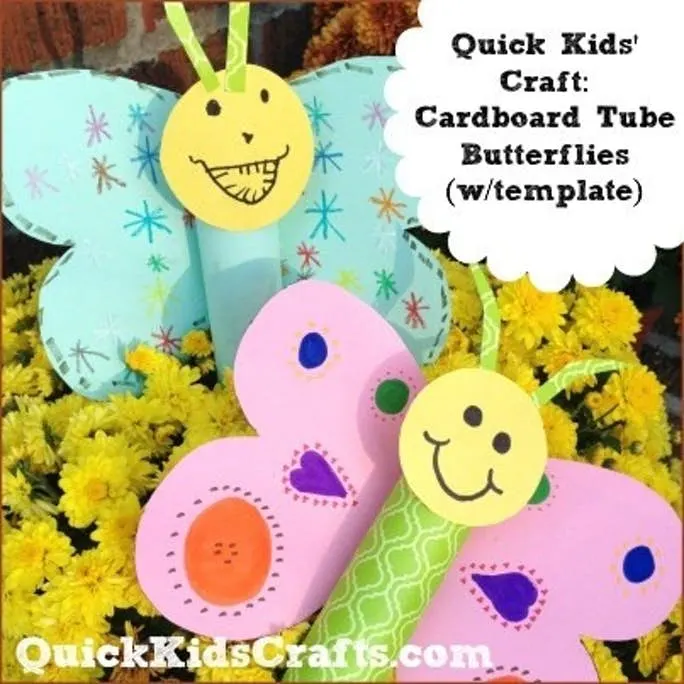 Break out your never ending supply of toilet paper tubes, some construction paper, and glue and your kids are ready to go.
Display the completed butterflies on the fireplace mantle or run a string through them and hang them from the curtain rods or chandelier.
Kid decorating at its best!
Cardboard Tube Butterflies
Ages: 4+ (with adult supervision)
Time: 20 minutes
​
Materials Needed:
Construction/scrapbook paper
Empty toilet paper tube
White Glue, Glue Stick, or Tape
Kid-Safe Scissors
Pencil
​
Directions:
Print and cut out the pieces on the Butterfly Template Pieces.
Trace the pieces onto the colored construction paper of your choice and cut them out.
Line the toilet paper tube up along the bottom edge of a piece of construction paper for the body. Mark the top edge of the tube and draw a line to mark how tall the piece of paper should be to cover the tube. Cut out the strip.
Glue or tape the construction paper onto the body (toilet paper tube).
Glue the wings onto the back of the tube.
Draw a face on the head of the butterfly and glue or tape the antenna onto the top of the face.
Glue the face onto the body.
Have fun crafting!
​
Share your Cardboard Tube Butterfly with us by posting a picture below or tagging us on Instagram @MamaTeaches!