Use those leftovers up with these Thanksgiving leftover recipes that are almost better than the original meal!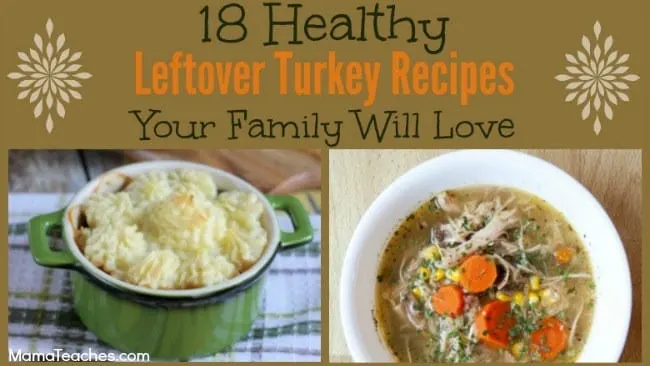 This article contains affiliate links to things that you might like.
In an effort to hold off the crazy that comes with the holidays, I wanted to be sure I had a collection of leftover turkey recipes to hold us through the days after Thanksgiving.
The 18 recipes below are super scrumptious and perfect to tuck away in your bookmarks until Black Friday.
Because, friends, Thanksgiving will be here before you know it.
18 Healthy Thanksgiving Leftover Recipes
1.Lightened Up Turkey or Chicken Pot Pie
2.Turkey Wild Rice Broccoli Bake
3.Turkey and Root Vegetable Stew
4.Holiday Leftovers Whole Grain Pizza
5.Turkey, Caesar Stuffed Sweet Potatoes
6.Turkey Spinach Quinoa Recipe
7.Thanksgiving Turkey Leftover Soup
8.Thanksgiving Leftovers Quiche
9.Left Over Turkey Crunchy Chinese Salad
10.Turkey, Kiwi and Apple Salad
11.Italian Turkey, Kale, and Orzo Soup
12.Turkey Tacos with Cranberry Salsa
13.Thanksgiving Soup with Turkey, Sweet Potatoes and Cranberries
14.Clean Leftover Turkey Pesto Quesadillas Recipe
15.Turkey Shepherdís Pie Recipe Gluten-free
16.Baked Tortellini with Turkey, Butternut Squash and Chard Recipe
18.Turkey Vegetable Healing Soup
What are some of your favorite leftover Thanksgiving recipes?
Do you have a lot of turkey left over from dinner?
Share your ideas in the comments below; I'd love to learn from your post-Thanksgiving expertise!