If you're looking for an online history curriculum that will truly engage your high school student, you know how challenging it can be to find one that holds their interest and is factually accurate. After searching for one for my own kids when we were homeschooling, I was excited to find what I truly believe is the best online history curriculum for high schoolers. Let me introduce you.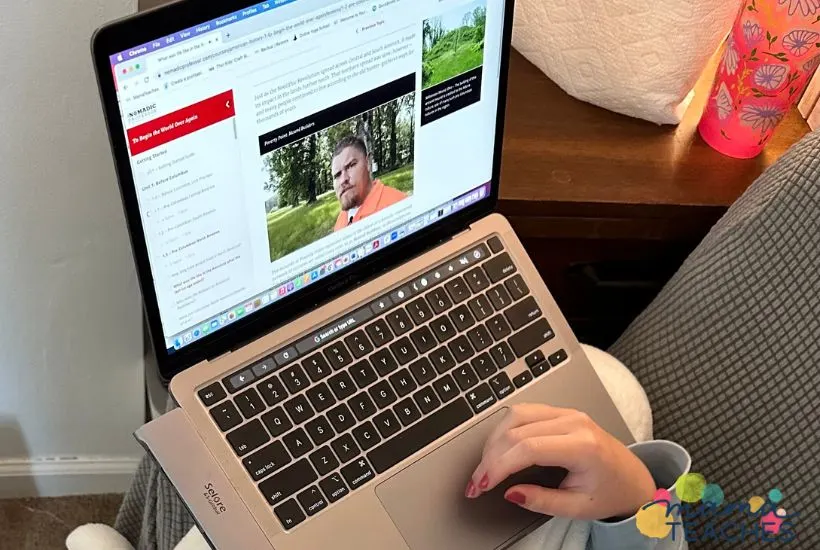 I was paid for my time to write this review. All opinions are my own. This article contains affiliate links.
Nomadic History
For the best online history curriculum, look no further than the Nomadic Professor's US History (1, 2, 3, and 4) program.
As a homeschooling parent, I have seen firsthand how underdeveloped and boring curriculums can take the joy of learning right out of the picture.
Conversely, I have seen how engaging curriculums, like those from the Nomadic Professor, can truly change how kids view learning and how their curiosity gets amplified when they are interested in something.
But what makes the Nomadic Professor's US History programs so special? A lot of things!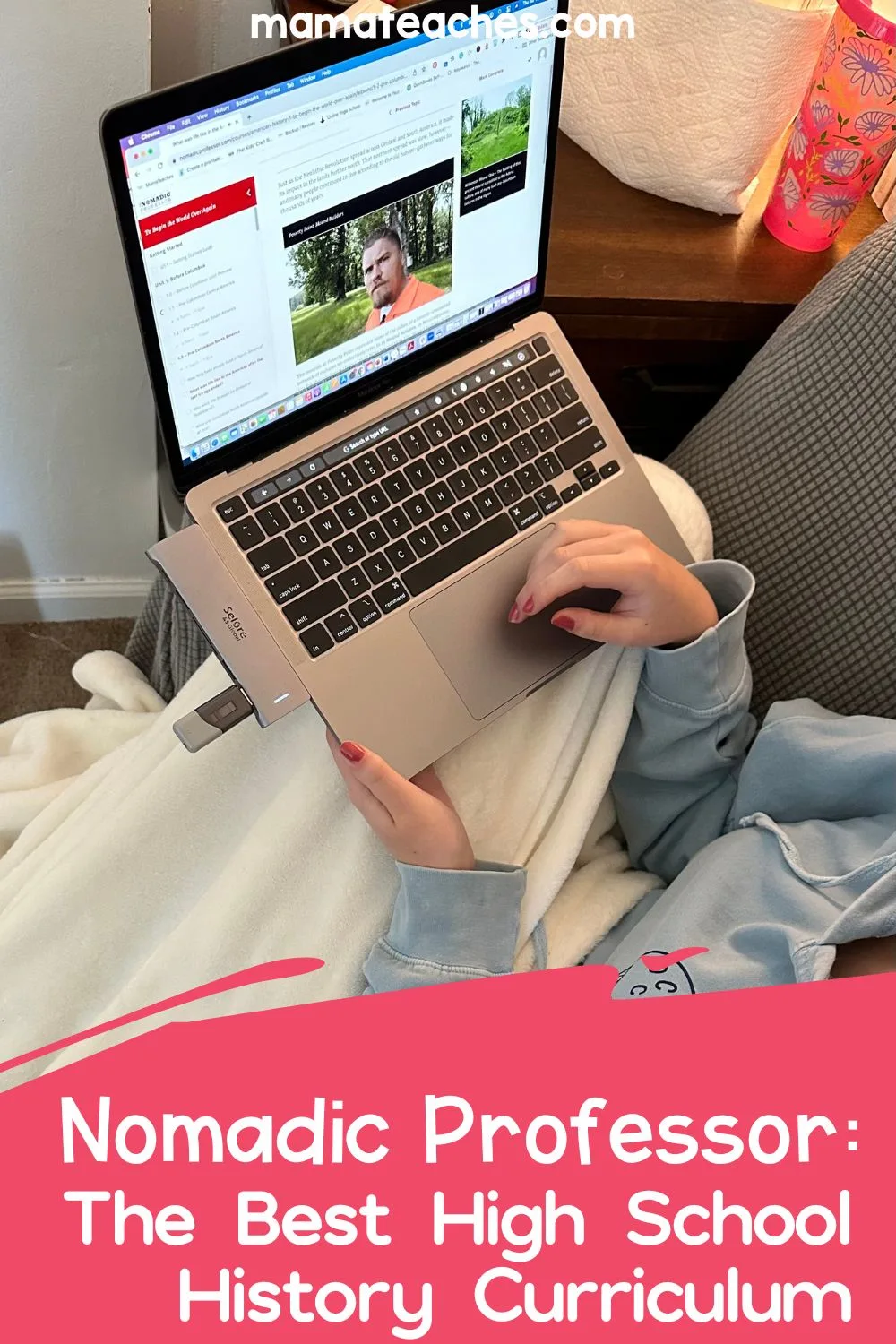 Homeschool History Online and Around the World
The on-location videos filmed all over the world and the dynamic teaching style make the history classes and content engaging and interesting for students.
My kids would have found it much easier to connect with historical events and figures thanks to these unique approaches than just through texts or videos with stock photos. The ability to be immersed in a location, albeit virtually, makes a huge difference.
Online Homeschool History Classes
The history curriculum teaches students to use evidence to make arguments about the past and present rather than just memorizing facts and dates. I love this aspect because, truth be told, I was a "memorize for the test" student in high school, and there is so much I have forgotten.
I love that the opportunity is there for kids to really digest the history curriculum rather than memorize it for a quiz.
The challenging aspect of the course is also impressive. The nuanced narratives encourage critical thinking skills and primary source analysis while avoiding one-sided, easy answers.
This prepares kids for the complex real world they'll face when they leave home. Moreover, the curriculum teaches practical skills such as effective note-taking, research techniques, and proper writing, which will serve my child well beyond their high school years.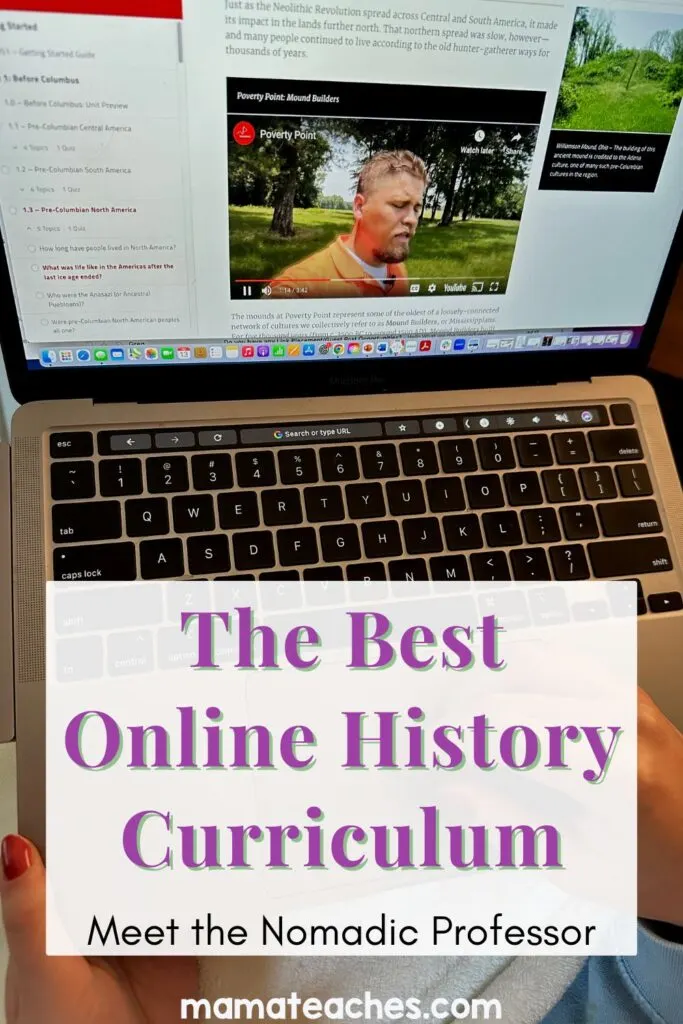 Key Features of the Nomadic History
The key features of the course are also worth highlighting.
The complete audio option is excellent for students who prefer to listen to the lessons. This is perfect for students with dyslexia!
Alternatively, if your child prefers to read text, they can digest the course that way.
No matter how they consume knowledge, engaging videos are there to help break things up and explain things more clearly.
The primary source emphasis is also a unique and refreshing aspect of the curriculum.
The user-friendly platform includes previews, content, summaries, quizzes, and document-based lessons. The guided notes provide excellent support and structure for all reading materials, while the daily checklists and calendars are incredibly useful tools.
Four Years of High School History
Finally, I appreciate that this is a program that my child can work through throughout their entire high school career. The comprehensive approach to learning history ensures that my child will be well-prepared for college and beyond.
And I would be remiss in not mentioning the Media Literacy course that is equally as important and engaging.
Designed to help students weed through and identify the influence of the media on events, the class is one that high schoolers need now more than ever.
The curriculum is still being created and uploaded, but the beginning lessons are thorough and highly engaging. It's a great addition to any homeschool high school curriculum.
The Nomadic Professor
Overall, I highly recommend the Nomadic Professor's US history curriculum to all homeschooling parents looking for the best homeschool history curriculum for their children.
Join the Nomadic Professor for the Best Online History Curriculum
Interested in learning more about the Nomadic Professor or enrolling your high schooler in classes? Use the coupon code Nomadic20 to save 20% on all recurring class subscriptions through July 31, 2023.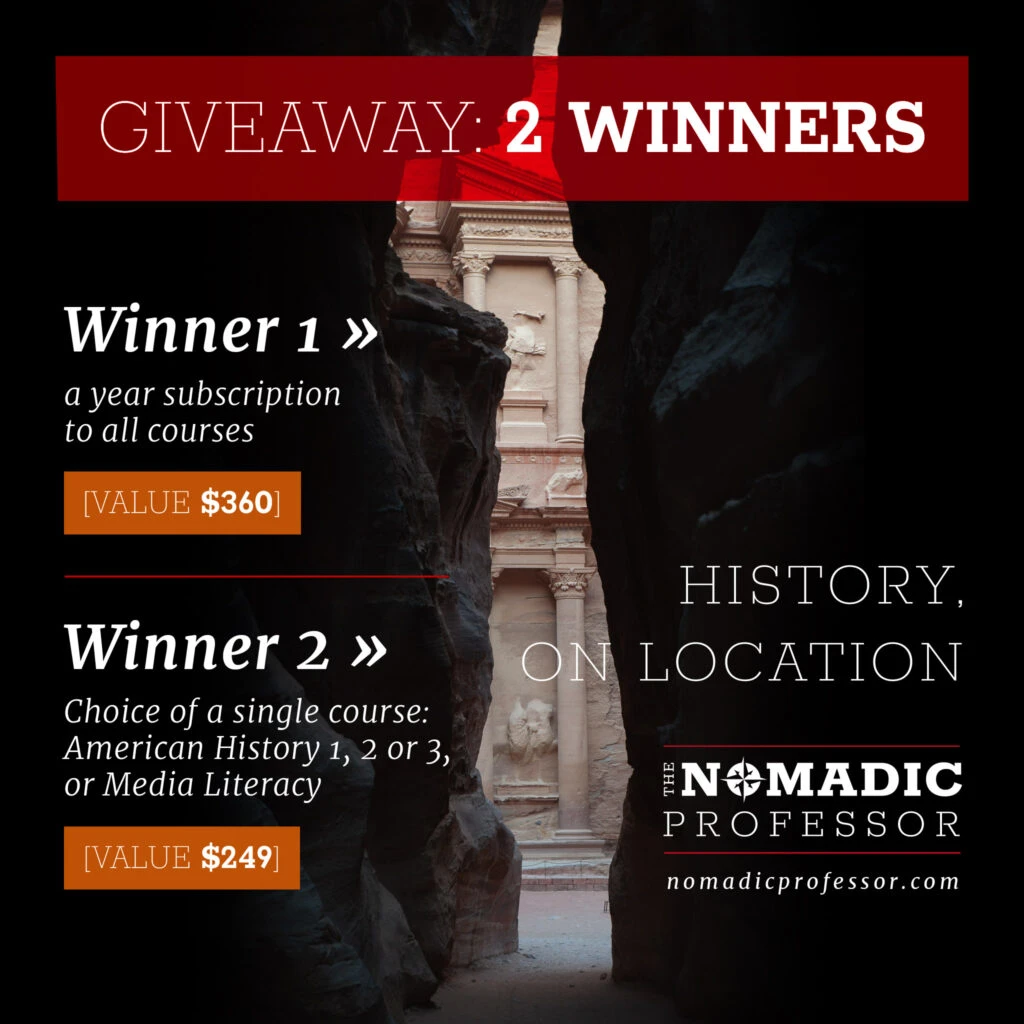 And be sure to enter the giveaway, where one winner will receive a year's subscription to all courses ($360 value). Another winner will receive their choice of a single course (US History 1, 2, 3, 4, or Media Literacy – $249 value). Click the button below or the image above to enter!
YOU MIGHT ALSO LIKE…