Make your side dish the talk of the town with this easy and delicious Cranberry Broccoli Pasta Salad recipe.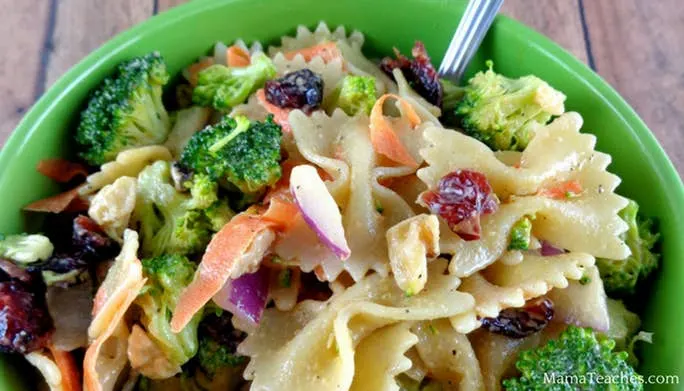 One of the areas where I really struggle with food temptations is side dishes. Having a sandwich? Here's some chips. Having a burger? Here's some fries. Not exactly the healthiest of options.
I've been working on creating healthier side dishes to go with our meals, because it's hard to write about health and fitness when you're snacking on a bag of Bugles. (And by snacking, I mean devouring the entire bag of deliciousness.)
So, I've been working on a pasta side dish that everyone will eat (including my child who only eats beige food) that's also not so bad for you. Meet the Cranberry Broccoli Pasta Salad!
Healthy Side Dish
The dish is loaded with yummy veggies and has a healthy punch of protein thanks to the plain Greek yogurt. You could use mayo in place of the yogurt if that's more to your liking, but try making your own instead of buying the overly processed stuff.
It's quick, easy, and makes a good chip-alternative! Hope you enjoy!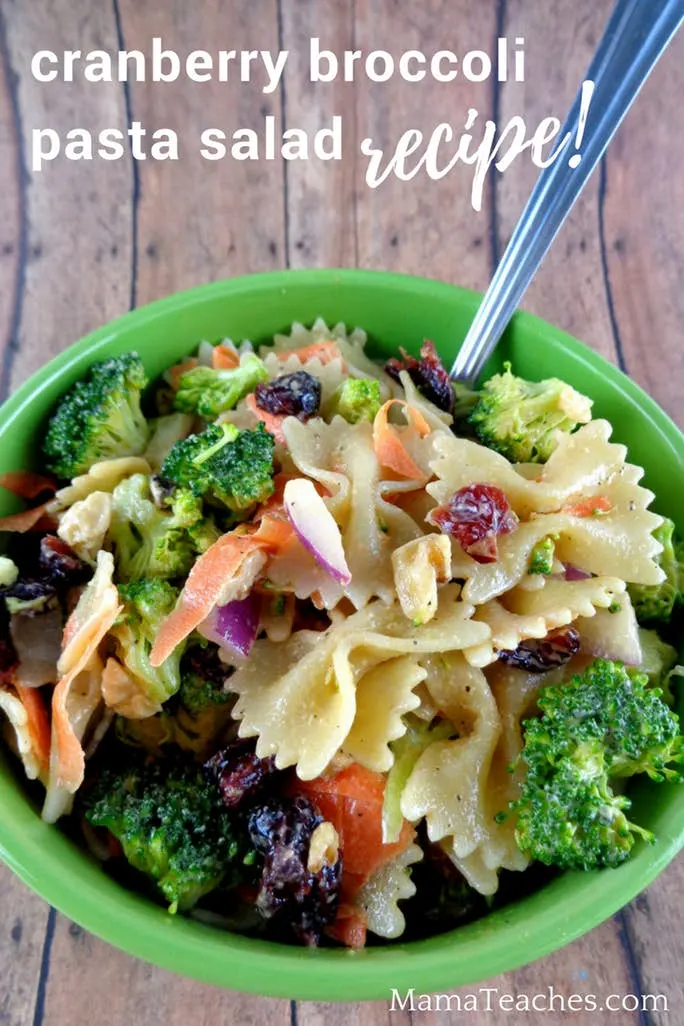 Cranberry Broccoli Pasta Salad Recipe
Ingredients:
8 oz Whole Wheat Bowtie Pasta
1 lb Broccoli, cut into 1-inch pieces
1 cup Shredded Carrots
1 Medium Red Onion, diced
1 Lemon (for the juice)
1/2 cup Plain Greek Yogurt
1 cup Dried Cranberries
1/2 cup Chopped Walnuts
Stevia
Garlic Powder
Salt & Pepper
Directions:
Boil the pasta in lightly salted water. Cook until the noodles are al dente. Strain them, rinse with cold water, and set them aside.
In a bowl combine the yogurt, Stevia, and fresh lemon juice. Add enough lemon juice to create a dressing consistency. Start off small with the Stevia and add enough to make it sweet enough for your taste. Set aside.
Combine the cooked pasta, broccoli, shredded carrots, red onion and dressing in a large bowl and mix thoroughly.
Add the walnuts and dried cranberries to pasta mixture. Stir thoroughly.
Add garlic powder, salt and pepper to taste.
Chill in the refrigerator for at least one hour before serving.
Enjoy!
​
You might also like this healthy Italian pasta salad recipe that swaps zucchini noodles for traditional noodles!