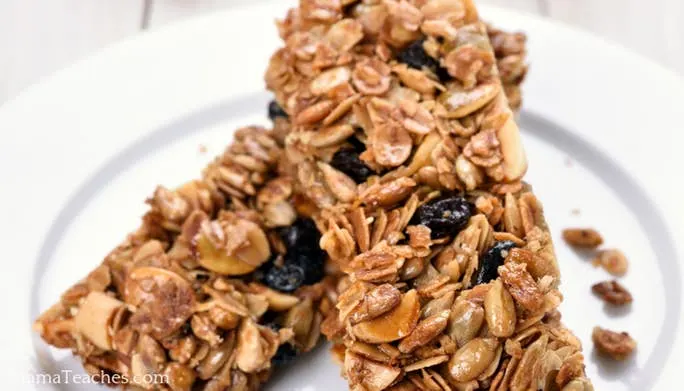 This article contains affiliate links to things that you might like.
As a mom of three, I know how hectic school mornings can be and how getting everyone to eat something before they head out the door isn't always easy.
This year we've been doing a lot of grab and go breakfasts because everyone has to be out the door by 7:10 am.
Quick, easy breakfasts are a necessity!
Here are seven of our favorite grab and go breakfasts ideas that help us stay on track with (mostly!) healthy eating on school mornings.
Some of them can even be made in big batches ahead of time, frozen, and then thawed in the microwave on busy mornings!
Enjoy!
​
7 Grab and Go Breakfast Ideas
1. Banana Chips & English Muffin
Grab a baggie of Homemade Banana Chips and an English Muffin with peanut butter and breakfast is set!
It's a simple way to get some needed healthy fat (good for brain function and early morning learning!), fiber, and protein into my family's diet without them fussing about taking food with them.
​
2. Chocolate Almond Protein Bars
Protein bars are always a good option for grab and go breakfasts, but I'm not a big fan of all of the chemicals and preservatives that usually get added to them.
These Chocolate Almond Breakfast Protein Bars are a great alternative.
Just remember to make them ahead of time as they do need about an hour in the freezer to firm up.
Just don't keep them in the freezer for too long or you'll break your teeth trying to eat them!
​
3. Take-Along Smoothie
Peanut butter and bananas are a pair made in heaven.
Combine them in a yummy, grab and go smoothie and you're set for breakfast.
This Peanut Butter and Banana Smoothie recipe is easy to make and keeps the family filled for hours.
Pro-Tip: Serve it in tall, disposable to-go cups with lids instead of re-usable bottles.
There have been plenty of days when the reusable cups haven't gotten washed within 8-10 hours and they've had to be thrown away thanks to the smoothie gunk that didn't want to come out.
Also, the smell – it's awful.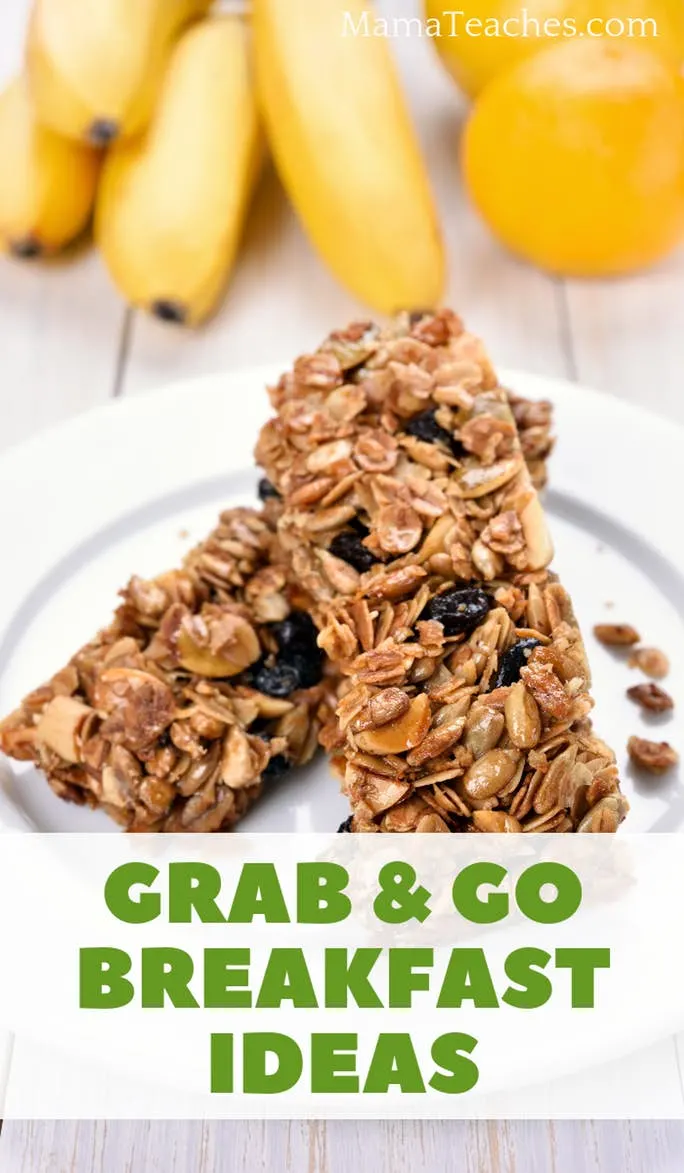 ​
4. Breakfast Bruschetta
English muffins, bacon, eggs, cheese…there's nothing not to like about this yummy Breakfast Bruschetta from my friend, Shelby, over at Grumpy's Honeybunch.
We do a lot of veggie prep work on the weekends, so this takes no time at all and the kids can grab an English muffin on their way out the door.
​
5. Egg Muffins with Waffles
Waffles should be considered their own food group.
Seriously, I love them that much.
So, it's no wonder that these Egg Muffins with Mini-Waffles at the bottom from my friend Krissy at B-Inspired Mama are a hit in my house.
You can also make them ahead of time, freeze, and reheat in the microwave.
Super easy – and did I mention they have waffles?!
​
6. Veggie Egg Cups
If you're wanting a healthier version of the egg muffins, try these yummy Veggie Egg Cups from the amazingly awesome Michele at Midlife Healthy Living.
These are also good if you're doing Weight Watchers!
​
7. Banana Blueberry Muffins
My friend Gina at Moneywise Moms is a genius at creating frugal, delicious recipes for her family.
These Banana Blueberry Muffins are the perfect example.
I love that they include healthy fruits, protein, and fiber.
They're another recipe that's great to make ahead of time, freeze, and then thaw.
​
Tell Us!
What are some of your favorite grab and go breakfast ideas?
Share them with us below!
We'd love to try out some new recipes and suggestions!