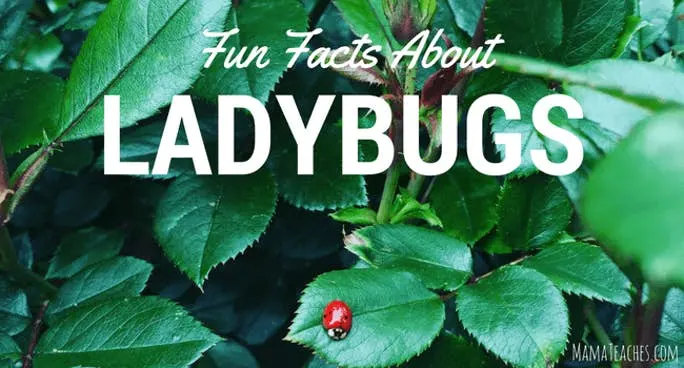 This article contains affiliate links to things that you might like.
I love ladybugs, always have.
They're tiny and cute and tolerate you moving them from one spot to the other with a blade of grass.
I've also always considered them good luck – as if a bright red beetle could bestow blessings upon our household with its mere presence.
Obviously not, but really, I love them.
So, when Little Miss wanted to get a ladybug habitat and have little ladybugs hatching in our house, I was okay with it.
Before we got them though, we learned a few fun facts about ladybugs that you might be interested in too!
Fun Facts About Ladybugs
1.THERE ARE ABOUT 5,000 DIFFERENT SPECIES OF LADYBUGS.
While most of us are familiar with the plain, old red ladybug, there are actually more than 5,000 different species of them in the world.
That's a whole lot of ladybugs!
In Europe, they're called ladybird beetles or lady beetles.
2. LADYBUGS EAT A LOT. A LOT.
Suffice it to say that the ladybug begins eating the moment it hatches.
While most ladybugs are super helpful to farmers by eating pests, there are a few species who have gone rogue and eat the plants instead of the insects eating the plants.
Farmers have been known to bring in ladybugs to help control the pests on their plants naturally.
It's an interesting alternative to pesticides for sure!
3. THE AVERAGE LIFE SPAN OF A LADYBUG IS 2-3 YEARS.
This fact surprised us! We thought that ladybugs lived a couple of weeks, maybe months, but we never thought that they lived 2-3 years in the wild.
That's a long time for a beetle that's only 0.3-0.4 inches big!
4. WHEN THEY LAY THEIR EGGS, THEY LAY HUNDREDS OF THEM.
Remember how I mentioned that ladybugs eat a lot?
Well, when they lay their eggs, they lay them smack dab in the middle of a field where there are pests.
And it's not just one or a dozen eggs they lay either – it's hundreds!
So, when those eggs hatch, there's plenty for them to eat thanks to their forward thinking ladybug mother!
Oh!
And those ladybug larvae?
They look like tiny alligators when they're born…they're not attractive.
5. LADYBUGS TASTE DISGUSTING.
No, we didn't taste them, because that would just be gross, but we did learn that they have an awesome defense mechanism.
To ward off predators, they secrete a foul-tasting fluid from the joints in their legs (how cool is that?!) that makes their predators quickly look elsewhere for a meal.
So, if you're equally as fascinated or intrigued by ladybugs, you can now say you know more!
And if you'd like to hatch your own ladybugs, here's the kit we used.
It's super easy, but there is a shipping charge for the beetles, so just be aware.
​
​
Find out more about ladybugs here:
​
You might like these ladybug crafts:
​
Like this post?
Save it on Pinterest for later!