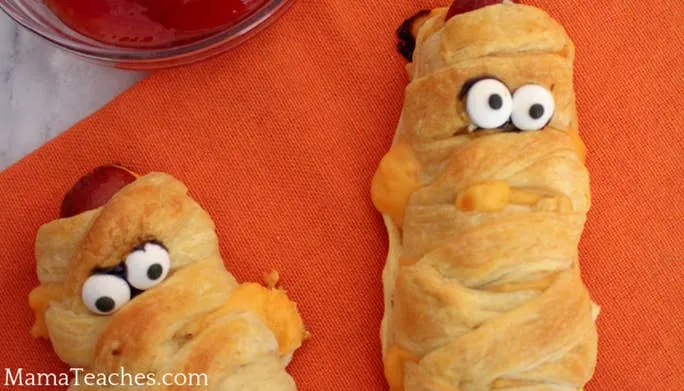 This article contains affiliate links to things that you might like.
Hot dog mummies as a tradition?
In our house, crescent roll hot dog mummies are a go-to every Halloween.
While I grew up having potato soup before heading out to trick-or-treat, my kids were never crazy about it and wanted their own Halloween night tradition.
So, instead of having hot dogs on buns for a quick dinner, we wrap them in dough and make mummies!
​
Hot Dog Mummies
These mummy hot dogs are super easy to make and, if you don't want to add candy eyes, you can always drop a dollop of mustard or ketchup on them instead.
We always have ketchup as a dipping sauce, because it looks like blood.
Blood.
Mummies.
Halloween.
It all just works together to create a spook-tacular pre-trick-or-treating meal.
​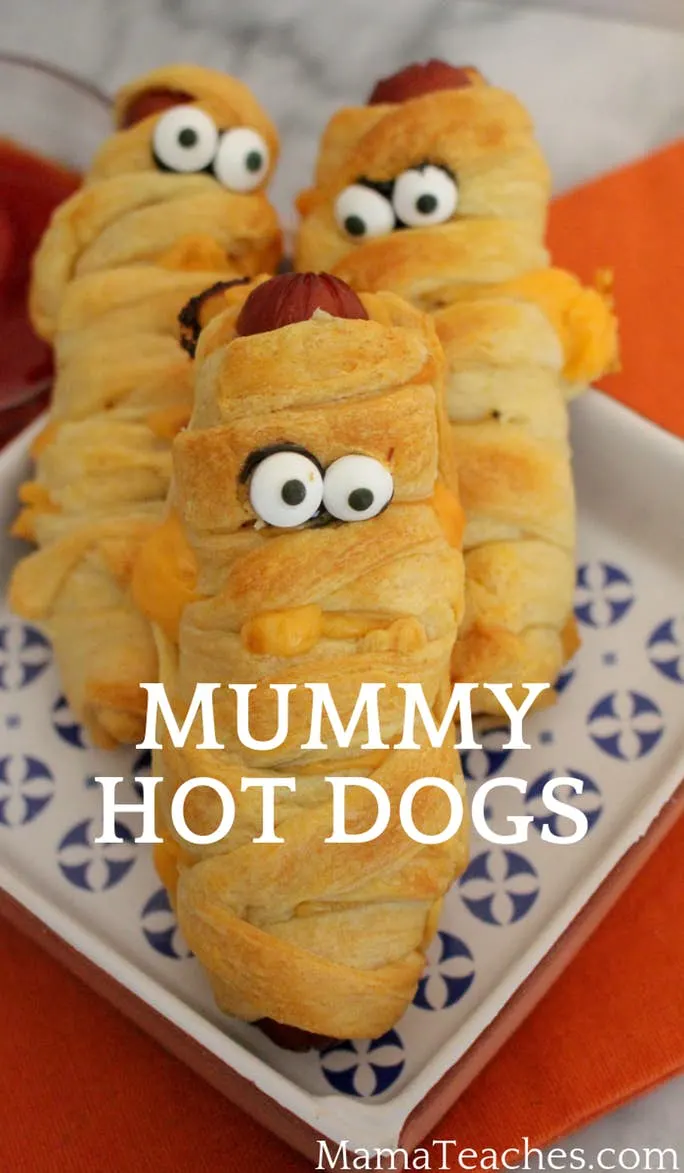 Mummy Hot Dogs Recipe
Ingredients:
Hot dogs
Refrigerated crescent dough
4 Cheese slices
Candy eyes
Decorating Gel
Directions:
Preheat oven according to directions on the crescent dough roll. Grease a baking sheet or line with parchment paper.
Open the refrigerated crescent dough, roll it out onto the baking sheet, and pinch the crescent triangles to form a sheet.
Using a knife or a pizza cutter, cut the dough into long strips.
Cut a slice of cheese in half and place an uncooked hot dog on top of it.
Take a strip of the dough and wrap around the hot dog and cheese.
If you are omitting the cheese, you can use less dough but if you are using cheese then you will want to load it up to prevent the cheese from melting and oozing out. You don't want your mummy leaking.
Place on the cookie sheet and bake according to the crescent dough instructions until golden brown.
Let cool.
Once cooled, put a small dot of black decorating gel on the back of a candy eye. Place on the mummy. You can also place a dollop of ketchup or mustard for the eyes if desired.
Serve with ketchup (blood) or mustard (guts) for dipping.
​
Happy Halloween!
​
Tell Us: Do you have a Halloween tradition before the kids go out trick-or-treating? Share it with us below! We'd love to know what your family does to make the night special!