As a homeschool mom, it's tough to balance so many things. But my biggest homeschooling regret is not something that I have been able to get over.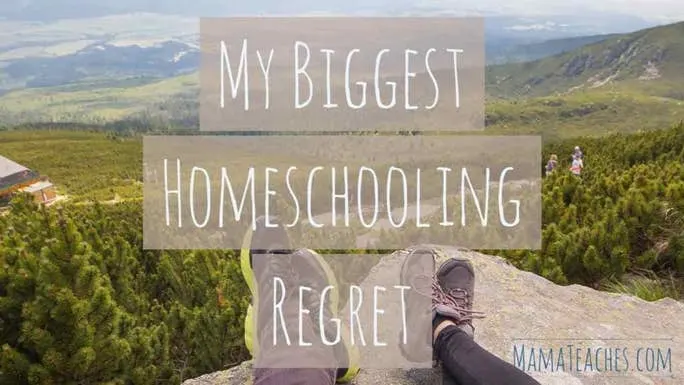 While some families are able to exist on a sole income, mine simply isn't. So, in addition to homeschooling, I also work full-time from home and frequently need to be near my laptop or on conference calls. I'm blessed for sure in that I can be home and still bring in a nice income, but my homeschooling regret is that we don't get out to experience the world more often.
Goodbye, Field Trips
A few years ago we became a one car family. While it, too, was out of necessity, it's also limited our ability to take field trips even more. Between needing to work full time and lack of a vehicle during the day, impromptu trips to the museum or zoo or events or even the library are put on hold. Don't get me wrong, we do do things outside of the house, but I wish we did more.
I often dream of a school day at the beach or hiking in the woods. A day spent kayaking around the lake while studying ecosystems would be amazing, wouldn't it? A trip to the orchestra or to see a play would be the perfect complement to our unit studies. Now, though, those things are few and far between…or non-existent.
I regret not being able to do those things more.
THE DANGER OF REGRET
But, regret is a dangerous way of thinking and a feeling that's not entirely free. It makes you discount the amazing things that are happening right now and compare your circumstances to others. Regret takes the joy out of today.
So, instead of regretting, I'm choosing to focus on work-arounds for this coming school year. I'm figuring out and planning ways that we can take advantage of those adventures that make homeschooling so amazing. And I'm cutting myself some slack.
There is no perfect homeschool scenario and there is no perfect homeschool mom, but each day I can be home to homeschool (and work!) is a blessing.
Maybe my biggest homeschooling regret is not counting my blessings as frequently as I should…