Fall feels are in full effect come October. Keep reading to see the top October books for kids that have to do with all things October.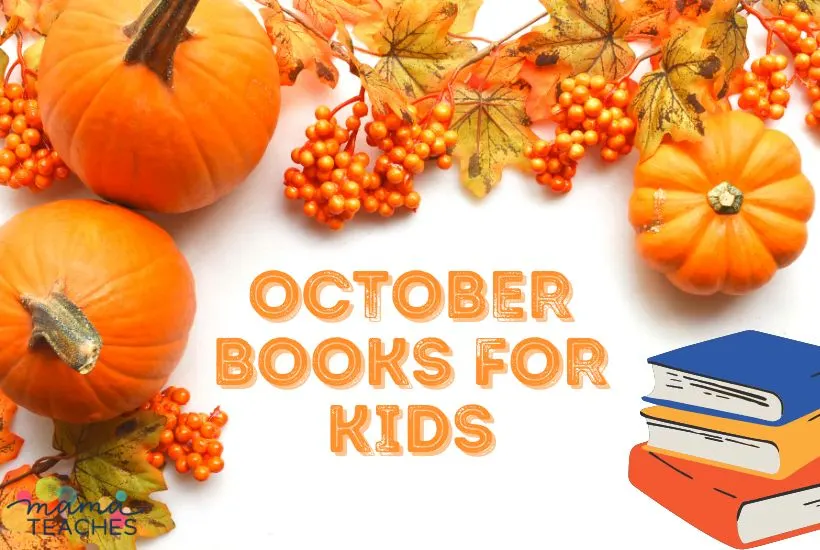 Themes for October Books for Kids
When thinking of October, pumpkins will surely be one of the first things to come to mind.
So here are a few more themes for October based on the national days in October.
The national day for tacos is October 4th. Following this is "Do Something Nice" day.
What a wonderful day to celebrate and encourage!
Mad Hatter Day and National Hero Day also make a debut in October.
Colombus Day, Indigenous Peoples Day, and Leif Erikson Day are all celebrated on October 9th.
Because National Fossil Day is in October, the themes of fossils and dinosaurs are included on this October books for kids list.
Reptiles show up on the list to help celebrate National Reptiles Day.
Fire Safety Week is an essential part of October. Teaching kids about fire safety and what to do in a fire is critical.
The month of October ends with, of course, Halloween. Halloween books have their own blog post, so be sure to check it out.
Keep reading to see the October books for kids picks that include these themes.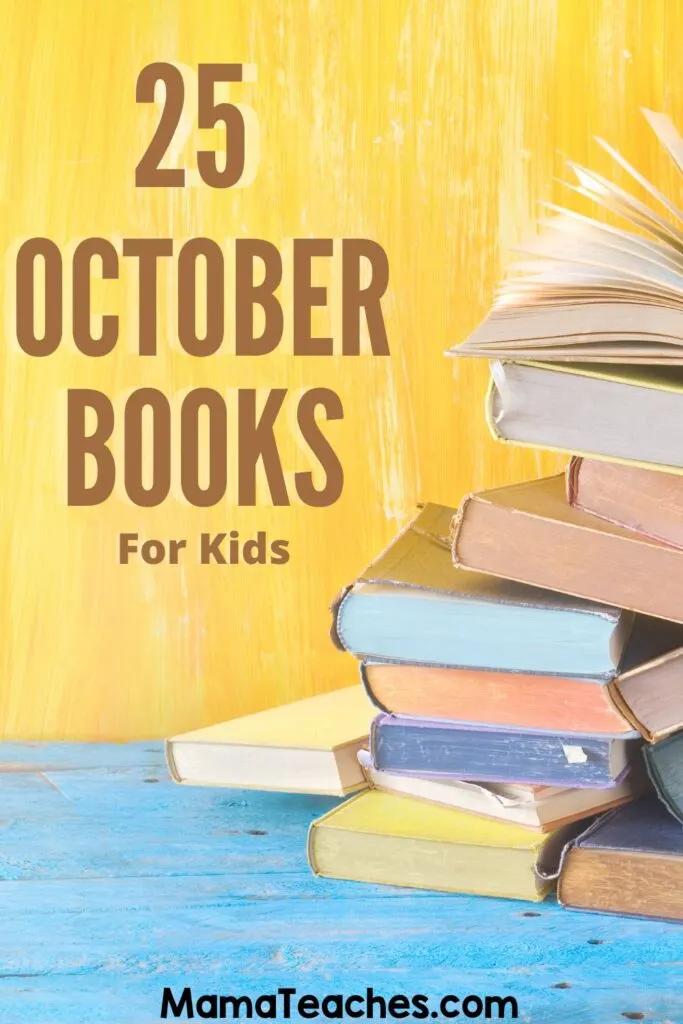 This article contains affiliate links to things that you might like.
Top October Books for Kids
This hilarious book brings dragons and tacos into one book. You get the best of both worlds. Find out what happens when dragons have tacos (and salsa).
Taco Tuesday is an excellent opportunity to share. This book tells the story of Roary the Lion and his hungry friends. Will Roary share his tasty tacos?
Graphic novels are a great way to boost a young reader's confidence. Pizza and Taco books are broken up into chapters and have a hilarious storyline.
Little Golden Books have taken Alice in Wonderland's beloved story and recreated the scene where Alice joins the Mad Hatter for a tea party into a picture book.
This book is perfect for a quick read without the whole Alice in Wonderland story.
Alice's Adventures in Wonderland by Lewis Carroll (original author) and Saviour Pirotta (adapter)
This adapted picture book version of Alice in Wonderland brings the incredible story of Alice. It turns it into a picture book with limited words on a page and beautiful illustrations.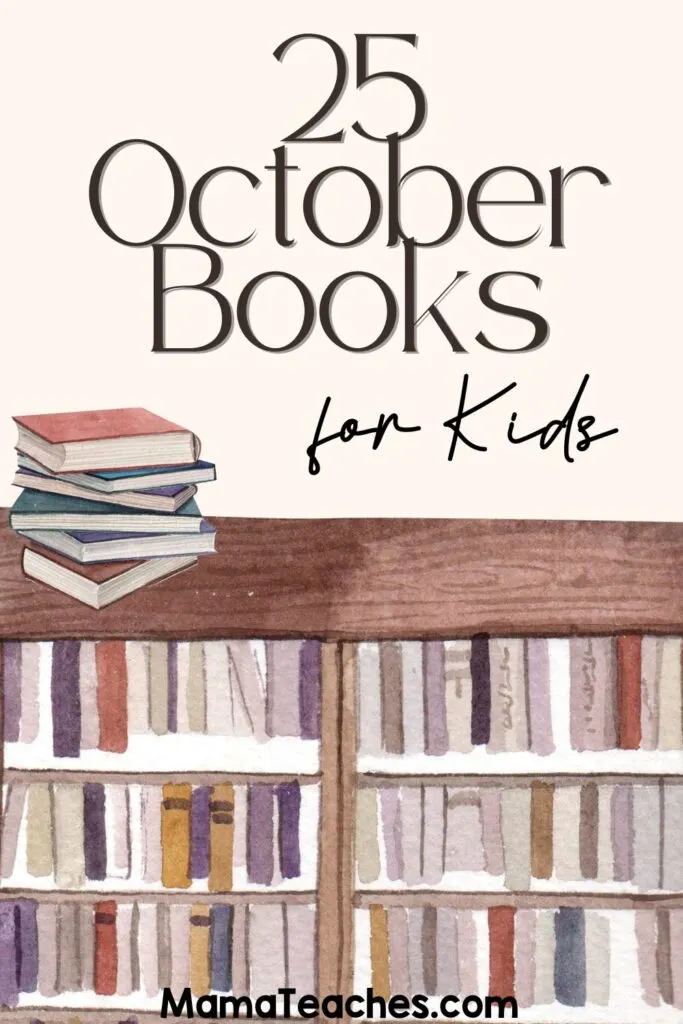 Give kids people to admire and imitate by introducing them to American heroes. Of course, not all these people are found on dollar bills or are presidents, but they all made exceptional contributions to society.
Although this book isn't exclusive to only American heroes, it packs a punch in the WOW factor. Not all of these heroes are from the same period or the same place showing kids that heroes are all around them.
Help children to understand the importance of Indigenous Peoples' Day with this informative picture book. Each information page is accompanied by photographs that match what is being described.
This picture book biography is a gentle way to expose children to learning about Christopher Columbus. It is kid friendly and allows adults to add information about Columbus as they see fit.
Leif the Lucky by Ingri and Edgar Parin d'Aulaire
Learn about the Viking explorer that "found" America before Columbus. This book is a bit longer (60 pages) but makes for an exciting story many people haven't heard of before.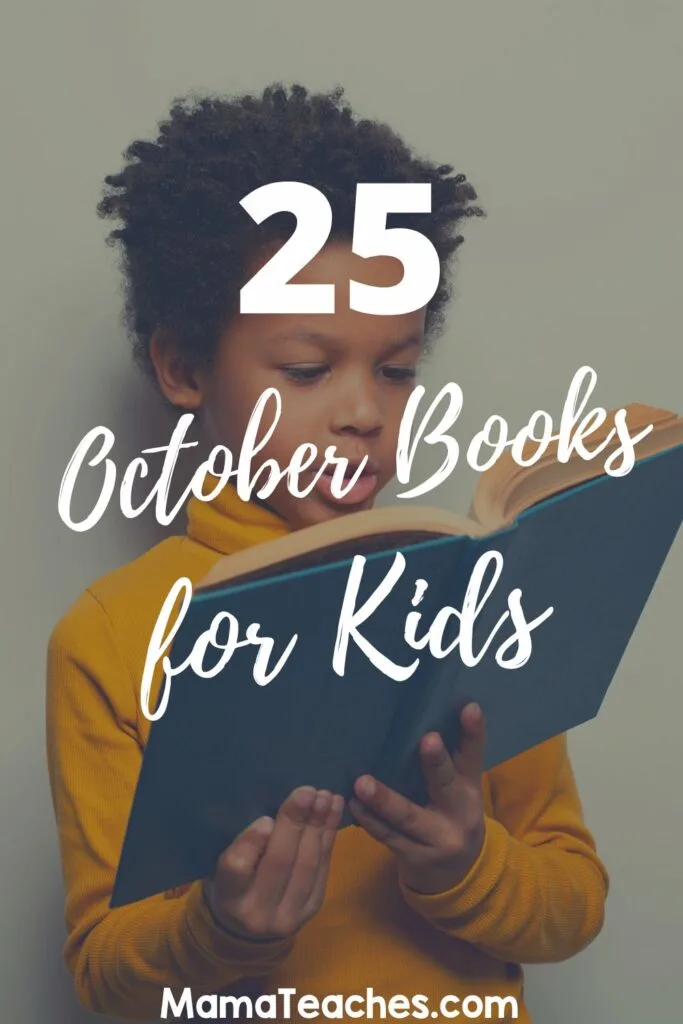 Explore all types of amazing fossils. Shells, dinosaur teeth, and colorful flora, oh my! Read along to discover what these treasures tell us about past life.
Mary Anning helped to create paleontology when she discovered dinosaur bones. But, because people didn't believe women could be scientists, Mary was never given the credit she deserved.
But despite this, Mary didn't give up. Follow along as she continued to make more discoveries.
Learn about how fossils are formed and the important discoveries that have been made. Modern times allow technology to help identify and piece together these clues from the past.
This book is a great way to teach kids about fossils.
Imagine being on a field trip and seeing something unusual sticking out of the ground. This happened to 12-year-old Wendy Sloboda. She went to see what it was and found fossilized coral.
After that day, Wendy never stopped looking for fossils and started being called the fossil whisperer. She is a great role model for women in male-dominated STEM fields.
How does a T Rex give a hug? This heartwarming, funny book tells the story of a T. Rex who desperately wants to hug his friend but has one problem. His arms are too short.
Will Tiny T. Rex be able to problem-solve a way to hug his friend?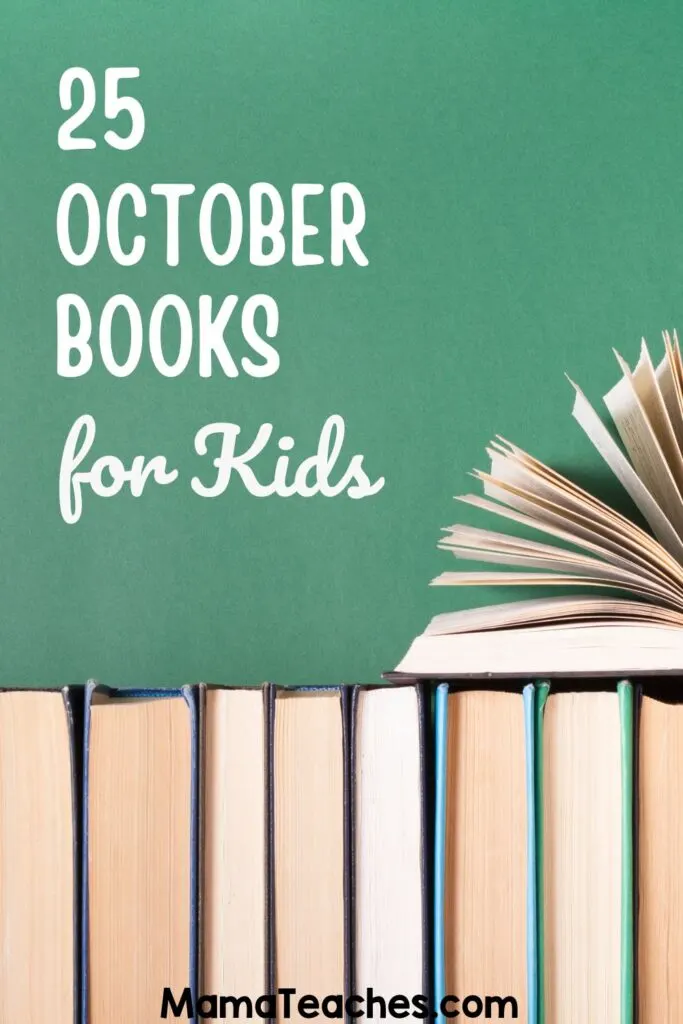 Bring a reference book into your space with this fantastic reptile and amphibian book. It's filled with stunning pictures, information, and so much more. If you have a budding herpetologist, this book is a must.
When Rory is getting defeated that no one will show up to his new club at school, something comes walking down the hall. To his amazement, Rory is face to face with a crocodile, anaconda, and a gecko!
Readers learn about reptiles while enjoying an entertaining story in this October books for kids pick.
When a dragon sneezes and sets the house on fire, a little girl knows how to keep everyone safe.
With rhyming verse and silly illustrations, this fire safety book is anything but drab.
Learn about the essential jobs of firefighters with this book. Little ones may be amazed to learn that firefighters fight fires and do fire safety training, fire inspections, and help with car accidents.
This book is an excellent addition to fire safety week because it teaches that many places kids may see firefighters.
The gingerbread man goes on a class field trip to a fire station. After falling out of a classmate's pocket, he starts to panic. The fire dog comes running over to investigate him.
The little gingerbread man finds his way up the fire pole, on a fire truck, throughout the fire station, and even on a fire call, all while trying to escape the fire dog.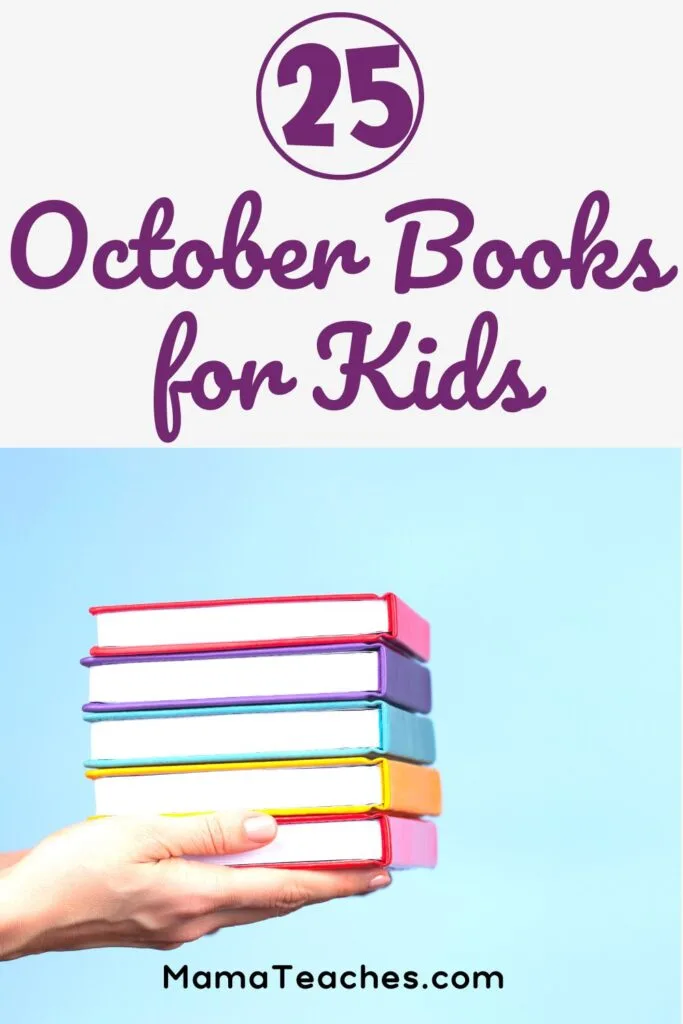 Spookley was teased by all the other pumpkins for being a square pumpkin. But when a big storm comes, and the pumpkins start to roll and can't stop, Spookley comes to the rescue!
This is an excellent story about embracing being different.
Come visit with the beloved Strega Nona. See her wonderful garden and enjoy it as she harvests her abundant crops.
The story of two mice that loved the same pumpkin. Each mouse loved and cared for this pumpkin to the best of his ability.
When the mice discover that they love the same pumpkin, they work together to grow the giant pumpkin ever.
When a pumpkin falls off a truck and smashes in her yard, Rebecca Estelle has no choice but to shovel dirt on it. In autumn, she is in for a surprise when pumpkins sprout everywhere.
This is less than ideal for a girl who hated pumpkins since they were the only food her family had to eat. So what will she do with all of these pumpkins?
Enjoy the detailed photographs in this informative book about the life cycle of a pumpkin. The life cycle of the pumpkin patch at various stages as well as bug's eye and bird's eye views, help to show the intricate details of the pumpkin's life cycle.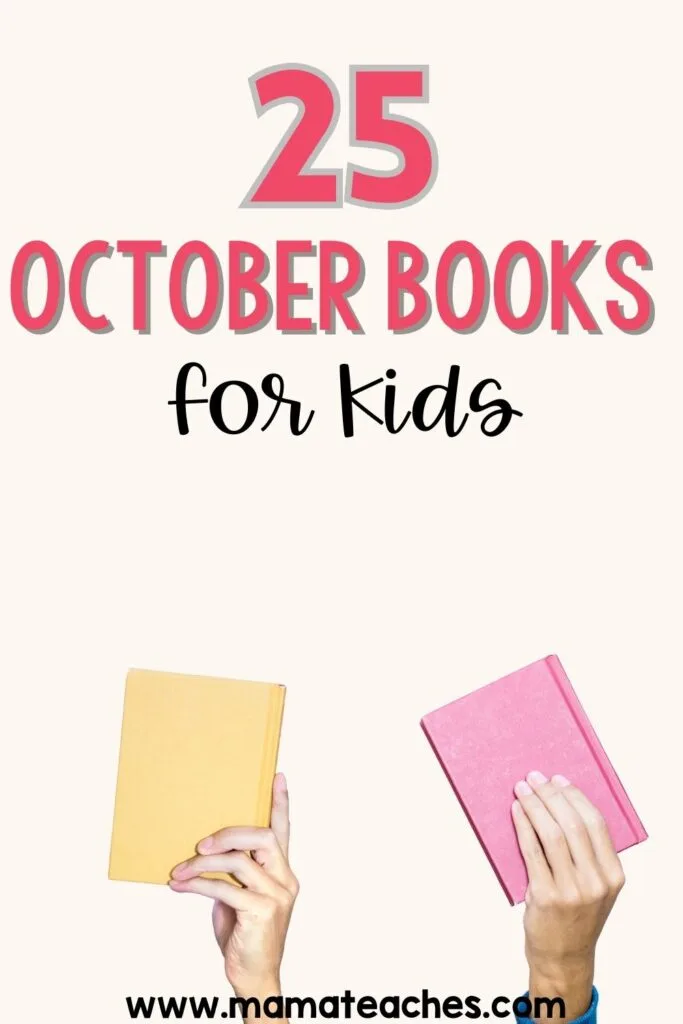 October Books for Children
Many beautiful things happen in October, from going to the pumpkin patch to learning about fire safety.
Choose some of these October books for kids to help kids learn more about these topics.
You May Also Like…