Seventh and eighth grade are hard years for homeschool science curriculum! Thankfully, we found just the right physical science curriculum to address those middle school years!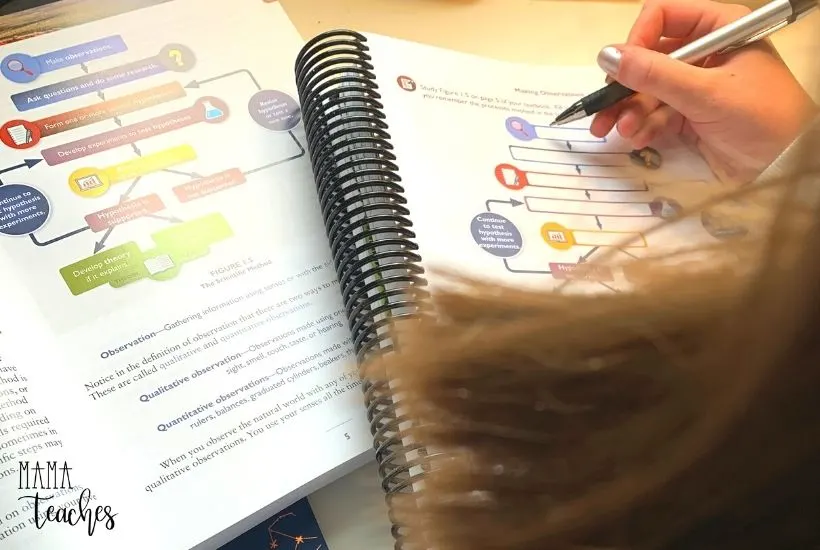 Homeschool Physical Science
When we discovered Apologia's Physical Science curriculum, we knew it would be a good fit for our middle school science needs. So, I was happy to get my hands on the curriculum and work with the company so that I could share it with you!
Top 5 Things We Love About Apologia Physical Science Curriculum
1 – The Curriculum Helps Build Independence
Elementary and early middle school science curriculums tend to be very parent-led. Apologia's Physical Science curriculum bridges the gap between needing constant instruction and being more independent. That's such an important skill as kids transition to those higher-level science concepts in high school!
2 – It's Not Heavy on Science-Speak
Don't get me wrong, the curriculum is all about science and provides a rigorous, in-depth look at all things physical science. The difference is that the information is presented in easy-to-understand, more conversational tones than traditional science textbooks. As kids start to transition to more independent science learning, having a curriculum that is easy to follow and engaging makes all the difference.
3 – The Printed Materials Rocks
As I've said before, my kids are very much invested in workbooks, textbooks, and all things printed. Apologia's Physical Science curriculum provides amazing printed materials that my kids really embraced. The textbook itself is very engaging!
I loved this aspect of the curriculum because it makes it easy to keep track of everything and there is very little prep needed.
The Student Notebook is also fabulous and provides tons of space for kids to write their answers. I really like that all of their science work is in one notebook because it makes it so much easier when I have to pull examples of their learning for portfolios at the end of the school year (we live in PA and it's law).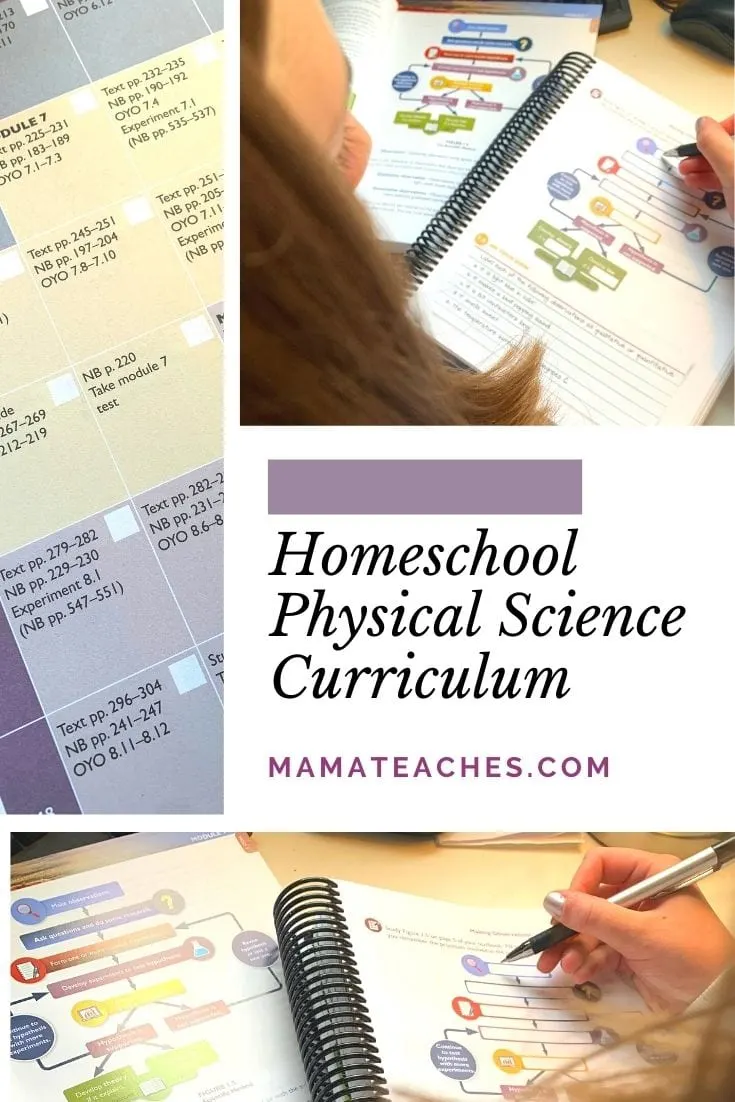 4 – Awesome Experiments Included
While my kids are totally in love with workbooks and textbooks, they are also keen on science experiments. From experiments that test Newton's Laws to experiments that demonstrate sound waves, there is something for everyone. We especially enjoy how the experiments included in the textbook are so well-written and thorough. It not only makes it easy to do the experiments themselves, but it also takes the stress out of setting them up and knowing what skills are being worked on while they're being done.
5 – The Lesson Planning is Done for You!
When I discovered that Apologia had created a day-by-day schedule and planned out the entire physical science curriculum for the entire school year, I wanted to cry and cheer all at once. With multiple kids all in different grades and doing different curriculums, planning can take a very long time. Having it already done for me? That was the most exciting selling point for me (aside from it being a great curriculum, of course!). Sometimes it's those "little things" that mean the most.
What the Kids Love About the Physical Science Curriculum
When I'm looking at homeschool curriculum options for the kids, I always try to find out what other kids think about it. After all, if the kids don't like it, it doesn't matter if I love the curriculum. So, I asked my kids what they thought about Apologia's Physical Science curriculum and here's what they said:
"I LOVE the Student Notebook and that I can do science pretty much independently. I need help with the experiments and things, but I can pretty much get it all done on my own." – the child who loves working ahead and getting things done right away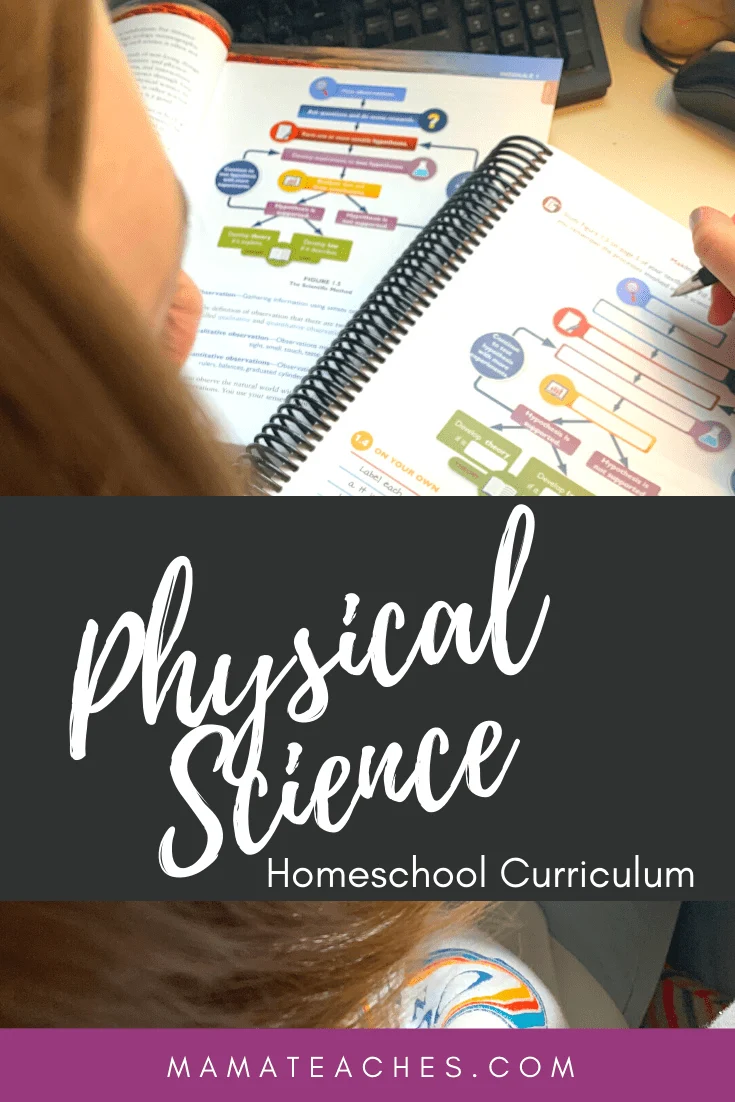 "The textbook is really easy to read. I found it interesting and I don't usually like science books." – the child who hates reading
"The experiments are cool! I liked how they went along with the topics and how they made abstract ideas much more concrete." – the child who prefers all book work
Final Thoughts on This Homeschool Science Curriculum
Overall, I really liked Apologia's Physical Science Curriculum. I found it to be a smart program that is well thought out and that challenges kids to grow and become more independent. It does have a religious stance to it, so if you're looking for a completely secular program, this probably wouldn't be a great fit.
That being said, it's definitely worth checking out the free sample of the curriculum to see how it might be incorporated into your homeschool lessons.
I'd encourage you to check out Apologia's Physical Science curriculum and visit them on Instagram to see how the curriculum is being used by other homeschoolers as well. For us? This Physical Science curriculum is a great fit!
And Now It's Your Chance!
Apologia is sponsoring a giveaway and it's your chance to win! Enter your information below for a chance to win the Biology or Chemistry curriculums!
You Might Also Like…