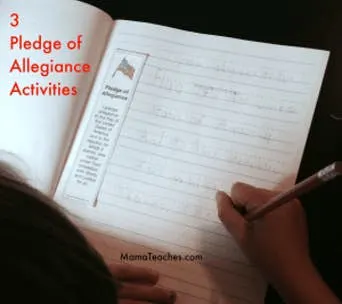 We don't recite it every morning in our homeschool (do they even still do that in public school classrooms?!), but they know it nonetheless. Rote memorization is the foundation of their lesson (fun, huh?), but I did find some other activities to make it a tad bit more interesting for them. Try these three fun Pledge of Allegiance activities to get started.
PLEDGE OF ALLEGIANCE BOOKMARKS
We printed out these fantastic bookmarks on card stock and plain copy paper. The card stock ones became bookmarks for their social studies and reading books and one of the plain paper copies was glued into their social studies notebooks. I then had them copy the Pledge of Allegiance in their books. That's what Little Miss is doing in the picture above.
PLEDGE OF ALLEGIANCE IN SIGN LANGUAGE
We have been trying to learn the Pledge in American Sign Language too. I have to admit, this is not our strong suit and I'm not entirely sure I'm signing the correct things. This is the video we've been using and it's fantastic. Our inability to sign is in no way a reflection of the video's quality.😉
​
HISTORY OF THE PLEDGE OF ALLEGIANCE
We also checked out the history of the Pledge of Allegiance on this site. We love finding out interesting facts and there are some gems on that site. Did you know that the daughter of the original writer objected to adding the words "under God" to the Pledge? We didn't either!
What did you do to help your children learn the Pledge of Allegiance? I'd love to hear about it