If your young boys are anything like mine were when they were young, they will LOVE this book of tools! This tool book is a preschool printable for early readers.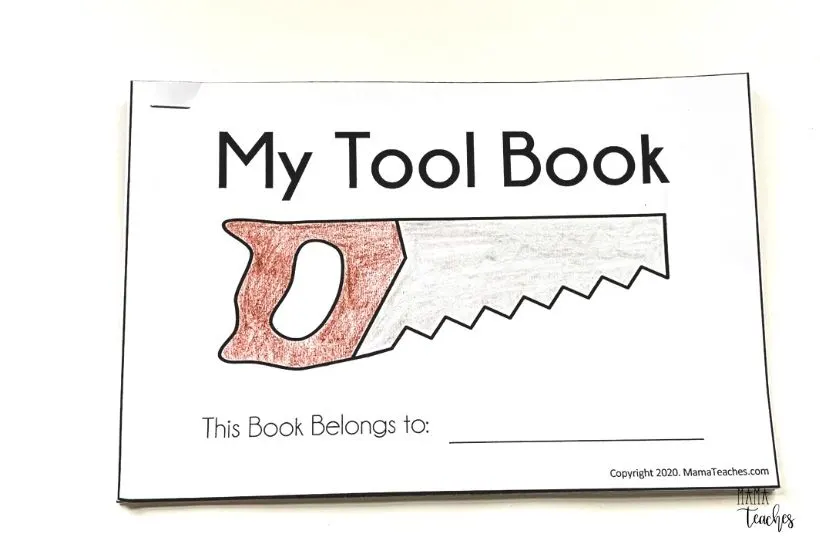 Free Early Reader Tool Book
Teachers can use this coloring book in their preschool classrooms to help their students with word recognition. Parents are also encouraged to print this tool book out for their little construction workers to get early reading practice at home.
Grab your free copy in our Freebies Library! (link at the end of this article!)
MAKING THE TOOL BOOK PRINTABLE
Using standard 8.5"x11" printer paper, load your printer up with at least 5 sheets of paper. This will create one book. If you have multiple kids that want their own book of tools, be sure to multiply the 5 necessary sheets of paper by the number of books you will need.
Here are few suggestions of what to use to set the printable book up for use:
Scissors
Stapler OR
Hole Puncher and String
When the book is printed, grab your pair of scissors to cut down the black lines in the middle of each page. With the front page that says "My Tool Book" on top, stack the pages on top of each other. There's no right or wrong order so don't worry about keeping the pages ordered.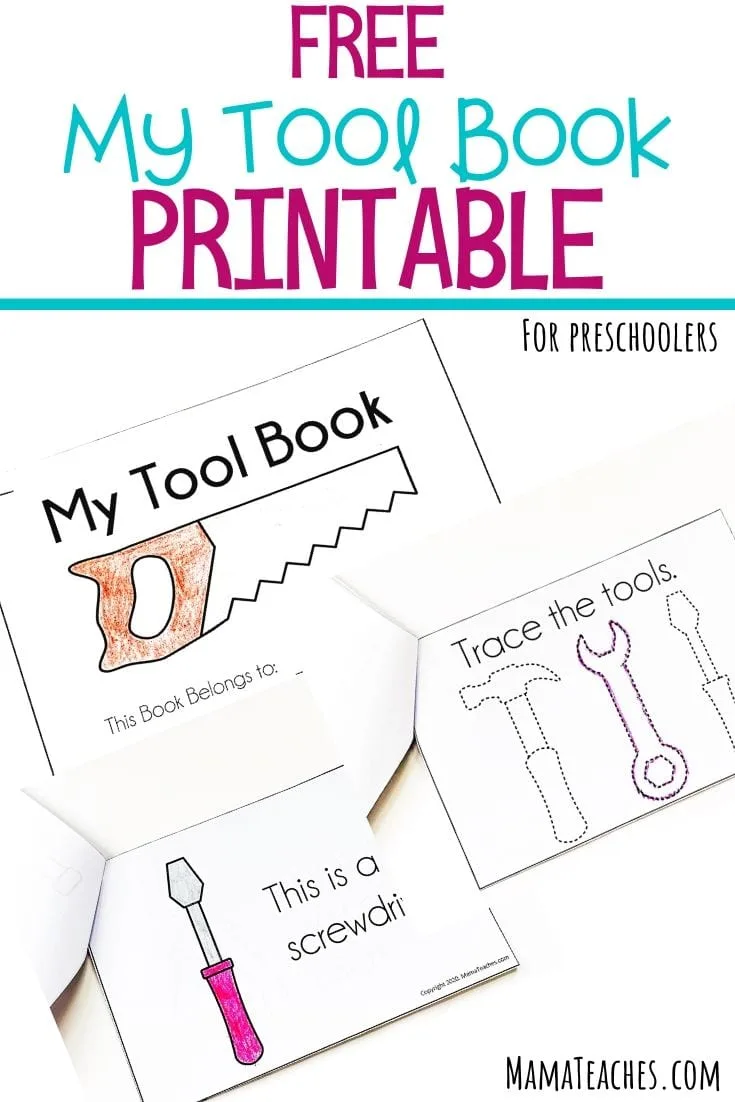 Now, either take your stapler to bind the book together OR hole punch two holes spaced a few inches apart on the left side or the top of the book. Take a piece of string and pull it half-way through one hole and tie a knot. Repeat this process for the second hole. Voilà! You have a bound book.

Early Reader Tool Book
In the classroom or at home, this tool book can be used as an early reader book. Each page is very simple, with a picture of the tool and a statement of what the tool is. The words are perfect for early readers and help to build a foundation for later reading.
Preschoolers who enjoy hammering or sawing away at things will enjoy seeing their favorite tools in their very own tool book! They'll also be thrilled to be able to read the book themselves!

Coloring Book of Tools
Other than using this book to read, it can be used as a coloring book. With that said, here are some of the things your child may want to use for this coloring book:
Colored pencils
Crayons
Washable markers
Color the pictures in, trace the words with colored pencils, and just have fun exploring the printable preschool tool book!
Show Us Your Work!
We hope that this book is a handy-dandy tool for your young reader. Tag us on Instagram @MamaTeaches to show us your child's favorite tool in this preschool printable!

You Might Also Like:
Free Tool Book
This free printable book of tools is available in our Freebies Library! If you're already a member, you can sign in HERE.
Not a member yet? No worries! Simply fill out the information in the form below and the password will be emailed to you!