It's 2020 and anything can happen, but one thing we know will go right is Amazon's Prime Days on October 13th and 14th!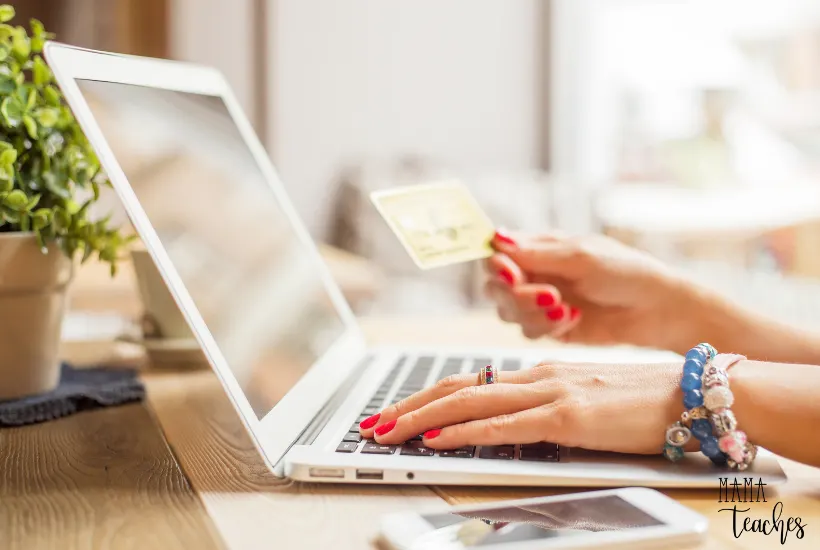 This article contains affiliate links to things that you might like.
Prime Day in October

Typically held in July, Prime Day in 2020 has moved to October 13th and 14th – just in time for holiday shopping awesomeness!

Here at Mama Teaches, we will be scouring Prime Day deals and steals and posting them in this article, as well as in our public Facebook group, Teaching on the Cheap.
Be sure to check back throughout the days as deals go quickly and once they're gone, they're gone!
Looking for something special for the holidays?
Leave a comment below and let us know!
We'll do our best to find it for you!
So bookmark this page, set a few reminders to check it throughout the day, and save big on all of your Amazon Prime shopping on Tuesday, October 13th and Wednesday, October 14th!

Amazon Prime Sign-up

Not a Prime member yet?
No problem!
Sign-up for a 30-day Trial Membership here to take advantage of all of the Prime Day deals!
Prime Day Deals for Teachers & Parents
Awesome Tech
Noise-canceling comfy headphones sound amazing right about now!
Thinking about getting AirPods?
Now's the perfect time to grab them!
If AirPods aren't your thing, try these Beats Powerbeat Pros.
They come in a bunch of different colors as well!
Earbuds not your thing?
No worries!
These over the ear, noise-canceling headphones are amazing!
May the Force be with you.
At this price, we're pretty sure it's a good sign that the Force is working in your favor.
Computer giving you trouble?
Chromebooks, like this ASUS Chromebook Flip, are amazing.
Your home has never been so smart!
These Smart bulbs work with Alexa and Google Assist and have a super cool vintage look!
Don't let it be said that your watch is smarter than you are!
At this price, you'll definitely be the smarter one in the bunch!
Get walking!
It's also available in a few different colors (black, rose gold, etc).
Words are not needed when you find something so darn cute!
FUN toys, Activities, and Games
This phonics game is perfect for preschool and lower elementary grades!
It's everything your little one needs to go exploring!
The name is awful but the game is a ton of fun!
The price is a lot of fun too! 😉
We know, a dodgeball card game sounds bizarre, but trust us that this one is a ton of fun!
The price makes us happy too!
Sometimes adults need to have fun too and the Unstable Unicorns game is just the way to do it.
It's definitely not safe for work (or for when the kids are awake!), but it is a lot of fun.
Make Christmas come alive for your littles with this Advent calendar made just for them!
The Snap Circuits Arcade isn't only a ton of fun, it's also a great way to teach kids about electricity.
Are you ready to tumble?!
This National Geographic rock tumbler is a great addition to your homeschool science material!
No homeschool science lab is complete without a microscope!
It's time to build and save the day with this LEGO building kit!
things for Your home & Beauty
These are perfect to use in the classroom for small groups, math centers, calm down corners, independent reading and more!
We go through this stuff like it's water!
At this price, we're ordering a few!
Help him be a smoooooooth operator with this electric razor!
We love reusable storage bags and this set even stands up.
We're all about staying hydrated and this 3-pack of Contigo water bottles is awesome!
Don't be worrying about where your whisks are this holiday season – get some new ones!
These fun and funky silicone whisks are terrific!
Be eco-friendly and wallet-friendly at the same time with this 3-pack of reusable, collapsible metal straws with carrying cases!
All we can think of when we see this Instant Pot deal is the song "Under Pressure"…an appropriate song for 2020!
Pots and pans need replacing before the holidays?
Ours do too!
Oven-safe to 400 degrees Fahrenheit, this dutch oven is not only pretty, it's also a great price!
We have this scale and as far as scales go, it's a favorite.
There's an app that goes with it to help you track and monitor your weight.
furniture & Office supplies
Dry erase markers complete us.
Embrace your inner artist with this set of brush pens.
They're perfect for water coloring painting, calligraphy, crafts, and more!
This is the perfect size table for homeschooling! It's big enough for lessons but not so big that it won't fit in your space!
Pencil cases make our hearts go boom boom boom.
This one makes us super happy – as does the price!

Things We love
Who said vacuuming has to be a chore?
With this stick vacuum it can be fun again.
Take your Cricut on the go!
We're in love with this snazzy carrying case (and it's equally as snazzy price).
Did you ever have one of those moments where you look at a product and think, oh my gosh that's brilliant?!
That's how we feel about these turtle cord organizers!
Add in the fact that they're in a 5-pack that's a great price and we're even more in love!
It's time to make some music!
Make your journal come alive with these vibrant colored pens!
Don't worry about what's happening around your house – record it!
This tilting security camera is just what you need to monitor what's going on outside.
If your kiddo is working on a tablet for school work, this is a must!
We're totally in love with this bright and cheery insulated cup!
There's no rest for this bed pillow.
The deal may be 100% claimed, but the price is still fabulous.
Power Strip
Power strips are a necessity this year!
This one is compact and convenient!
Deep Tissue Massager
We know your back hurts from virtual teaching.
Ours does too.
You know what doesn't hurt?
Our wallets after we snag this deep tissue massager!
Bento Boxes are perfect for school or for home (those picky eaters love them!).
We know that planning ahead can seem laughable this year but the 2020-2021 Panda Planner makes it worth taking that risk.
This planner is super fun and has plenty of room for all of your planning (and re-planning) goodness.
Tired of cooking your pasta on the stove?
Make Chef Mic work for you with the help of this microwave pasta cooker.
The lightning deal has ended but it's still a great price!
Make highlighting easier with these see-through tip highlighters!