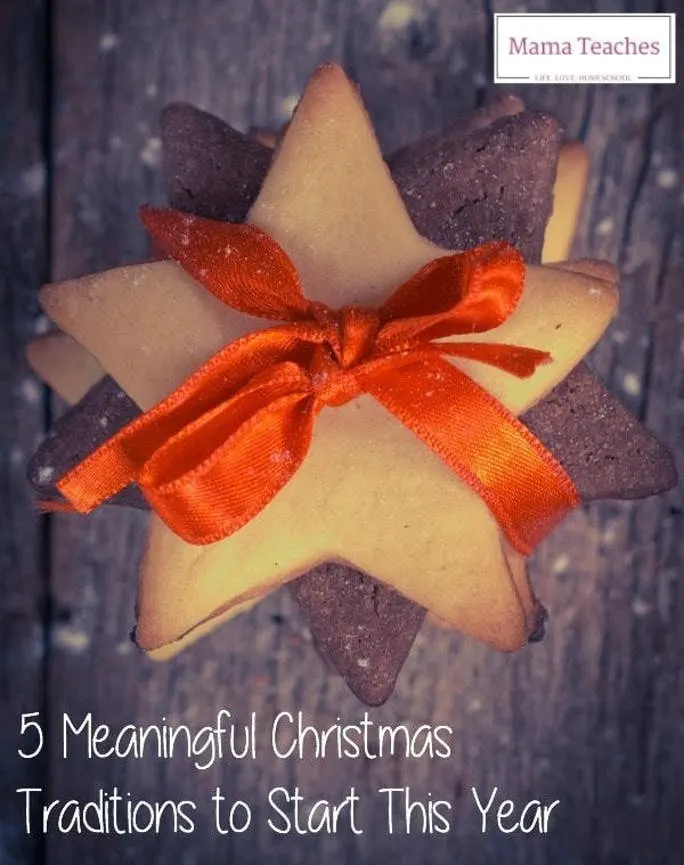 This article contains affiliate links to things that you might like.
I'm not sure how it happened, but my children are very attached to the Christmas traditions that we've established over the years.
In fact, they're so attached to them that switching things up even a little bit causes great anxiety and distress.
You should have seen their faces when I suggested we put up the Christmas decorations before Thanksgiving this year.
While I love the traditions that we have, I've also been longing for some new ones that are uniquely ours (and possibly now yours) that the kids will carry with them to their own families someday.
I jotted down some ideas and, after much discussion, these are the five meaningful Christmas traditions that we'll be embracing this holiday season.
I hope they inspire you!
5 MEANINGFUL CHRISTMAS TRADITIONS TO START THIS YEAR
RESPECT THANKSGIVING
With Thanksgiving being so very late in November this year, it's been tempting (for me!) to tear down the fall decorations and replace them with the magical Christmas decorations that seem to only be out for a short time.
It takes so long to get them all up that even a week more to enjoy them doesn't seem like that awful much to ask.
But in our discussions, the kids pointed out that in addition to just enjoying Thanksgiving, we were rushing through a holiday that is as much about spending time with family as it is about giving thanks.
Why would we want to rush that?
I couldn't disagree, so we have firmly added "no Christmas decorations until after Thanksgiving" to our traditions list.
START WITH A BOOK
While my older two are at the age where they probably don't believe in Santa, they will never say it – just in case!
Why jinx it, right?
Little Miss is definitely still a believer.
Well, this year we'll be reading a lovely book that was given to me to review called The Myth of Santa's Beard by Sharon Thayer.
It was written after 9/11 and is the delightful tale of how Santa's beard grows as children show kindness and do good deeds.
The longer his beard gets, the more trouble he has maneuvering around it.
The elves cut it into snippets and wrap the pieces in ribbon for Santa to send to good boys and girls around the world to remind them to be good throughout the year.
The book even comes with a snippet of the "beard" which makes it even more delightful.
You can find the book on the Carousel Publishing website or order a copy of it through Amazon.
We'll actually be adding it to our list of Advent Calendar Books as a special bonus for after Thanksgiving!
NOT OVERBUYING
It's been tradition to make Amazon Christmas wish lists to share with family, but this year has been challenging.
Challenging in a good way though.
It's not that the kids have too many things on their lists, it's that they just don't want a lot.
When we started the 4 Things for Christmas list last year, it really had an impact on them.
"Why should I just put things on my list if I don't want them just so that it looks like there's more? I'd be happy if I got the couple things I listed," my 12 year old said.
We agree and the buying will be kept to a minimum again this year, because there's something to be said for not being saddled with material goods that you just don't need or want.
EMBRACE THE CALM ON CHRISTMAS EVE
Christmas Eve has traditionally been my least favorite day of the holidays.
We've rushed from one family's house to the other an hour away to eat and then rushed back before heading home.
It's been a day of leaving at 9am, driving to and fro, stress, and not getting home until almost 8pm.
By bedtime, I'm frazzled, stressed, and ready for the holidays to be over!
This year, we're taking it back and I couldn't be happier.
We'll be doing a soup dinner with family who live close by in the afternoon, but we'll be home in plenty of time to relax for the rest of the night.
I can almost feel the peace settle over me as I think about it.
GIVE BACK
We usually do a Toys for Tots donation each year, but this year we'll be practicing some random acts of kindness.
Picking up the coffee tab for the car behind us at the drive thru, donating supplies to a local homeless shelter, helping with an adopted family, and making sure that our elderly neighbors have help and food and supplies for the season.
Kindness not only makes Santa's beard grow, it also makes our hearts grow.
In a time when so much is wrong with the world, it's important that one of our most meaningful traditions is to spread love and cheer and kindness.
In fact, this is the most important tradition of them all.
May your holiday season be filled with kindness and love and the light of Christ.
And may your family have a safe, peace-filled Christmas that warms you to the very depths of your soul.
xoxo,
Brandi