These gourmet lemonade recipes are sure to make your lemonade stand really stand out!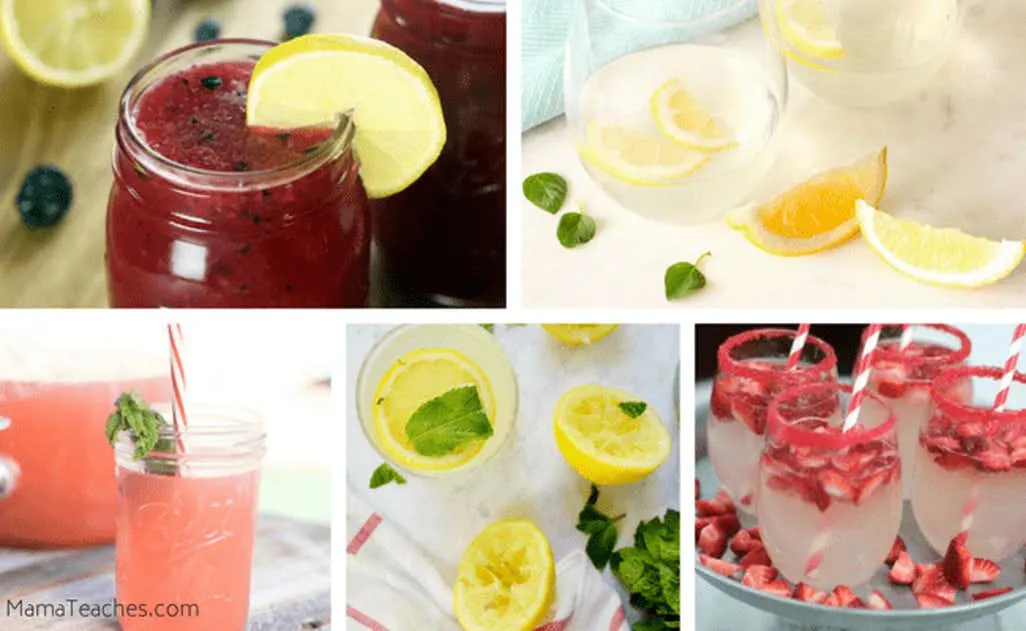 Lemonade stands have become routine around our neighborhood this year. Little Miss and her friends have decided to start holding them to earn money to buy the things they want.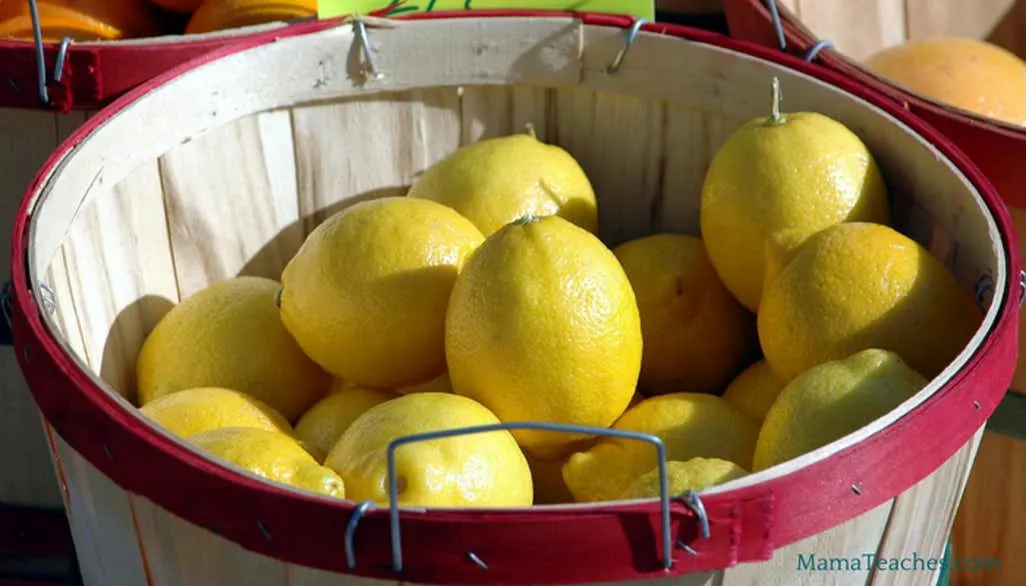 ​
This post contains affiliate links.
So far they've purchased a Slip and Slide and are saving up to have an end of the year party. They really want to get these crazy things next – don't worry, I'll take lots of pictures!😉
So, instead of featuring just plain lemonade all the time, they've decided to up their game and create more of a Gourmet Lemonade Stand. Here are 25+ gourmet lemonade recipes that the girls will be trying this summer. I can't wait to be the taste tester!
And, if you're hosting a lemonade stand this summer, be sure to check out these tips for a successful kids lemonade stand!
Gourmet Lemonade Recipes
Watermelon Lemonade has always been a favorite of mine and this recipe from Drugstore Divaslooks like a sure winner.
We love essential oils and herbs, so this Lavender Lemonade recipe from Tracey at The Kitchen is My Playground is right up our alley.
Janell's easy and yummy Strawberry Lemonade Spritzer recipe on Saving You Dinero looks so fun! The girls are especially excited about the sugar crystals around the rim of the glass. Do you think they can charge more for that?!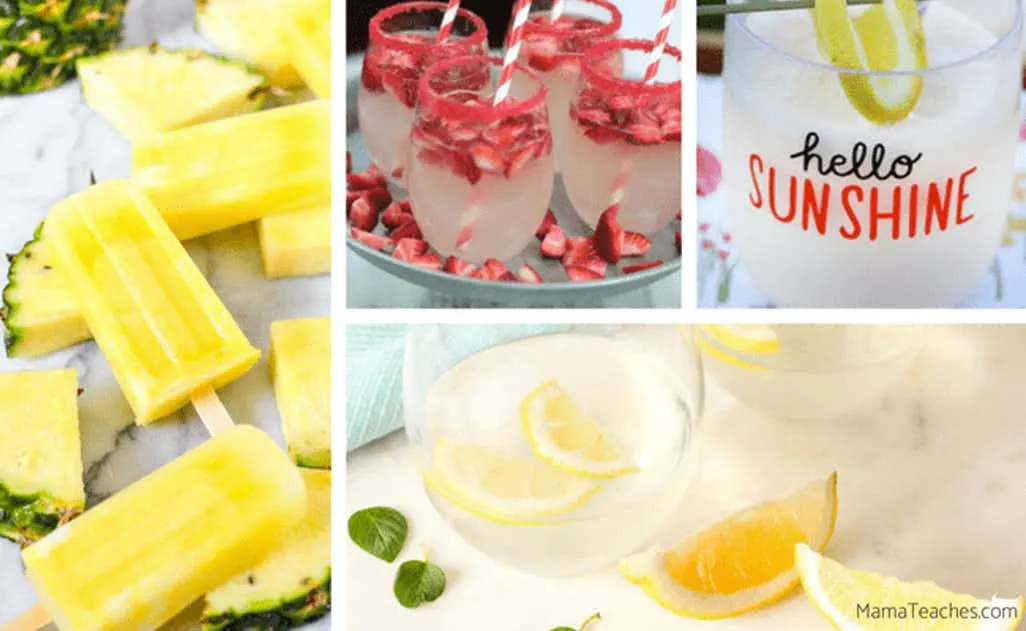 Mint Lemonade is usually a staple at our house in the summer, because we have so.much.mint. growing in the garden. This easy recipe by Myra and Laurier at Delicious on a Dime is the perfect way to make it.
The trick with this yummy Raspberry Blueberry Lemonade by Sherri at To Simply Inspire is to make sure the berries are blended really well. We tried it with sugar, but you could totally use honey instead.
Anything frozen and sweet is a hit at our house during the summer, so Courtney's Pineapple Lemonade Ice Pops recipe on Courtney's Sweets are a must-try. The girls are trying to figure out how to keep them from melting at their lemonade stand, but so far we haven't been able to keep them cold enough.
This recipe by Nicole, from For the Love of Food, makes the most delicious Frosted Lemonades ever!
Ellen's Fresh Strawberry Lemonade recipe from Family Around the Table is already on the girls' menu for the week our local Farmers' Market has their Strawberry Festival!
Ashley suggests just mashing the blackberries in this Blackberry Passion Tea Lemonade recipe that can be found on Ashley Brooke Nicholas, but we're thinking of blending them up to help get rid of some of the seedy texture.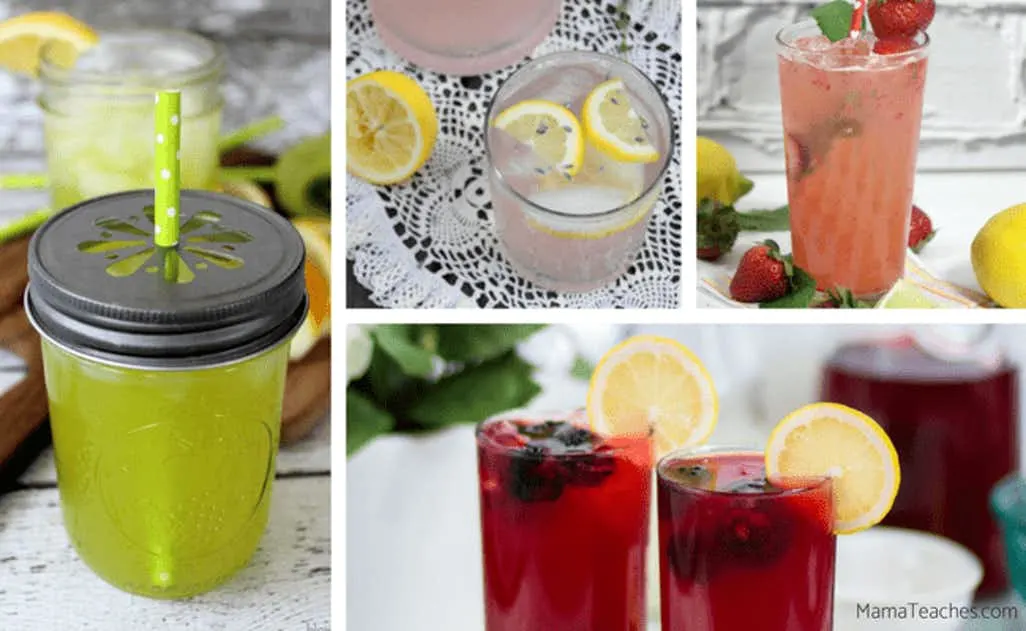 Remember how I said mint lemonade is a summertime staple? Well, add some strawberries to it like in this Strawberry Mint Lemonade recipe by Brandy at Teaspoon of Goodness and it's even moredelicious!
I'm pretty much in awe of Robin at Mom Foodie's Copycat Applebee's Kiwi Lemonade – mainly because it gets my picky eater to eat kiwis!
Chrysa's Mint Infused Lemonade recipe found on Thrifty Jinxy uses liquid cane sugar as the sweetener! Who knew?!
Looking for something a bit lighter, but packed with some herbal taste? Try these Herbal Lemonadesby Carol at Studio Botanica!
I love Earl Grey tea, so this tea + lemonade combo called Earl Grey Lemonade by Janette at Culinary Ginger is a win-win.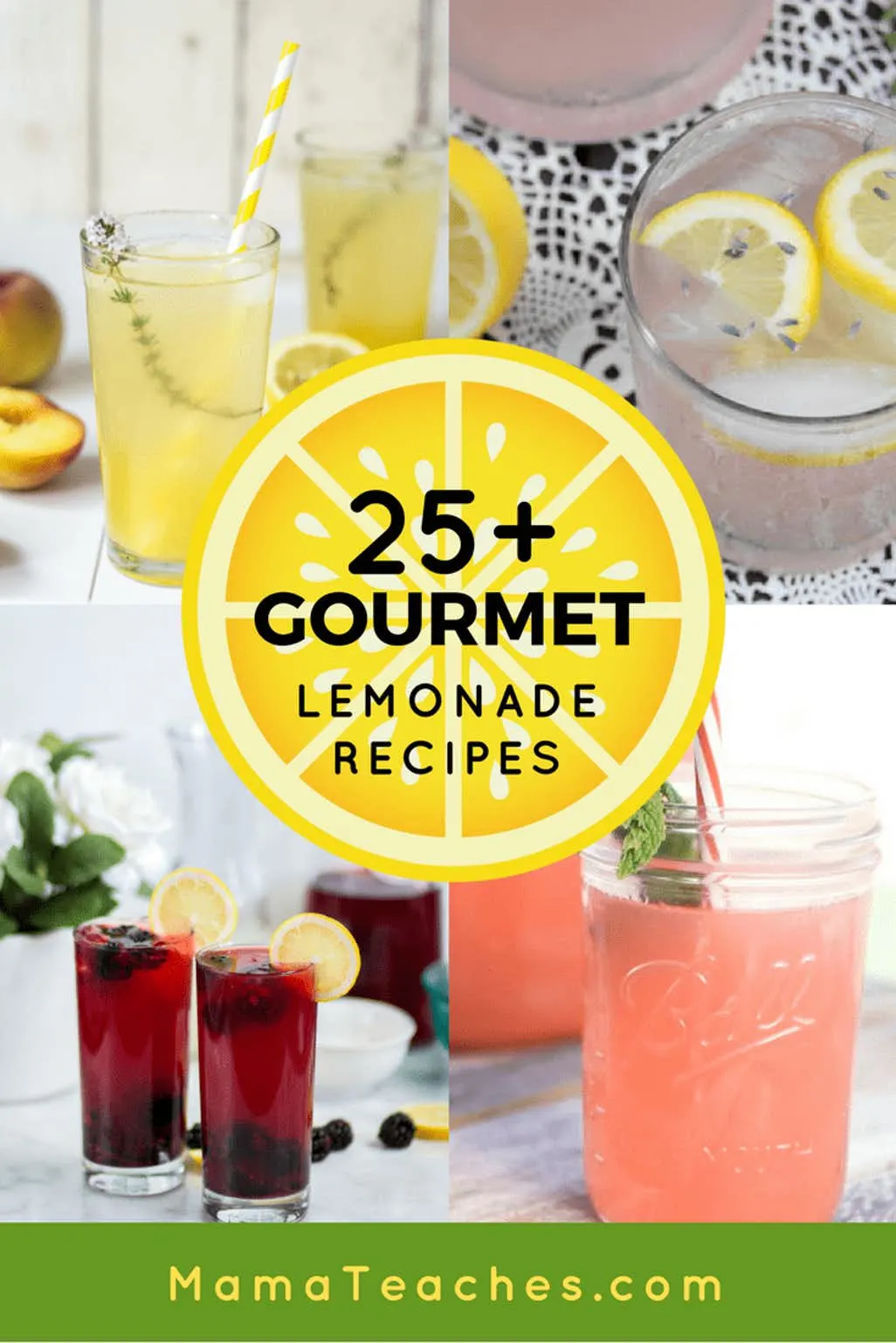 When Rini at Healing Tomato makes her roasted Peach Lemonade recipe, her house has got to smell fantastic! I can't wait to try a batch here!
Aimee at Wallflower Kitchen has the most unusual and fun Maple Lemonade with Peaches recipes! It has thyme in it!
I think my youngest could eat her weight in Chick-fil-A's Frosted Lemonade, so this Copycat Chick-fil-A Frosted Lemonade by Jen at Cincy Shopper is going to save us a ton of money – not to mention make the girls a pretty penny at their lemonade stand!
This Mixed Berry Lemonade recipe by Nate and Lacy at Wanna Bite is the perfect summertime mix of healthy and tasty treat. We recommend blending up those berries really good though if you're not a seed-texture fan.
I never think to add savory herbs to our sweet treats, but this Strawberry Basil Lemonade by Florentina at the Veggie Society is a great example of why I should. It takes gourmet lemonade recipes to whole new level!
This sparkling Peach Lemonade by Shannon at Home Made Lovely can be made without alcohol for the littles and the lemonade stand, but then kicked up a notch for the adults when the evening is winding down! Just don't mix the pitchers up!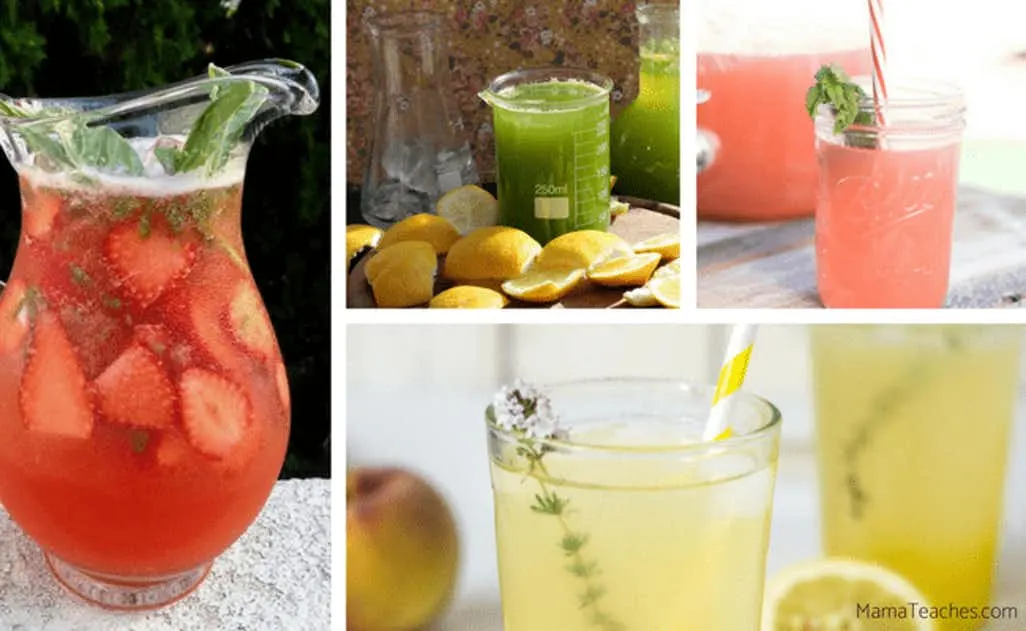 Sparkling Strawberry Mint Lemonade to brighten up your day? Yes, please! This gourmet lemonade recipe by Ashley at Quirky Inspired just makes you smile!
Watermelon lemonade goodness? Yes, please! We love this Copycat Chick-fil-A Watermelon Lemonade by the ladies at Six Clever Sisters.
This Sparkling Kale Lemonade by Kate at Veggie Desserts is kind of magical, because kale and lemonade together?! Who would have thought it?! (By the way, it's scrumptious!)
For something a bit more exotic, try Sweet Woodruff Lemonade. I'd never heard of sweet woodruff, but Elena from Happy Kitchen. Rocks. says, "Sweet woodruff is very popular in Germany. It is used to flavor sour beer, sweeten teas and soft drinks, jelly, jams and cakes." Sounds delicious – and like one of the perfect gourmet lemonade recipes to add to our lemonade booth!
Pink lemonade pairs perfectly with a reading of Pinkalicious by Victoria Kaan, so this recipe for Homemade Pink Lemonade with Honey and Blueberries by Elaina at The Rising Spoon is a must-have!
And, if you're in the mood for something traditional, this classic Homemade Lemonade Recipe from Cerys at Rainy Day Mum is perfect!
Which lemonades are you planning on trying this summer? Us? We're going for them all!