Marathoners have nothing on you.
They are on their feet for a few hours. You? You stand all day!
That means you need shoes that are going to cushion your feet and protect your back (yet look professional at the same time).
Check out this list of the best shoes for teachers.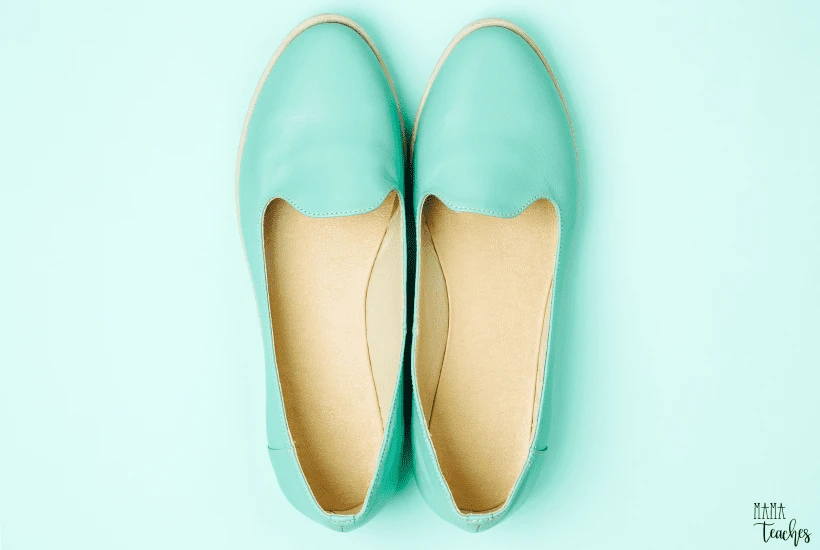 This article contains affiliate links to things that you might like.
Best Teacher Shoes
Teachers are some of the hardest workers around, and you need shoes that are there to support you.
At the same time, you want footwear that is stylish and professional. Is this a unicorn shoe? Definitely not.
Here are the brands that make the best teacher shoes.
Standing and walking around all day can be a killer on your feet (and just about every other part of your body!).
That's why shoes that are geared toward those who do spend the majority of the time on their feet are so important.
Snibbs is a newcomer to our list, but they have earned a well-deserved place.
These slip-ons (with adjustable laces!) are built from sustainable materials, are slip and water resistant, have amazing insoles, and are long-lasting.
For teachers, that means you're not going to need to replace them by December!
The Women's Spacecloud Work Sneaker in white is my absolute favorite because I can wear them with just about everything and they look super cute!
Bonus point: They're incredibly easy to clean! Just wipe them off and they look good as new!
SUPER Bonus Point: You can use this link to save 15% off on them!
I'm sure I'm not the only one with weird arches and bouts of arthritis-like pain in my feet, so when I discovered KURU's sneakers I was a bit hesitant despite their claims to be fabulous for such problems.
SPOILER ALERT – THEY'RE AMAZING! When you're racking up those steps while teaching or if you're heading out for a walk after school or at the gym, KURU's ATOM and QUANTUM sneaks are the absolute best.
I love the ATOM in Jet Black/White/Gum because they go with my black pants that are perfect for teaching in, but they also transition well to the treadmill.
The QUANTUM's are my favorite for outside walking since I feel like they're a bit grippier (is that even a word?).
But with both of them, I can honestly say that I have had ZERO pain in my feet after wearing them for extended periods of time.
They're one of the very few shoes I can put on in the morning and not have my feet aching when I take them off 12-13 hours later.
If you can't wear sneakers to school, no worries!
Their TEMPO boots are super cute and have the same support and technology in them as the sneakers!
There are also sandals, hiking boots, and slippers for your time off.
All of the KURU shoes that I've tried run true to size.
So, if you normally wear a 9, get a 9. I love that the sizing is spot on, because, let's face it, returns are a pain.
BUT if you do need to return them they have free returns, free exchanges, and free shipping!
The founders of Dankso are former horse trainers, and they wanted to find the best shoes for standing and working all day.
The answer? European-style clogs.
Don't picture merely basic leather clogs in black; Dansko has styles in all color and heel heights, including wedges, sandals, boots, and booties.
Bonus point: Nurses love these shoes. That means they have to be one of the best shoes for standing all day.
As the name suggests, these shoes are earth-conscious, sustainably-sourced, and vegan. From sandals to flats to Mary Janes to heels and dress shoes, Earth Brand Shoes are comfortable, and many have flexible outsoles for an ergonomic fit.
Bonus point: Earth brand is an employee-owned company out of Pennsylvania.
I have a friend Penny whose shoes are always cute and stylish.
Once when I complimented her, she said, "Thanks! They're Vionics!" Penny was tired of trading style for comfort and vice versa.
She found this brand and voila!
She never wears anything else.
From flats to loafers to heels and boots, Vionics come in a range of colors and prints.
White leopard print ballet flat? Um…yes please!
Bonus point: If you don't like them after wearing them for 30 days, you can return them for free!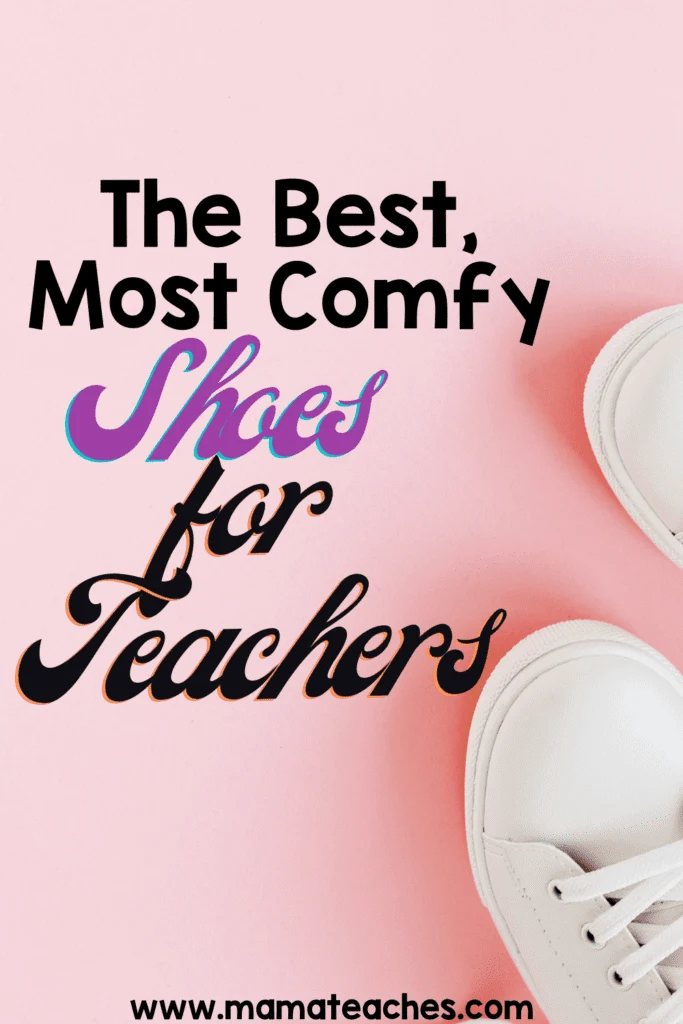 Taos are more casual in nature; they offer canvas and leather sneakers as well as sandals, clogs, and boots.
If you have foot issues like plantar fasciitis or bunions, these shoes are a godsend.
Bonus point: The footbed of these shoes has memory foam and cooling gel to keep your feet comfy and cool all day long.
This brand has moved beyond its hippie roots.
They offer premium leather sandals, clogs, wedges, and boots in a range of colors (even metallic).
And get ready for Birkenstock platforms and Mary Jane wedges–these are not your mother's Birkenstocks!
I'm a Birks girl myself and have them in multiple colors.
My favorite?
Rose metallic thong sandals that go with more than you'd think.
Bonus point: The cork sole literally molds to your foot, creating personalized support.
Okay, so my mom wears Clarks.
So I thought to myself, "Never will I ever." But then she dragged me into a store, and I was shocked to find lots of adorable (and blissfully comfortable) shoes.
All this from a shoe company founded in 1825! Clarks have styles for every age group, from sensible sandals to metallic wedges with an 8 cm heel height.
Bonus point: They even have a wedding collection, so you can dance all night in these shoes.
When you think Merrels, you think outdoor adventure (hello sneakers!).
But they also have slip ons and sandals that would work for the classroom.
Bonus point: Merrells are available in wide widths and hard-to-find sizes.
Skechers started in 1992 with one type of shoe: the boot.
Fast forward to today and they have over 3,000 styles from sneakers to boots to heels.
Some of their collections are "Modern Comfort" and "Max Cushioning."
Sign me up!
Bonus point: When you buy a shoe from their BOBS collection, they donate money to animal welfare organizations.
So far they have donated over 6 million dollars!
Toms shoes are classic canvas minimalists in all kinds of styles and prints, but they also have a line called "Cloud Bound," which features an extra breathable outsole and their OrthoLite cushy insole.
With all the cute colors but extra comfort, this line certainly makes the list of best teacher shoes.
Bonus point: For every pair of Toms shoes you buy, the company donates a pair to someone in need.
That is a 2 for 1!
Naturalizer is a brand strictly for women, and they are proud of that.
They were the first to design shoes to contour a women's foot (they come in narrow, medium, and wide widths and every heel height).
Naturalizer pursues comfort first with style as a close second–any fashionista can find a pair she loves at Naturalizer.
Bonus point: Naturalizer gets that we all have different skin tones, so they make nude shoes in all shades.
You stand all day–that's a given–so you may have foot problems that go along with that: swollen feet, plantar fasciitis, or bunions just to name a few.
Enter Aetrex–a company known for the 15 million-plus orthotics it sells over the counter.
The next step?
Sell footwear that specifically alleviates common foot problems like a high arch, flat feet, and arthritis by offering specific footbeds to bring maximum comfort and proper foot alignment.
Bonus point: You can shop for styles that address your specific foot issues.
A click on "flat feet" yielded a page of results in sandals, wedges, sneakers, and clogs for those of us with flat feet. *Sigh*
Sorel describes themselves as "function-first fashion," and that is certainly the case.
With their trademark ruffled molded rubber outsole for excellent traction and their comfort plus EVA foam footbed, these shoes easily make the list of the best shoes for teachers.
Their innovative, on-trend looks belie their all-day support.
Bonus point: Sorels started as a boot company and they have all the functional and gorgeous boots you could want: booties, lace-ups, rain boots, and winter boots.
The Best Shoes for Standing All Day
As a teacher, you are on your feet all day, so invest in shoes that will go the distance with you.
Kiss blisters and sore backs goodbye with these best shoes for teachers.
You May Also Like: