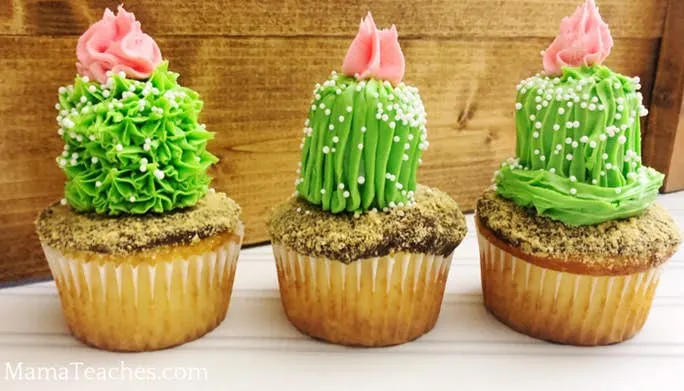 We lived in Phoenix, Arizona for eight years and it was a totally different world compared to our humid, four-season weather in Pennsylvania. You always hear that "dry heat isn't as bad" and, while I didn't miss the humidity, 114 degrees is still 114 degrees. One of the things I loved about Arizona though was the giant saguaro cacti that stood guard in lawns and parks and medians. They were beautiful and when they bloomed it was like nothing I had seen before.
So, when we were doing a unit study on deserts, it seemed only right that we pay homage to the beauty of the saguaros with some cupcakes.
Baking with Kids
Recipes, cooking, and baking are often looked upon as "extra" activities in homeschooling, but I actually love doing these kinds of things, because there are so many skills that get touched upon.
Here are some of the ways you can count baking with your kids as school work:
Math:

measuring
adding
subtracting
conversions

Language Arts:

reading
following directions

Science:

physical changes
chemical changes

Social Studies:
​
For this cactus cupcake recipe, we also talked a lot about geography, landforms, and the weather. Whether you make them as part of your curriculum or just for fun, there's a whole lot of learning and tasty goodness inside the activity!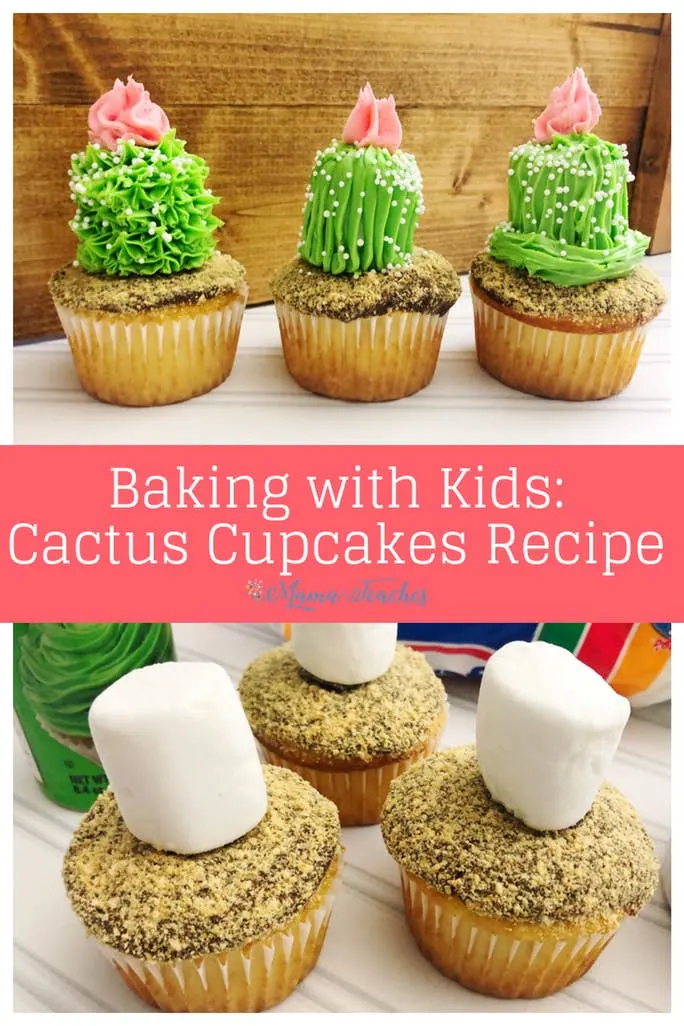 ​
Cactus Cupcakes Recipe
Ingredients
Cake mix (calls for oil, eggs and water)
Cherry, chocolate and green frosting in a decorating can
White nonpareil sprinkles
Marshmallows
Graham cracker crumbs
Decorating bags
Star decorating tip
Cupcake liners
Cupcake pan
Large mixing bowl
Hand or stand mixer
​
Directions
Preheat your oven to 350° F and line a cupcake pan with cupcake liners.
In a large mixing bowl, combine your cake mix, oil, eggs and water and mix using a hand or stand mixer.
Fill your cupcake liners up 3/4 the way full with cake batter and bake for 15 minutes.
Once the cupcakes have cooled, frost the top of each cupcake with chocolate frosting and dip into a small bowl of graham cracker crumbs.
Add a small amount of chocolate frosting to the bottom of each marshmallow and place one marshmallow on top of each cupcake.
Use your can of green frosting and different decorating tips to cover/frost the marshmallows to make them look like cacti. For a taller cactus, use two marshmallows stacked on top of one another and held together with frosting. Piped stars look good when used all over the marshmallow.
Place a star tip in the bottom of a decorating bag and fill your bag with cherry frosting.
Use the decorating bag to add a few stars to the top of each cupcake for flowers.
Sprinkle the white nonpareil sprinkles on the green part of the cupcakes.
​
Enjoy!
​
Snap a picture of your cactus cupcakes and share it with us! Leave a picture below or tag us on Instagram @MamaTeaches! We'd love to see your creations!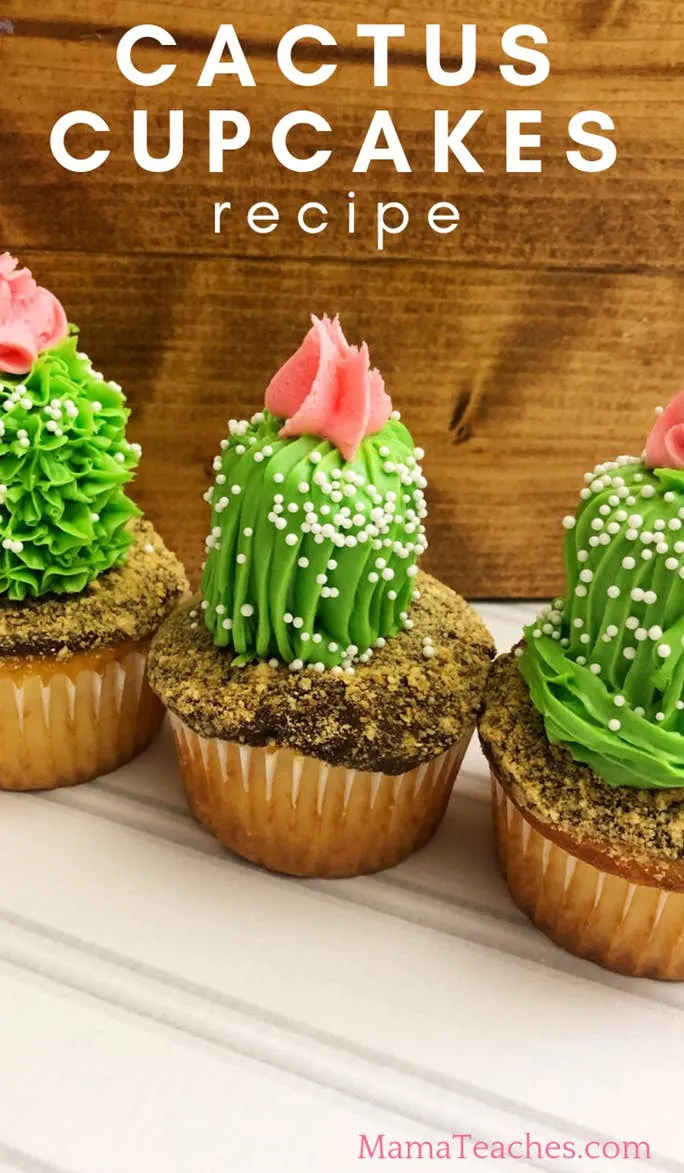 ​