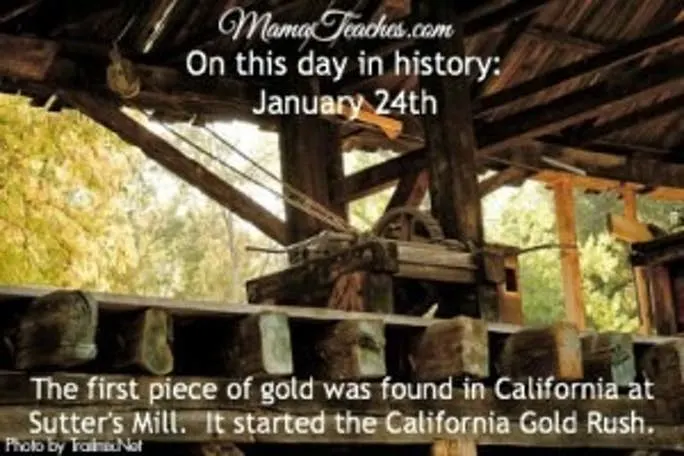 This article contains affiliate links to things that you might like.
The discovery of the small gold nugget was made at Sutter's Mill in Northern California.
This discovery was one of the main events that led to the California Gold Rush in 1849.
The news of the gold led to an influx of more than 300,000 people from across the country.
These gold-seekers were called "The '49-ers", because they started arriving in droves in 1849.
The original nugget of gold found at the Coloma, California mill is now housed at the Smithsonian in Washington, D.C.
A replica of the original Sutter's Mill, built from original drawings and plans, now stands at the Marshall Gold Discovery State Historical Park.
If you are in the area, they have an event planned for the gold discovery on this day in history.
More Resources:
Listen to a short story about the Gold Rush here.
Images related to the California Gold Rush
Download and print out a California Gold Rush Word Search for Kids.
Books for kids about the California Gold Rush –
John Sutter and the California Gold Rush (Graphic History)
The California Gold Rush: (Reissue) (Landmark Book)
California Gold Rush – Pbk (New Cover)
Gold Fever!: Tales from the California Gold Rush