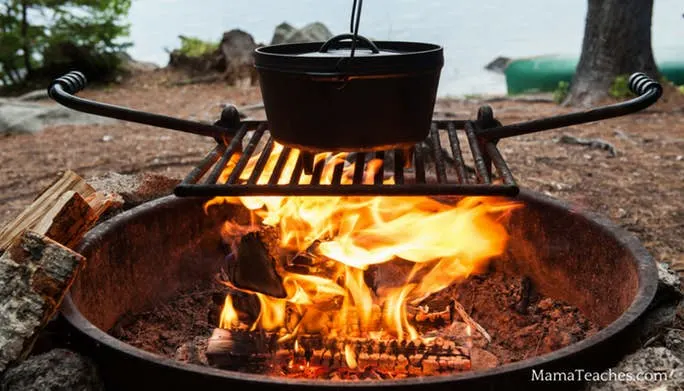 Whether you're heading out for a week of camping fun or it's a first-time overnight adventure, these 20+ camping recipes prove that you really can eat delicious food while you're in the woods!
From breakfast recipes packed with protein goodness to desserts to round out the day, there's something for everyone.
We've indicated which ones are our favorites, but really, they're all terrific and will make camping even more fun. Enjoy!
​
Camping Recipes to Make Over the Campfire
Camping Breakfast Recipes
Don't think you have to leave the oatmeal at home when you head out to camp! This Camping Oatmeal Recipe is packed with plenty of healthy carbs, protein, and vitamins! via A Side of Sweet
Coffee cake is my weakness, so this Campfire Coffee Cake with Maple Glaze had my heart from the start. Via My 3 Little Kittens
If you're looking for something a bit more hearty, try this Egg and Sausage Scramble Recipe. via Around My Family Table
Finger food is the best while camping and, while it may sound challenging, cooking an Egg Sandwich on the campfire grill is actually pretty simple! via Mom vs The Boys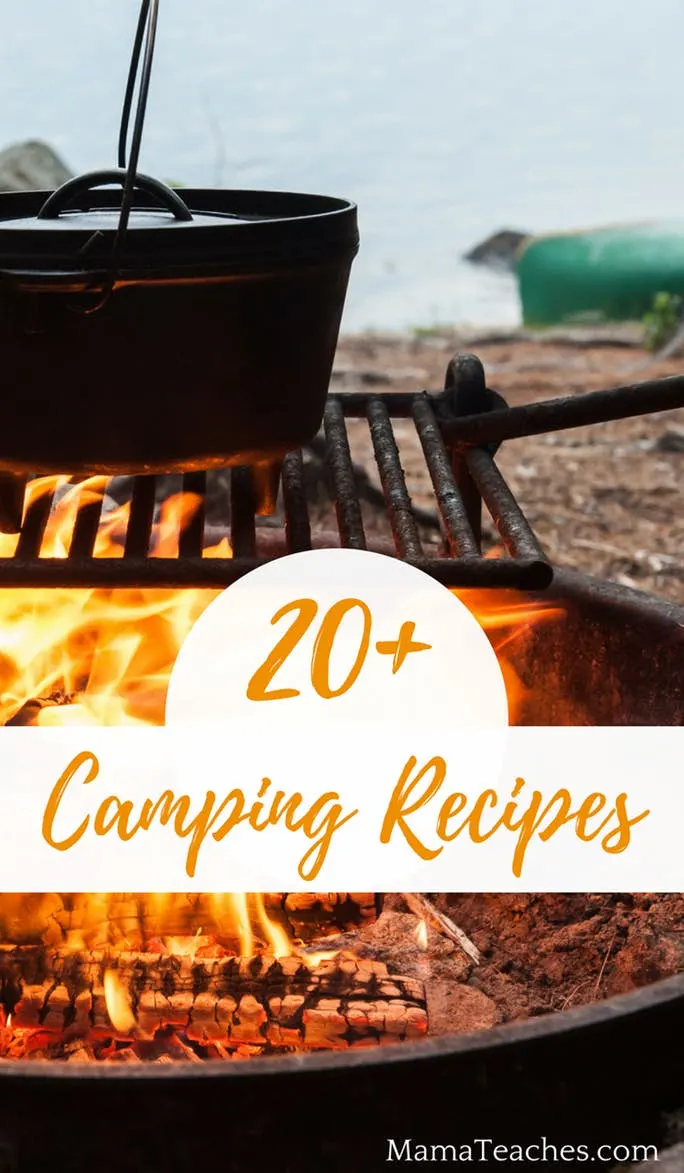 Camping Main Dish Recipes
Pizza while camping? Absolutely! This Grilled Pizza Recipe is a camping dinner must-have! via Confessions of an Over-Worked Mom
The secret to this Sausage Pierogie Foil Packet Dinner is to slice the sausage before putting it in the foil packet. It makes it cook faster and more evenly! via Midlife Healthy Living
If you like sausage, but aren't too crazy about pierogies (or are just looking for some variety!), try these Cabbage and Sausage Foil Packets. via Happy Foods Tube
Chicken is always a winner when it comes to camping recipes, so these 7 Chicken Marinades are perfect camping trip additions. via Recipes from a Pantry
If flavor is your thing, this Quinoa Curry Camping Dish is a must-have! via A Side of Sweet
These Marinated Chicken Fajita Kabobs on Skewers make it so easy to cook over the campfire! via Low Carb Yum
While there may not be a universal way to make Campfire Stew, this tasty camping recipe is a clear winner for taste and ease of cooking! via Recipes from a Pantry
We love variety in our meals – even when camping. These Hawaiian Packets offer a fun and unique take on dinner while camping. via Around My Family Table
This one-pot Lentil Tomato Stew is the perfect hearty and flavorful dinner dish while camping! via Veggie Desserts
These kid-friendly Cheesy Sausage Rolls are like mini-strombolis! via Thrifty Northwest Mom
These Best Ever Sandwiches are yummy! We get around worrying about storing mayo by just bringing along packets that don't have to be refrigerated. via Craftify My Love
We marinate the chicken for this Puerto Rican Pinchos de Pollo recipe ahead of time and bring it with us already marinated. It's yummy when served with some roasted veggie kabobs or some grilled pineapple. via Low Carb Yum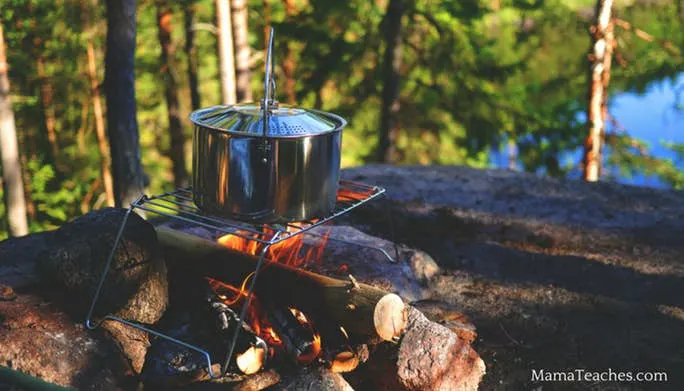 Camping Side Dish Recipes
In our book, any recipe that includes bacon is a good one! These 3 Cheese Bacon Campfire Potatoes are some of our favorites! via Midlife Healthy Living
Grilled Pineapple is not only a great side dish, it's also a delicious addition to your Camping Oatmeal (see above for the recipe)! via Dancing Through the Rain
My kids love corn on the cob! This easy, prep-ahead Campfire Corn on the Cob is one of their favorite camping foods ever! via Tikkido
These Foil Packet Potatoes are quick and easy and make a great addition to so many camping main dishes! via Cook Eat Go
​
Camping Dessert Recipes
This Blackberry Campfire Cobbler uses only 3 ingredients and has to be one of the tastiest camping desserts around! via Midlife Healthy Living
When you think about Campfire Dessert Cones, think yummy, ooey-gooey, messy, and delicious goodness in a sugar cone! via Mom vs. The Boys
I love bananas, so these Campfire Banana Boats are a favorite. They're so easy to make and so incredibly tasty! via Simply Stacie
​
Do you have a favorite camping recipe? Share the link to it below! We'd love to try out new treats!
​
You might also like these other camping articles: