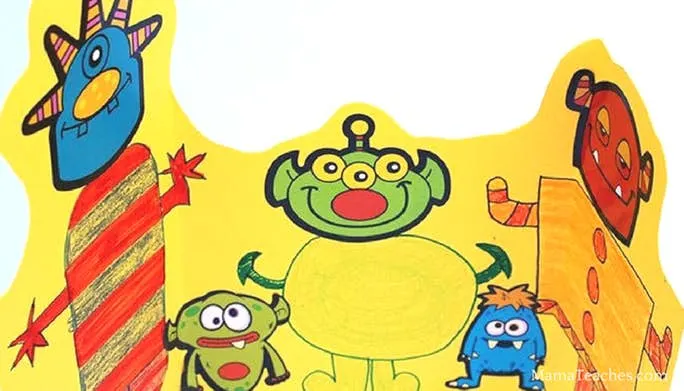 One of the most challenging things about helping kids learn to craft stories is getting them to write creatively. It's so much easier to write facts vs. fiction and to describe the concrete vs. the abstract.
This fun Monster Sticker Craft for Kids is not only an entertaining sticker and drawing craft, it also helps kids put the abstract down on paper. While you can certainly use this monster craft to decorate the fireplace at Halloween, we used it to help our kids practice their creative writing skills. Here's how.
Creative Writing Monster Sticker Craft
Instead of simply telling the kids to write about a story about monsters, we let them bring their monsters to life. On a piece of cardstock, they placed monster sticker faces of four or five monsters.
Their job was then to draw the rest of the monsters' bodies and any scene that they wanted to depict. Were the monsters just standing around? Were they fighting? Were they telling jokes? There was no right or wrong.
After they completed the sticker scene, they folded the cardstock in from each side to make a tri-fold. We wanted the scenes to stand up, because it made the creative writing go a lot smoother when the kids could actually see the monsters in front of them. It made them seem more "alive" than if they were a flat piece of paper on the table.
If monsters aren't your child's thing, you can use any number of fun stickers to create a creative writing inspirational scene. The sky is the limit! Happy writing!
This post contains affiliate links.
How to Make a Monster Sticker Scene Craft
Ages: 3+ (with adult supervision)
Time: 15 minutes
Materials Needed:
Cardstock (color or white)
Crayons or markers
Scissors
Directions:
Place 4-5 monster face stickers on the cardstock.
Draw their bodies.
Cut out around the scene.
Fold the sides of the scene in in a tri-fold manner, so that the scene will stand up.
Use it to decorate the house at Halloween or as creative writing inspiration!
We'd love to see your finished Monster Sticker Craft or hear about your creative writing experience! Share it with us in the comments below or tag us on Instagram at MamaTeaches!