Now that the kids are in school and exposed to a lot more germs, it's going to be especially important to make sure they're breathing freely.
In fact, it's the third week of school and the youngest already has a cold!
That means it's time to break out the DIY Respiratory Support Balm.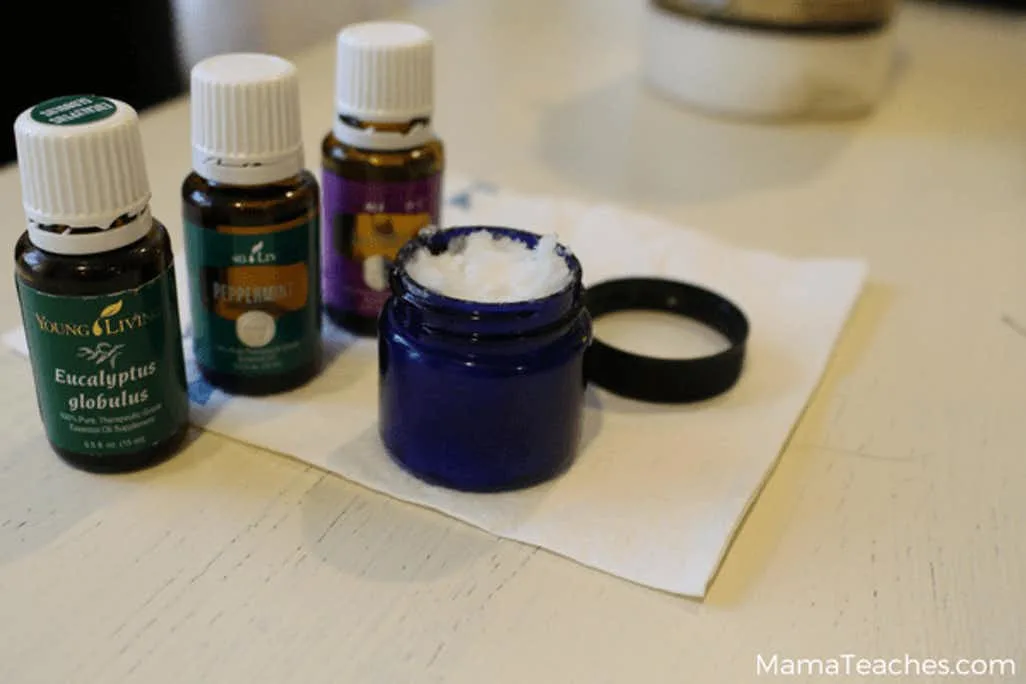 This article contains affiliate links to things that you might like.
Soothing Chest Rub
Similar to things like commercial vapor rubs, this balm helps support a healthy respiratory system and normal breathing.
Unlike the name brand varieties though, this balm has no petrolatum, turpentine, or other harmful chemicals.
Did you realize that one of the most popular vapor rubs is made with turpentine?
No, thank you. Not on my family!
We're going with a natural alternative instead.
DIY Respiratory Support Balm: What's Inside?
This DIY Respiratory Support Balm is made with just four ingredients – organic coconut oil, Lavender essential oil, Peppermint essential oil, and Eucalyptus globulus essential oil.
That's it.
Not only is it easy to make, but it stores well in the fridge and you only need a little bit to support normal breathing.
We use Young Living Essential Oils, because we want to be sure that the essential oils we're using aren't actually old flower water or filled with chemicals.
Not all essential oils are equal!!
Young Living's Seed to Seal Promise guarantees that the integrity and quality of the oil is nurtured from the time it is planted on their farms as a seed to the time it completes the steam distillation process and is sealed in the glass jars.
For us, that's super important, because everyone uses the DIY Respiratory Support Balm in our house – kids included!
If I'm using it on my children, I want there to be things that will help support their growing bodies.
Give it a try and, in about 10 minutes, you can have your own jar of DIY Respiratory Support Balm that will support healthy breathing for the whole family!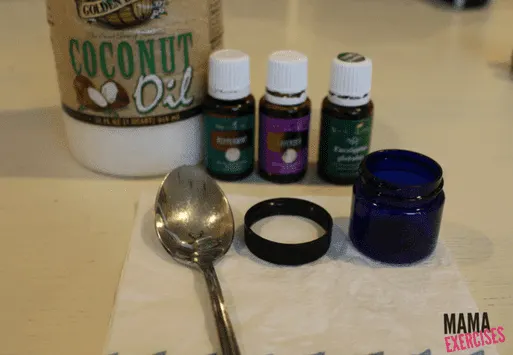 DIY RESPIRATORY SUPPORT BALM RECIPE
Ingredients:
1/4 cup organic coconut oil
20 drops Young Living Lavender Essential Oil
20 drops Young Living Peppermint Essential Oil
20 drops Young Living Eucalyptus globulus Essential Oil
Supplies Needed:
Small jar (you can wash out and sterilize an old baby food jar!)
Spoon
Microwave
Directions:
Gather all supplies and place on a paper towel or napkin.
Scoop the coconut oil into the small jar filling it 3/4 of the way to the top.
Microwave to melt the oil somewhat for 5-10 seconds.
Add all of the Young Living Essential Oils.
Stir.
Refrigerate for when you need it!
​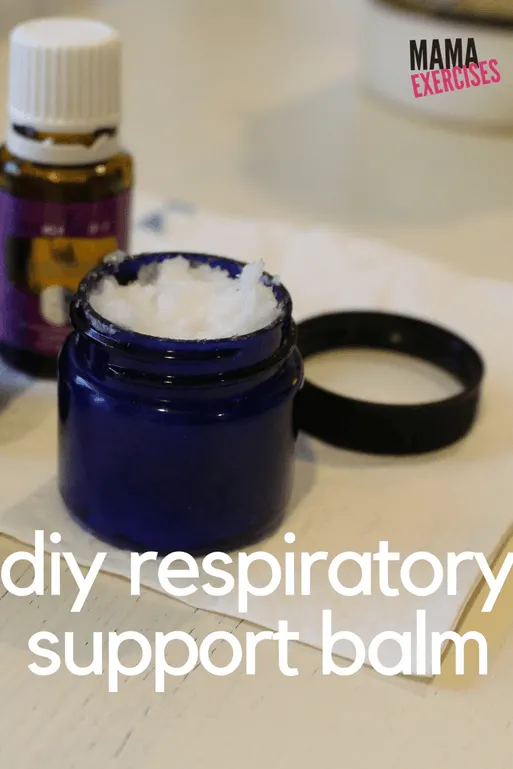 ​
For us, it really helps support our respiratory systems and normal breathing!