Q: How do you motivate kids to eat more fruits and veggies?
A: Eat the Rainbow Jokes for Kids!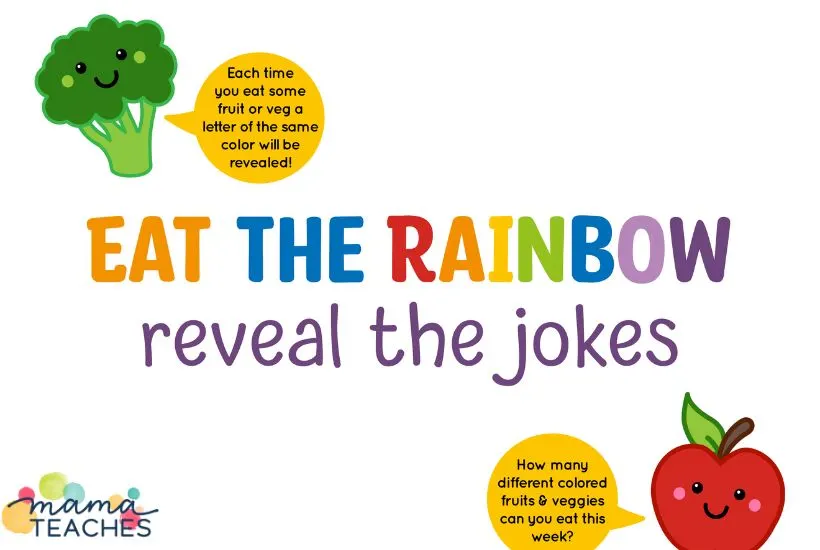 What Are Eat the Rainbow Jokes for Kids?
Eat the Rainbow Jokes for Kids lists fruits and veggies in 5 color categories: red, orange, yellow, green, and purple.
It contains 12 jokes in code. In order to reveal the code, kids must eat fruit or veggies in the various coded colors.
For example, if you eat green asparagus, the adult with the answer key will reveal the green spaces that stand for the letter "a".
Over several days (and a varied diet), more and more letters of the joke will be revealed.
How many days will it take for the student to figure out the joke?
Eat the Rainbow Jokes for Kids also includes a blank template to design your own color-coded joke.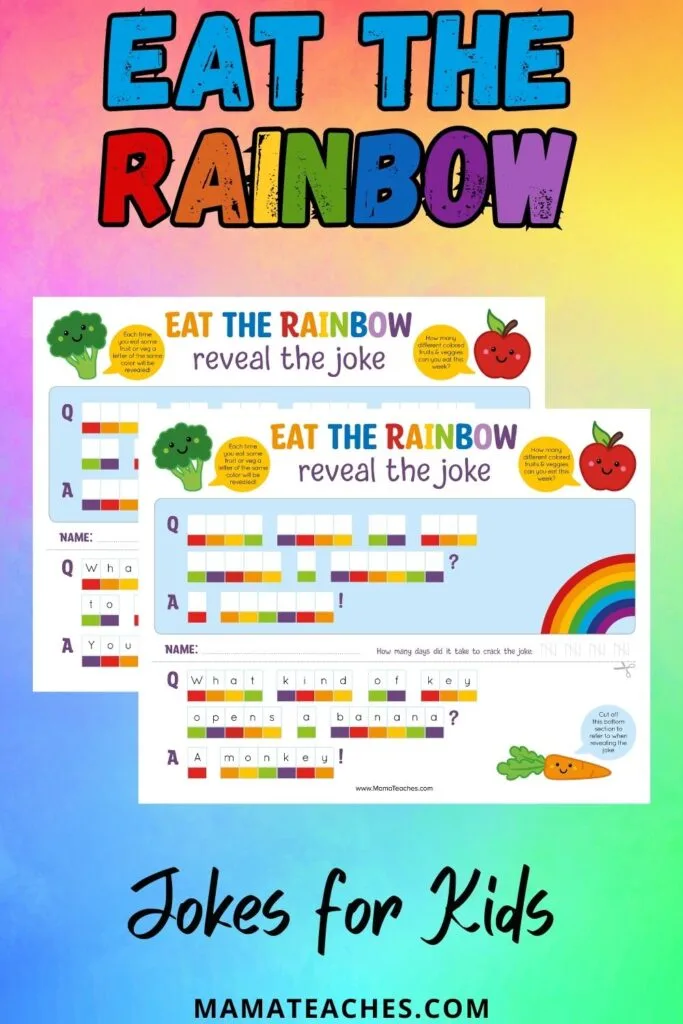 This article contains affiliate links to things that you might like.
Why You Should Use Eat the Rainbow Jokes
How many kids clamor to eat leafy green veggies (or veggies at all)? Not many.
If you are waiting for kids to request a side of spinach or slices of starfruit, get ready to wait 20 years.
Many kids refuse to eat fruits and veggies not because they dislike the taste but because they have not tried the fruit or veggie (or have not tried it enough times).
Many kids will not accept a new food until they have tried it 8 – 15 times. This means there is hope for zucchini!
Pro-Tip: One easy way to get them more excited about eating their greens is by gardening with them! Check out this list of easy veggies to grow with kids and start planning a garden together!
Eat the Rainbow Jokes for Kids will motivate kids to try new fruits and veggies (and give others a second or third chance).
Is it that important to eat the rainbow? Absolutely!
Red fruits and veggies are rich in vitamins A, C, potassium, and antioxidants.
Orange and yellow fruits and veggies are packed with vitamins A, C, and potassium.
Green fruits and veggies have folate, potassium, vitamin K, fiber, and antioxidants.
Blue and purple fruits and veggies have high levels of vitamins A, C, and K, manganese, and potassium.
Eat the Rainbow Jokes for Kids makes trying healthy fruit and veggies a game.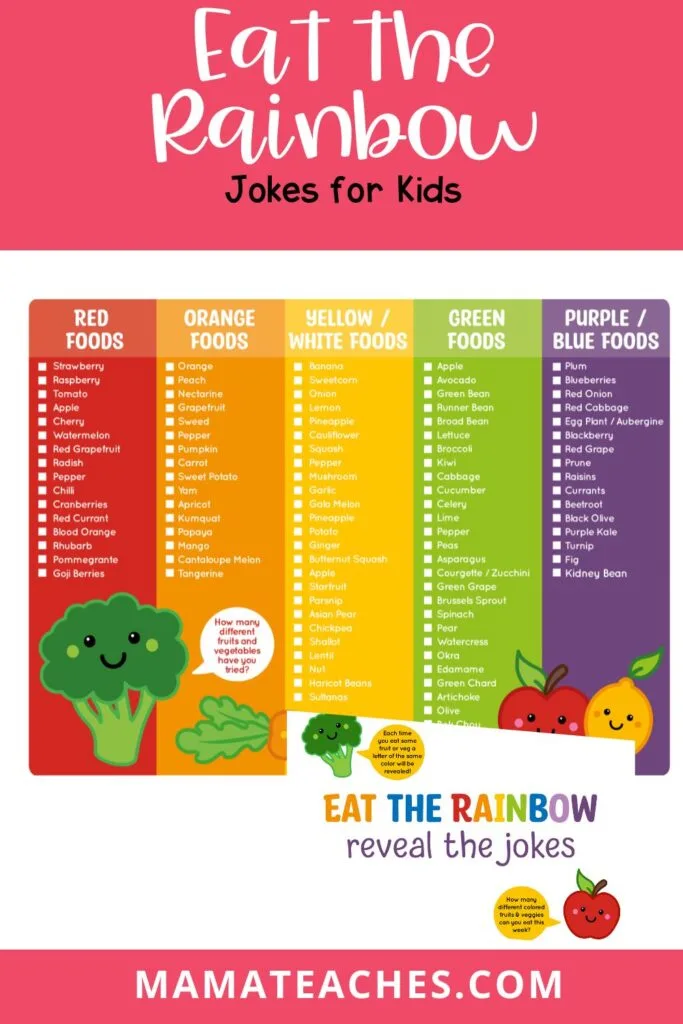 How to Use Eat the Rainbow Jokes for Kids in the Classroom
School lunches frequently offer kids healthy options, but kids don't take them.
Eat the Rainbow Jokes for Kids can turn healthy choices into a class game.
You can set parameters like "Did at least 5 people try the spinach lasagna today?" That would count toward revealing a green square (and a red square if there were tomato sauce involved).
You can also ask parents to bring in class snacks involving the rainbow fruits and veggies.
This gives everyone a chance to try new foods and reveal the joke.
Send a copy of the list home as part of your newsletter to encourage parents to pack rainbow veggies and fruits in their student's lunch.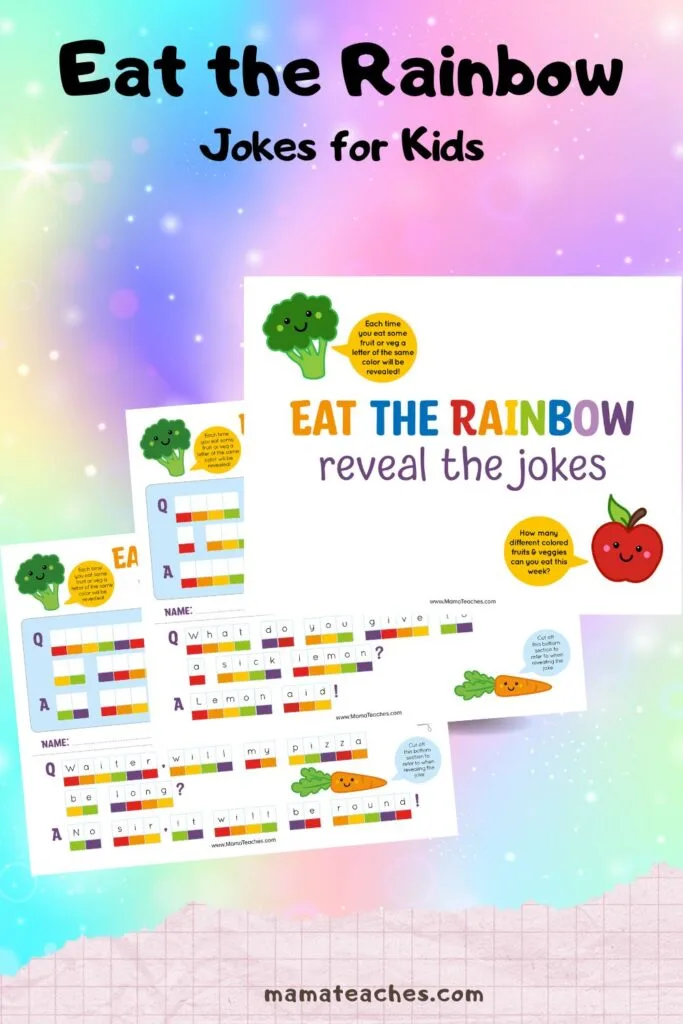 How to Use Eat the Rainbow Jokes for Kids in Homeschool
Homeschool is the perfect place to try Eat the Rainbow Jokes for Kids because you have complete control over the food your child is offered.
Of course, you can't force your child to try new foods, but you can motivate him to do so.
Create "rainbow snacks," "rainbow salads," or "rainbow pasta," where you add all the colors to the plate. It's a code-revealing bonanza!
You can also involve your child in food preparation. This increases the chances that he will try new foods.
You can search for recipes together and shop for new fruits and veggies at the store.
The Eat the Rainbow Checklist has a box next to each food. You can check off the fruit or veggie when you try it.
There are around 100 fruits and veggies on the list!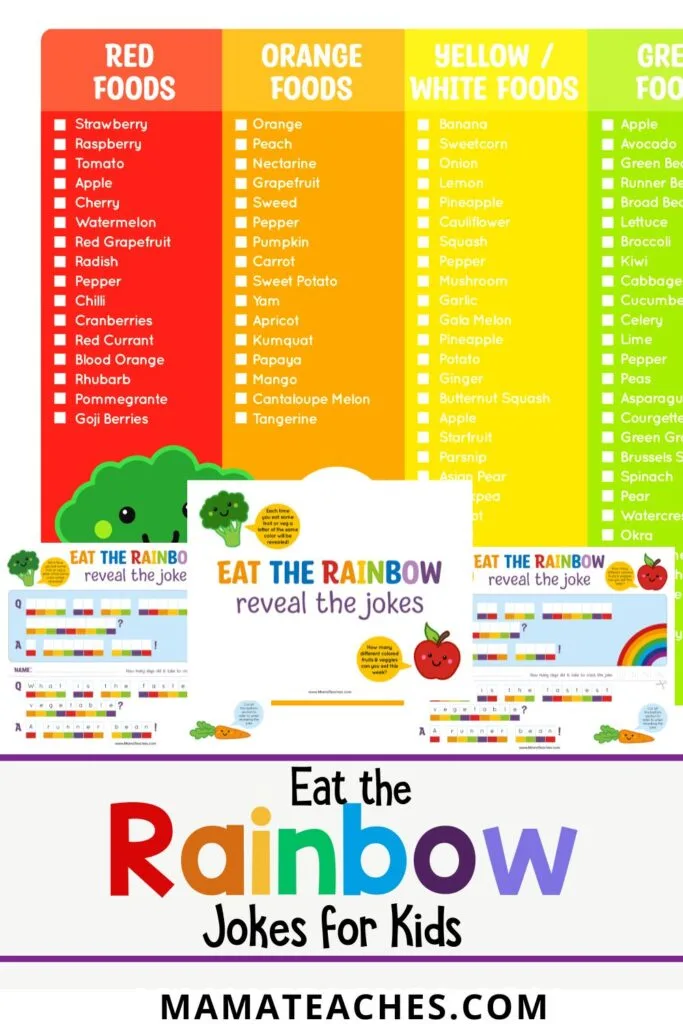 Where to Find Eat the Rainbow Jokes
Eat the Rainbow Jokes for Kids are simply a click away in the Freebies Library.
That's right; they are a freebie! That means they are 100% free.
If you aren't a member yet, it super easy to join. Simply click the link below.
The Freebies Library has loads of free printable games, worksheets, crafts, and more. All free!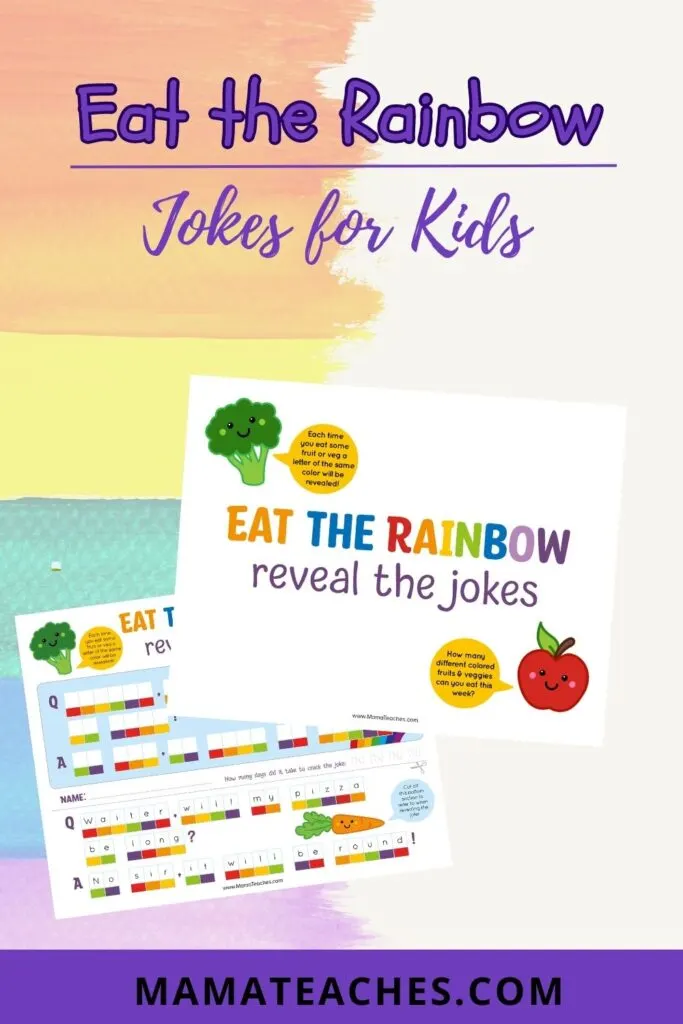 The Benefit of Eat the Rainbow Jokes
Eat the Rainbow Jokes for Kids will keep the game of eating healthy afloat for awhile.
After all, there are 12 jokes in code.
There is even a blank template to invent your own coded joke.
But the benefit of Eat the Rainbow Jokes goes well beyond the code game.
Once kids experience the vibrant flavors and textures of these fruits and veggies, they will start to accept them…maybe even request them!
Kids could laugh their way to their new favorite food!
You May Also Like: